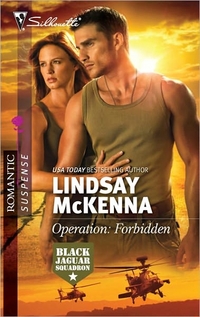 Purchase
BLACK JAGUAR SQUADRON SERIES: Love and bravery reaching new heights.
Black Jaguar Squadron #2
Silhouette Romantic Suspense
March 2011
On Sale: March 1, 2011
Featuring: Khalid Shaheen; Emma Cantrell
224 pages
ISBN: 0373277172
EAN: 9780373277179
Kindle: B004MPRYVC
Paperback / e-Book
Add to Wish List

HER MISSION TO SUCCEED:
Helicopter pilot Captain Emma Cantrell has a chance to clear her military record in war-torn Afghanistan. She's not about to let anyone get in her way -- especially Afghan Captain Khalid Shaheen. Emma can't deny Khalid is one delicious piece of eye candy. But she's fallen prey to his kind of charm before --and she's NEVER makes the same mistake twice.
Kahlid's fight against the insurgents makes him a target, but his need for justice runs deep. He can't jeopardize this perilous mission by falling for Emma, but soon finds that might be a losing battle. And when Emma is kidnapped, can Khalid rescue her in time to give their love a fighting chance?
Comments
12 comments posted.
Being from a military family, this book sounds very interesting. Would love to read. Thanks.
(JoAnn White 12:00pm February 26, 2011)
sounds very good. hope I win:)
(Barbara Studer 12:13pm February 26, 2011)
Your love of the Afghan people comes through in your blog. I too, love the lapis stone!! I find it to be as mysterious as the people. Your book has that edge of suspense to it, or at least that's what I picked up on from reading your interpretation. I'm anxious to read it. Thank you for sharing your thoughts, and for giving me a chance to win your book.
(Peggy Roberson 1:02pm February 26, 2011)
Lots of military men in our family, so I know where your from.
(Diane Sadler 1:08pm February 26, 2011)
I love good military stories and you write great ones.
(Christina Harrison 1:25pm February 26, 2011)
I have always enjoyed your military romance stories. They always hit the right notes.
(Carol Drummond 2:11pm February 26, 2011)
Your book sounds awesome! I am intrigued by your love of gemstones. My husband is a huge collector and we visit many of the shows in the North Carolina area in the summer. His dream has always been to go to the Tucson show! As well, our son freaks out over lapis lazuli. We bought a huge and gorgeous piece for him last summer. Enjoy the show and please post something about it, won't you?
(Connie Fischer 5:24pm February 26, 2011)
Interesting to have a BJS plot line move to Afganistan. I will definitely have to follow it through the entire trilogy.
(Susan Driskill 5:24pm February 26, 2011)
I love military romance stories! dancealert at aol dot com
(Brenda Rupp 5:44pm February 26, 2011)
Your book sounds like a treasure. Can't wait to read it.
(Lisa Richards 8:38pm February 26, 2011)
I love your military romance stories and the strong men and women you create. Looking forward to reading your new book. Enjoyed your blog on Afganistan and lapis lazuli. Thank you!
(Karen Cherubino 1:26am February 27, 2011)
Gems and danger, a perfect combination I look forward to reading and learning more about your background in stones.
(Alyson Widen 11:16pm February 27, 2011)
Registered users may leave comments.
Log in or register now!