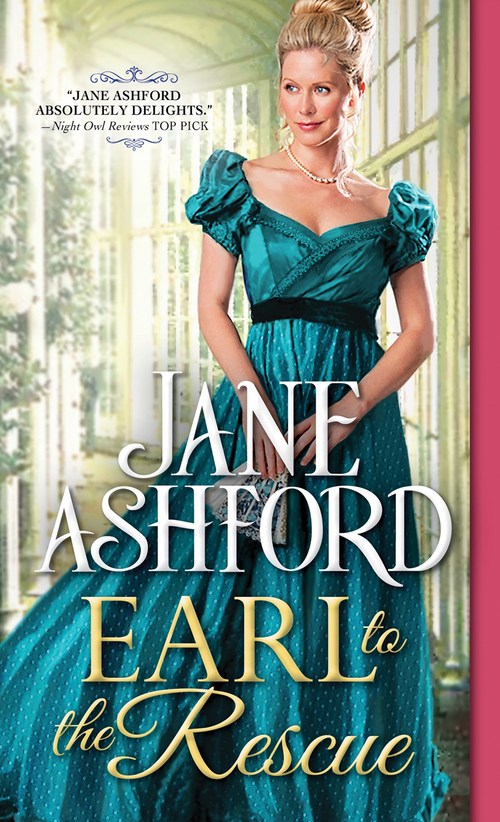 Purchase
Sourcebooks Casablanca
December 2018
On Sale: November 27, 2018
352 pages
ISBN: 149267432X
EAN: 9781492674320
Kindle: B07FJQNTHJ
Mass Market Paperback / e-Book
Add to Wish List

Who needs a knight in shining armor when there's an earl at your side...?
Gwendeline Gregory doesn't know what to think when she encounters the dashing Alex St. Audley, Earl of Merryn. She's in over her head in London Society, trying to fend off a scoundrel who will stop at nothing to ruin her. On the brink of a devastating scandal, the earl arrives just when she needs him most. But are his motivations trustworthy? And can he avert ruin for both of them?
Comments
29 comments posted.
Gwendeline sounds like a sweet young woman, one who definitely feels like she is
being thrown in amongst the wolves. The excerpt gives enough information to
make me wonder just what has been said about her and what her situations is.
Also, how are the Earl and his mother involved. Excellent hook.
(Patricia Barraclough 1:03am November 28)
I would like to read this book!
(Melanie Rosen 3:33am November 28)
I would like to know the mystery surrounding Gwendeline and
why doesn't she know about it?
(Jane Komppa 4:02am November 28)
sounds like a book id love to read
(Vickie Couturier 9:10am November 28)
Sounds like a great book
(Emily Stemp 8:04pm November 28)
I chuckled at the last sentences by the hero, in the
excerpt. Enjoyed reading the snippet.
(G. Bisbjerg 9:27pm November 28)
I love your Dukes Sons' series and am eagerly looking forward to reading your
latest book, Earl to the Rescue. Thanks!
(Kt C 9:34pm November 28)
Earls, lords and royalty are very appealing in historical
fiction.
(Alyson Widen 11:28pm November 28)
sounds like a great read, will it on my schedule
(Peter Patel 2:03am November 29)
The earl sounds like a good fellow!
(John Smith 10:19am November 29)
Great excerpt! I'm intrigued!
(Sharlene Wegner 1:55pm November 29)
I have recently added historical romances to my list of genres and your
novels sound like great reads that will add to my wish list. I am a Retired
disabled R.N. Who has turned a passion for reading to what my husband
calls a compulsive reader. I always loved to read and knit and fortunately I
can do those things when I am not loving on my grandsons.Wishing you a
lovely and healthy holiday season.
(Denise Walsh 3:18pm November 29)
what a wonderful story. I look forward to reading it.
(Catherine White 3:19pm November 29)
Historical Romance is the reason I fell in love with
reading. Kathleen E Woodiwiss was the author and Shanna was
the book. This book is very intriguing and the cover is one
of your more beautiful. Even the title is catchy and already
has me asking what could have possibly happened?!
(Candy Voisine 6:01pm November 29)
🤗📖👓❤️
(Margaret Murray-Evans 9:00pm November 29)
This sounds enjoyable!
(Janie McGaugh 10:16pm November 29)
Loved the excerpt. Looking forward to reading. Thanks.
(Sharon Extine 1:44am November 30)
Thanks for the chance
(Cynthia Brooks 10:07am November 30)
Ooh, I love a sassy heroine and a cocky hero! This sounds fun!
(Sue Galuska 10:50am November 30)
Makes me wonder just what is going on and what Gwendeline's "situation" really is. I have added it to my TBR list.
(Linda Harrison 12:02pm November 30)
Looks like a great story. Thanks for the chance to win.
(Nancy Reynolds 12:10pm November 30)
I am intriqued now, can't wait to read on...
(Lorena Keech 6:14pm November 30)
I like the location of this book. Great story in London.
(Barbara Ryan 6:35pm November 30)
This sounds great!
(Jessica Chappell 8:41pm November 30)
Love the dress colour.
(Susan Jang 2:48am December 1)
This is enough of a "teaser" to make me interested in
reading a print copy.
(Cecilia Rodriguez 12:20pm December 1)
Looking forward to reading this!
(Amber Niebaum 2:50am December 2)
Sounds like this will be a very good read. Thank you for the chance!
(Margaret Yelton 8:46am December 2)
Great excerpt. Can't wait to read more.
(Debra Guyette 9:03pm December 2)
Registered users may leave comments.
Log in or register now!