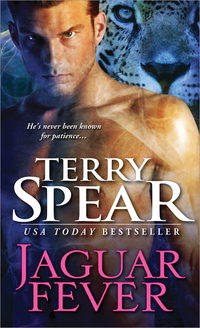 Purchase

No matter what it takes she will be his ... if he can keep her alive!

Suspenful, Exciting and Romantic
Sourcebooks Casablanca
August 2013
On Sale: August 6, 2013
Featuring: Maya Anderson; Wade Patterson
320 pages
ISBN: 1402266952
EAN: 9781402266959
Kindle: B00CA3SHDC
Paperback / e-Book
Add to Wish List

She's being pursued by everyone, in more ways than one.
Even in an exotic world of humans, jaguars, and tantalizing creatures who shift between the two, Maya Anderson stands out from the crowd. Interest from human suitors is bad enough, but when male shifters give chase, the real trouble starts.
Who's the hunter and who's the prey?
Investigating the black marketing trade of exotic animals keeps Wade Patterson more than busy. When he and Maya both get entangled in a steamy jungle mission, it becomes impossible to tell who is being hunted or who the hunters are. Wade is desperate to survive this deadly game of cat and mouse. But it's Maya's piercing eyes that keep him awake at night.
Comments
64 comments posted.
Re: Jaguar Fever

This sounds like a great read! Congratulations and thanks for the
giveaway!!!
(Linda Brennan 12:49pm August 1)
I love your books! Keep writing please! Congratulations on the
new book. I love the covers on your books as well.
(Jina Gibbs 3:39am August 1)
Yes, I would like to dance with Wade. This club is like no other that I have ever heard of. Great imagination. This sounds like a great story.
(Kathleen Yohanna 3:50am August 1)
Hi Terri,

absolutely love your covers. Congrats to the new book
(Danny Brüggemann 7:59am August 1)
Yes indeed I would love to dance with Wade. MEOW..

Cannot wait to see what else happens. Love your books Terry.
:)
(Cindy Thomason 8:13am August 1)
Enjoy your books! Your new Jaguar series is great. Congratulations on the new
book.
(Angela Caldwell 8:19am August 1)
i really love reading your books the paranormal books are my
favorite i love the protectering male. wow the books are
really amazing
(Denise Smith 8:23am August 1)
Congrats on the new book and for doing this giveaway.
(Norma Todd 8:44am August 1)
Okay, had to get my password reset. LOL :) Thanks so much, Linda, hope you get a chance to read it!

Jina, thanks so much!!! They're nearly done with the covers for A Highland Wolf Christmas and Hero of a Highland Wolf. They're GORGEOUS!!! They actually have models model for the pictures. :) I want to oil them down.

Kathleen, I had so much fun with creating it. :) I just need to have a werewolf walk into one. :)

Thanks, Danny! I try not to drool over them before I send off prizes when I'm giving them out. My name and title are raised on the book, but if they raised his muscles, tactile delight. :)

Thanks so much, Cindy! He's roaring back. Fun loving, hot, sexy, protective...he's got EVERYTHING a lady couldn't want!

Thanks so much, Angela!! It's been really fun writing this series. I have Jaguar Hunt coming next, in the summer of 2014, and another to follow after that. They are fun.

Denise, thanks!!! I'm so thrilled you are loving the books. Yes, definitely a bunch of alphas with lots of hot testosterone--but with a totally endearing quality too. :) Lovable.
(Terry Spear 8:46am August 1)
Sounds like an awesome read! I am from a small town in Ohio (still live there). Unfortunately the closest club is about 45 minutes away. There are still a lot of fun things to do around where I'm at, just nothing as exciting as a club ;) Thank you for the chance to win!
(Kristina Parmenter 8:58am August 1)
This sounds like an awesome book! I love paranormal books! I have not read anything of yours I did not love!
(Denise Bolen 9:13am August 1)
I love to read paranormal books and I love the cover. Can't wait to read it! Thanks
(Bonnie Capuano 9:16am August 1)
Sounds like an awesome read! As for my area (Southern New Jersey), I don't think there's anything close by as far as clubs...probably Philadelphia, though!! ;)
(Sandy Kenny 9:21am August 1)
Well this will be the ultimate club experience, Kristina! LOL :) I've lived in small towns forever too, but this one's really different. :)
(Terry Spear 9:26am August 1)
Thanks, Denise, now that's what I LOVE to hear! :)

Thanks, Bonnie! Hope you love it.

Hey, Sandy, I used to live in Eatontown, NJ. We went to a dance club, but I think it was in another state! :)
(Terry Spear 9:30am August 1)
This remark isn't written to insult anyone, but you would have to be brain dead not to want to dance with Wade!! I would do it in a New York minute!!! I live out in the country, so we obviously don't have any clubs like this!! It's very quaint and "down home" where I'm at, which was the charm that I liked about moving here. After reading your excerpt, I was tearing at the computer screen, looking for the next part of the book!! LOL This is normally not my genre, but you are such a great wordsmith, that you have got me totally hooked to want to read your books!! They have been put at the top of my TBR list for the end of my Summer reading!! I don't know how you can come up with a story line like this, but thank God that you did!! You now have a new fan!! Congratulations on your latest book!!
(Peggy Roberson 9:33am August 1)
Cant wait to read this one, have a great day
(Barbara Jones 9:52am August 1)
sounds like wild fun, can't wait to read!
(Nancy Krueger 10:00am August 1)
Great books that keep me entralled.
(Maria Pucko 11:10am August 1)
I love Terry Spears books! Please keep 'em coming.
(Margie Hager 11:13am August 1)
cannot wait to read this -hope I win
(Susan Atkins 11:48am August 1)
Sounda like a book I could get lost in!
(Leanne Gagnon 11:55am August 1)
LOL, Peggy, too funny, and I tell you what, their dance is HOT. His brother is suggesting they take a room when he interrupts them and Wade is none too happy. LOL :) I'm thrilled you enjoyed the scene. Lots more like that--except in the water... jaguars have a love of water. :)

Thanks, Barbara!! Hope you love it!

Nancy, it is! They move from Houston to Belize, but there's lots of conflict in between. :) And steamy romance.

Maria, thanks so much! I'm glad you are enthralled. My total goal!

Margie, I'm thrilled you're loving them. :)

Thanks, Susan!

You can, Leanne! You'll be in their world for sure. :)
(Terry Spear 12:58pm August 1)
I absolutely love shifter books and he's a special forces ,oh
yea i have Jaguar Fever .
(Raeline Peterson 1:19pm August 1)
Mmm, I would so love to dance with him in that club. We have nothing like
that here lol. It's the usual clubs and bars. This one sounds fun though.
Congrats on the new release.
(Stephanie Fredrick 1:32pm August 1)
definitely interested in reading...exciting contest...thanks!
(Diana Corlett 1:59pm August 1)
Not the clubbing type but I would love to curl up with a hunk like him! ;)
(Colleen Conklin 2:49pm August 1)
Hi Terry. First off, I'm a huge fan of shifter paranormals. I started with wolves and various other weres in Laurell K. Hamilton's Anita Blake series. I liked her weres every bit as much as her vampires. :-) Your story about Maya and Wade sounds riveting and delicious. I wanna read it soooo bad! I'm gonna have to go to Amazon to see what else you have in the store. jdh2690@gmail.com
(Janice Hougland 4:33pm August 1)
love your work! it was GREAT to meet you in Atlanta!
PICK ME!!
(Pamela Faye Howell 4:55pm August 1)
Raeline, yes, the best of both worlds! :) Truly!

Thanks, Stephanie! Definitely a different kind of club!!!

Thanks so much, Diana! Enjoy!

Colleen, you'd have fun. Dancing up close and personal. Yes!

Janice, thanks!! I sure hope you try my books out and fall in love! :)

Pamela, I loved meeting you in Atlanta! Maybe we can see each other in San Antonio! :) Thanks for loving my books!
(Terry Spear 5:24pm August 1)
This sounds so good! I usually don't get pulled in by this type of book, but you have made me change my mind. Sounds like something I will definitely try. Congrats on your book, and thank you for the chance to win!
(Pam Brouillard 6:06pm August 1)
I have the entire series and love your work Terry! Thank you
so much for all you put into each novel! Shelbie =)
(Shelbie Knight 6:09pm August 1)
I really enjoyed Savage Hunger! I can't wait to read the next in this series. Big
cats are such beautiful creatures - and pairing that with a powerful, sexy guy!
What more could a girl ask for!? Thanks for the giveaway!
(Becca Luman 6:22pm August 1)
interesting
(L Lam 7:05pm August 1)
I enjoyed Savage Hunger and am truly looking forward to Jaguar Fever. I love all your shifters thanks for the chance to win.
(Mary Ambra 7:26pm August 1)
Sounds like a hot read! Can't imagine who wouldn't want to
dance with Wade?!?! Thanks for the contest.
(LaRonda Atchison 7:33pm August 1)
This sounds like a really sexy read!! I loved the review and would love a chance to win. Thanks.
(Jeanne Agee 7:53pm August 1)
YUM! Loved that excerpt!
(Chelsea Brooks 7:57pm August 1)
Congratulations on the new book! It looks like an exciting story.
(Maureen Emmons 8:20pm August 1)
I love your books and I cant get enough. thanks Jennifer beck
(Jennifer Beck 8:36pm August 1)
I do love these Jaguars!! xxoo
(Terree Lyman 8:46pm August 1)
I added this book to my list. I live in northern MN and to find a dance type
club you have to go at least two hours from ,y house.
(Laura Gullickson 8:49pm August 1)
Sounds pretty hot!
(Janie McGaugh 9:54pm August 1)
I love stories about people who have double identities,
especially those who have a cat as their alter. Sounds like a
very good story. Can't wait to read it even if I don't win.
Thank you.
(Angelina Daniels-Shaw 10:17pm August 1)
Your book looks very interesting. I've just recently started reading books with shapeshifters. I'll definitely add this to my must read list. Congrats on the book and thanks for the contest.
(Amy Kincade 10:41pm August 1)
I actually haven't read that many shifter books except for a
few werewolf ones but Jaguar Fever sounds quite interesting
and I'm looking forward to reading it and Savage Hunger.
(Lisa White 11:14pm August 1)
Omigosh, both my kids call and I come back and the whole world came to the jag party while I was gone!!!

Pam, I hope you fall in love with it!!!

Thanks so much, Shelbie. I'm so glad you're having so much fun with the whole series. :) My big thing is to make each of them as different as I can from each other, so I really am thrilled you're enjoying them.

Becca, I soooo agree. I had both dogs and cats and there's something so endearing about both kinds.

Mary, thanks so much, glad you're enjoying them all! :)

Yes, LaRonda, he'd take you into his heated embrace, and you'll just melt. :)

You're welcome, Jeanne, good luck!

Chelsea, lol, yes, yum is right. :) And he had more moves where that came from.

Maureen, thanks, lots of fun. The characters always take off and do their own thing, which means I get to watch. :)

Jennifer, thanks so much! I'm thrilled you're loving them!!!

Thanks, Terree! I was confusing myself, writing about Jaguar Fever, have a contest on Savage Hunger, and just finished Jaguar Hunt. Which story was this in???

Thanks, Laura! One of my friends lives in MN and I keep saying I need to get up there to Ely and see the wolf reserve!:)
(Terry Spear 11:14pm August 1)
It is, Janie!

Thanks, Angelina, hope you have a chance to read them!

Thanks, Amy, hope you get into them and fall in love!

Lisa, thank you! I've only read a leopard one that had vampires and other things in it. Mine are really based on the real world, as real as it can be when the men and women can turn into jaguars!!! :)
(Terry Spear 11:18pm August 1)
This looks like excellent fun, I'm definitely going to check into your other series, too!
(Diana Portwood 11:30pm August 1)
Wow, Congrats on your new books: SAVAGE HUNGER and JAGUAR
FEVER. Yes, I would love to dance with Wade Patterson at the
Jaguar Shifter Club if I was still single but being married
for 25 years kind of throws a person out of the Hot Jungle
Love Hee Hee!!! My Hot Jungle loving is here at Home Sweet
Home in Austin, TX and being from Kansas. We do not have any
Jaguar Shifter Clubs in Kansas or Texas that I am aware of.
There are some wild clubs on 6th Street in Austin, TX and
maybe they have some hot jungle fever going downtown. I love
reading about animals and shifting back and forth from human
to big cat would be fantastic. I would love to win and read
your books this summer. Thank You very much. Cecilia CECE
(Cecilia Dunbar Hernandez 12:10pm August 2)
I love your wolf series and now the jaguars series. Unfortunately, my local bookstore, Target and Walmart don't carry your books. I have to order them through the internet. I missed those days when I could easily find your books. Thanks for the excerpt.
(Kai Wong 1:02am August 2)
There's definitely no shape-shifters club in my neck of the woods! And who wouldn't want to dance with Wade?? Thanks for introducing Wade to us, can't wait to read his story with Maya!
(Anita H 3:11am August 2)
Wow, thanks for the steamy excerpt, Terry! I'll go join the
line of ladies who want to dance with Wade now, although Maya
might not give us a chance with him! ;) I'm thinking the
Jaguar Shifters Club is a pretty unique place, and I haven't
seen or heard of anyplace like that where I'm from!
(Ada H. 4:00am August 2)
I would love to dance with Wade. As for clubs of that sort... I think there a few around here. ;)
(April Harvey 4:35am August 2)
Thanks so much, Diana! The wolves are all stand alone titles also--and I have lots of them! And many more to come!

Cecilia, you never know when one was a shifter club, truly. They have one in Houston, and Dallas, so surely they have one in San Antonio and Austin. I'm certain of it. :) I haven't found any in Waco yet...but you never know. :) Oh, and Amarillo. :)

Kai, thanks so much!! I know. They're at special walmarts and targets. We don't have them at my local stores either. But I get fan emails saying they located them at their stores. :( Thanks so much for loving both of the series!!!

Anita--thanks!!! Yes, I agree about dancing with Wade. Or David, really. Course it was more hands off because his brother would kill him otherwise. LOL

Ada, I think you're so right. I'm sure we'd get into a cat fight with Maya. She's already extended her "claws" once when another woman puts the moves on Wade.

April, where? Where? :) Thanks!
(Terry Spear 8:07am August 2)
I might even learn how to dance so I could dance at that club with Wade.
(Sue Farrell 10:15am August 2)
Thanks for the sexy excerpt! Can't wait to read it!
(May Pau 10:22am August 2)
Thanks for the excerpt - can't wait to read more about Wade and Maya.
(Mary Chin 6:22pm August 2)
Big cat shifters - YUM!!
(Mary Preston 10:52pm August 2)
Awesome taste of the book :-). I'd love to dance like that with a cat shifter. I've
never danced with anyone like that, sigh. That's what books are for - to live through
them sometimes, lol. Thanks for the fantasy =)
(Lenna Hendershott 11:16pm August 2)
Shapeshifters make my hair stand up on my back as I try to
hold onto my inner screams and avoid looking for trouble.
They seem to find situations that I can't imagine being in,
yet it grips me to turn the pages fast and find out how they
get out of the dilemmas.
(Alyson Widen 1:46pm August 3)
Love paranormal books with shapeshifters! Love dancing, so I definitely would dance with Wade. Your books are amazing! No clubs like that in our city--gotta get my taste of entertainment like that out of a book! lol!!!
(Linda Luinstra 5:02pm August 3)
Love shapeshifters! Who could turn down a dance at that club and with that man! I have a very strong feeling that more than dancing is on their minds.
(Annetta Sweetko 10:58pm August 3)
I learnt to drive in a Jaguar car, and I love big cats - well all sizes of cats!
Shapeshifters make for great reads and I look forward to this one.
(Clare O'Beara 9:56am August 5)
Registered users may leave comments.
Log in or register now!