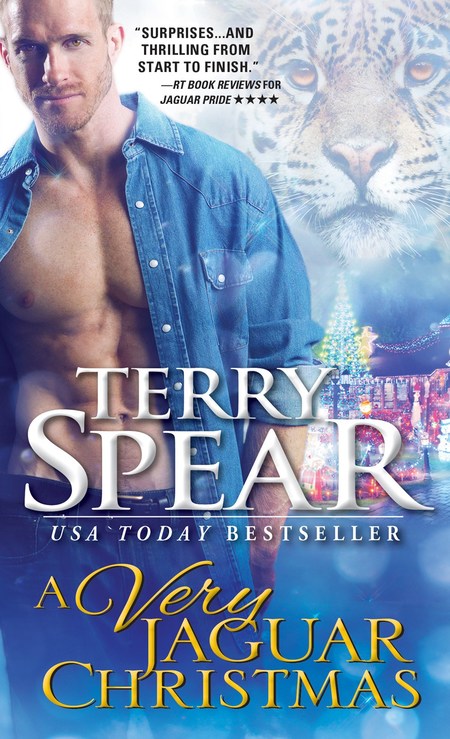 Purchase
A Very Jaguar Christmas
Terry Spear
Heart of the Jaguar #5
Sourcebooks Casablanca
October 2016
On Sale: October 4, 2016
320 pages
ISBN: 1492621803
EAN: 9781492621805
Kindle: B01HN3X3CS
Mass Market Paperback / e-Book
Add to Wish List

There are all kinds of surprises under the mistletoe!
As a protector of all jaguar-kind, Guardian agent Demetria MacFarlane isn't surprised to get a call near Christmas-but when she's sent to protect a cub whose species she didn't even know existed, her holiday season gets complicated. And it doesn't help that her partner is a distraction of the hottest kind.
Hotshot JAG agent Everett Anderson can handle dangerous poachers and wildlife traffickers, no problem...but kids? Everett fears he'll be stuck cub-sitting under the Christmas tree, but working with one sexy Guardian she-cat may be the best present he's ever gotten.
Heart of the Jaguar
Comments
17 comments posted.
Wonderful post. Enjoy your family celebrations.
(Sharon Berger 1:37pm October 6, 2016)
Your Halloween and Christmas decorating plans sound so enjoyable!
(Janie McGaugh 2:45pm October 6, 2016)
Thank you for the chance. Enjoy your holidays.
(Valerie Miller 3:54pm October 6, 2016)
Lists early is big in my household... try not to have to worry about last minute gift buying! Enjoyed reading your post! Happy upcoming holidays!
(Colleen Conklin 9:35pm October 6, 2016)
We always have holiday lists going since our family is so large. This book sounds wonderful and one I'd love to read! I also love the cover. Thanks so much for the chance to win it!
(Bonnie Capuano 9:16am October 7, 2016)
You are a very busy lady...I want to see those bears! I used to do a lot of Christmassy things with the family, and at church. These days it's hard to get me out of the house, especially when it's cold and snowy. We still decorate some, and I confess, we have started already. We have Halloween, Thanksgiving and Christmas decorations around the house. I would love to read your bok0ks, thanks for writing them, and the chance to win!
(Kathleen Gardiner 12:53pm October 7, 2016)
I bet next Christmas will be even more special with that
new grandbaby!
(Jana B 6:30pm October 7, 2016)
I don't know if I'm quite ready for Christmas things yet, but
this book would get me there!
(Diane Sallans 9:24pm October 7, 2016)
It's always an adventure starting new traditions for any holiday. Good Luck :)
(Vanessa Hinman 12:12pm October 8, 2016)
I am just now getting ready for this Christmas season, and am
ordering my Christmas cards now to send out. We have a small family and I don't have to make list but we do carry on with traditions that we have had for years! Thank you for this giveaway.
(Ann Thaxton 9:53am October 8, 2016)
Thank you for the chance. I do everything last minute. I
decorate the tree and wrap presents on Christmas Eve.
(Tanja Dancy 10:01am October 8, 2016)
I start getting busy thinking about buying gifts and digging out the tree a week before Christmas. I do love the holiday, I'm just a procrastinator.
(Melanie Rosen 8:04pm October 8, 2016)
i love bears too -- have some tht my sister-in-law made
for me, complete with moveable arms and legs, sitting on
my headboard! i've cross-stitched some but not made any
huggable ones. maybe for my great-niece and nephew?
maybe. Have a great holiday! thanks.
(Sandy Haber 11:38am October 9, 2016)
Sounds like you have a busy but wonderful and heart
filling holiday season! I love decorating for holidays
but Halloween and Christmas are the best, so as soon as
the Halloween decorations come down, I'm planning
Christmas decorations and activities so that come
Thanksgiving dinner, the family gets their orders!
(Eva Millien 11:45am October 9, 2016)
I love the holidays and sharing with family is the best part.
(Patti Paonessa 12:49pm October 11, 2016)
Thank you for the chance.
(Jenne Turner 10:42pm October 11, 2016)
You are going to have a terrific family Christmas. I found your plans fascinating.
(Anna Speed 12:18pm October 12, 2016)
Registered users may leave comments.
Log in or register now!