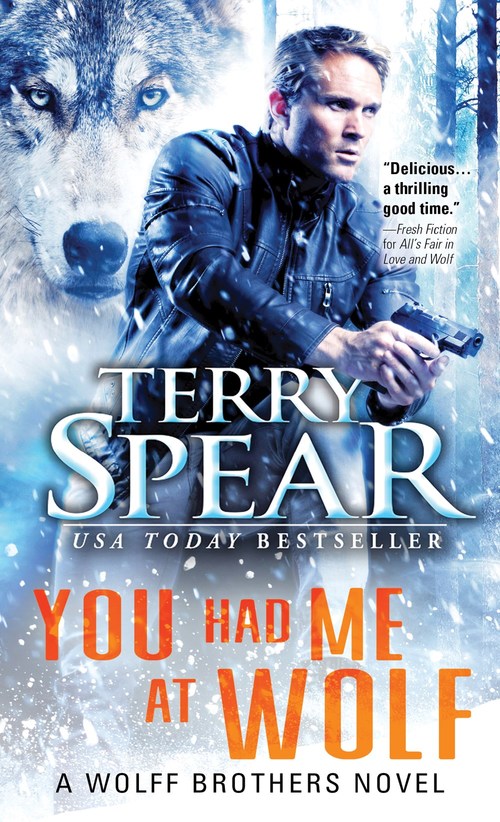 Purchase
Wolff Brothers
Sourcebooks Casablanca
March 2020
On Sale: February 25, 2020
384 pages
ISBN: 1492697753
EAN: 9781492697756
Kindle: B07Y5N6NYF
Mass Market Paperback / e-Book
Add to Wish List

First in a thrilling new series from USA Today bestseller Terry Spear featuring the hot, powerful Wolff brothers!
A wolf on a mission cannot be deterred...
The hot, powerful Wolff brothers have moved to the outskirts of Silver Town and opened a ski lodge. They've always wanted to live in a wolf-controlled area, and now they have their chance. They're settling in for a quiet winter, when their lives suddenly become way more exciting than they'd ever planned.
Private Investigator and Gray wolf shifter Josie Grayson is hot on the trail of a dangerous criminal hiding out at the ski lodge when her partner takes ill and must leave her to pursue the mission alone. Blake Wolff steps in—he can't resist the allure of this brilliant and focused she-wolf whose presence awakens a long dormant yearning in his heart.
As pursuit of their quarry heats up, Blake has a mission of his own...to convince Josie that there's more to life than work...and that she's his perfect mate.
Wolff Brothers
Comments
30 comments posted.
I like the hero or heroine being able to shift to help other
people or get out of a predicament.
(Melanie Rosen 12:46pm February 27, 2020)
I like the protective nature before shifting and then the
fierce protection after shifting. Sexy wolves.
Lucky4750 at aol dot com
(Carol Luciano 4:54am February 27, 2020)
I love how they reach out to help others and in the end wind up helping themselves too.
(Terry Kirgan 7:07am February 27, 2020)
an altered nature is always unpredictable.. .. .
(Martin Bodnar 8:58am February 27, 2020)
I love the pure imagination of it all.
(Nancy Reynolds 11:03am February 27, 2020)
I still remember my first shifter book. I was so enthralled!! I think part of me
has always wanted to be able to have some of the abilities as the shifters
do in the books that I read. I love that they are fiercely protective and very
loyal. Qualities that I would love to have found in a significant other. And
the hint of danger that they possess always takes things up a notch. Thank
you so much for doing this giveaway!!
(Renee Olichwier 2:23pm February 27, 2020)
I love that shifters truly love their mates and are with
them for life and the protection they have for others.
(Tina Rucci 2:51pm February 27, 2020)
I love that shifters are magical beings and that anything is
possible. Shifters can be any type of animal. I love the
hierarchy of shifter clans and the politics that go along
with it. I love that shifters claim their mates and are VERY
possessive of them!
(Elizabeth Haney 5:43pm February 27, 2020)
I Love shifter books because they're so different from a regular romance book. There's usually some danger and suspense involved and it keeps my attention. They're a great type of book to let your imagination go wild and wonder about a world with them in it would really be like.
(Kim Roller 6:51pm February 27, 2020)
I just love shifters, I like the one mate, the packs if
they have one. How they protect and just the magic of the
change.
(Laura Davis 7:07pm February 27, 2020)
What do I love about Shifter romances? I love shifter
books because their a different type of romance from
other romance stories. I love that hero/heroine can shape
shift to get out situations but what really intrigues me
is that sometimes their shape shifting can get them into
trouble and is always interesting to see how they handle
that situation especially when the couple unexpectedly
fall in love. I would love to see more heroine shape
shifters in romance stories. I also would love to see a
woman become the leader of the pack/clan not the man.
Book sounds interesting and intriguing. Would love to
read and review the print version of this book.
Hope I win.
Crystal
(Crystal Stewart 7:27pm February 27, 2020)
I like when they can overcome & hopefully scare the bad guys
(Diane Sallans 8:13pm February 27, 2020)
I love shifters for their protectiveness, facing danger
head-on, taking care of their mate and family.
(Ann Ivey 8:21pm February 27, 2020)
I love the magic of shifters.
(Jana B 8:53pm February 27, 2020)
I love that shifter romances are full of animals. I enjoy
that the humans often mirror the characteristics and/or
personalities of their animals.
(Tamara Kasyan 9:07pm February 27, 2020)
I love the sexy, protective heroes.
(Janie McGaugh 10:01pm February 27, 2020)
I enjoy the magic and discovery. Don't we all wish we could
run with the wolves?
(Nancy Krueger 10:33pm February 27, 2020)
I own a few of Terri's books and enjoy the interaction of
the characters. Paranormal Romance is one of my favorite
categories... Usually my favorite is the human girl who
finds herself in a situation where our hero saves her and
she can't help but to fall in love.
(Nora-Adrienne Deret 11:02pm February 27, 2020)
This will be a great addition to my Terry Spear's 'keeper
shelf'!!
(Shirley Bennett 12:41pm February 28, 2020)
Part of what I like is the ability to become something entirely
different from their human selves. I like their certainty when
they meet their fated mate. Wouldn't it be nice as a human to
be so certain about a relationship when you meet someone?
(Patricia Barraclough 1:36am February 28, 2020)
Darned if I know what the attraction is. I started young
with fairy tales and just never lost that wonder. I love
the stories that aren't horror, the ones where the animal
side retains some of their humanity in the way they deal
with their issues and the problems that arise from the
shape shifting. Thank you for the opportunity. Terry is
one of my all time favorites.
(Marcia Berbeza 3:00am February 28, 2020)
I like when there is romance between the shifter & another
character and a happy ending.
(Brenda Cipriano 8:41am February 28, 2020)
I like their protective nature.
(Sherry Haut 9:57am February 28, 2020)
I have only read a few shifter books, but this story sounds
really good and I would like to give it a chance.
(Kimberly Fravel 1:17pm February 28, 2020)
i enjoy the romance and fairy tale endings ,,i know its not
real but it makes you feel good inside
(Vickie Couturier 4:43pm February 28, 2020)
I enjoy that a Supernatural and a human can have feelings for each other!
(Teresa Warner 5:33pm February 28, 2020)
I suppose I like best the exaggerated alpha-ness, because you just can't get more alpha than a dude that shifts into a wolf or lion can you? And then it's a lot of fun when he's put against a woman strong in her own right.
(Kelly Moore 10:02pm February 28, 2020)
I love how alpha shifters are and that they'll do anything to protect their mate. I love your books. Would love to win this one
(Amber Johnson 11:17pm February 28, 2020)
This reminds me of "You had me at Hello." Shifters are a
special breed and have leaders who won't take "No," for an
answer.
(Alyson Widen 11:55pm February 29, 2020)
The way the groups fight but have each other backs at the
same time.
(Sharon Good 2:37pm March 1, 2020)
Registered users may leave comments.
Log in or register now!