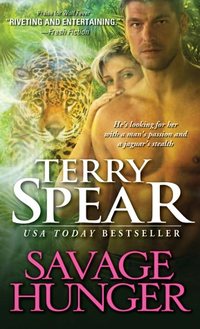 Purchase
Sourcebooks Casablanca
October 2012
On Sale: October 1, 2012
352 pages
ISBN: 1402266928
EAN: 9781402266928
Kindle: B008BWABXU
Paperback / e-Book
Add to Wish List

Kathleen McKnight is on a dangerous mission to help her army team take down a drug lord. She's a tough as nails recruit, but when she's caught in the crossfire, she has to rely on a mysterious man to save her. She has no idea that he has big plans for her...
Connor Anderson is a jaguar shifter who is looking for his mate. When he rescues Kathleen in the jungle-twice├»┬┐┬Żhe can't help but be intrigued. Will a bite or a scratch turn Kathleen into the perfect jaguar mate?
Comments
38 comments posted.
Re: Savage Hunger

I would go on that Amazon Adventure just to meet tall dark and dangerous...hmmm handsome man. What an adventure it would be.
(Kai Wong 11:52pm October 4, 2012)
The Amazon would scare me. I hear they have ginormous spiders. I
would die on the spot, lol. But an adventure sounds amazing!
(Vicki Hancock 1:35am October 5, 2012)
Woohoo, Kai, you would be taken right in to the jaguar's arms--when he was human, and make his tail twitch when he was not!

Vicki, lol, the jaguar will take care of all the ginormous spiders and whatever goes bump in the night! Wait, he also goes bump in the night. Oh, that's the good part!
(Terry Spear 8:01am October 5, 2012)
I love the idea of going to the Amazon and would love to meet a sexy shifter but in reality I like my comforts. Toilet, running water and heating or air-condioning, not having to kill to eat would be good too!
(Barbara Hanson 8:33am October 5, 2012)
LOL, Barbara, I'm with you there!!! I did some roughing it camping, and I'd much rather have the toilet, running water, and all that! In Jaguar Fever, they've got the creature comforts. :) Though in Savage Hunger, they do too, later. But in Jaguar Fever they have some pretty great meals! Nothing too exotic! LOL
(Terry Spear 9:06am October 5, 2012)
I don't like roughing it.
(Sandy Giden 11:14am October 5, 2012)
The last time I roughed it was 19 years ago. I don't think
anything would make me willingly do it again. I'm spoiled and
want to stay that way :).
(Victoria Sloboda 12:12pm October 5, 2012)
Going through the jungle... between the pages of a book, I would... in real life I would skip that... but then again maybe some hunky man could convince me. Congrats on the book release Terry!
(Colleen Conklin 1:20pm October 5, 2012)
I have done a bit of trekking in other countries and in tropical areas. It was fascinating but hard work. Your experiences and your father's are so interesting.
(G. Bisbjerg 1:56pm October 5, 2012)
Sandy, I'm not into room service much, but definitely the AC or heat and nice comfy bed, bathroom, suits me fine!

LOL, Victoria, I'm the same way. I remember sleeping in a car while my sister, mother, the other mother and her youngest daughter slept in the trailer. The boy, who was my age, my dad and his dad slept in a tent. And The older girl in the car with me. It was the most excruciatingly cold and uncomfortable experience I've ever had--Washington State, not sure time of year, but COLD. :)

Thanks, Colleen, he would totally make you forget that you were in the jungle!!! :) And take you into another world entirely! But that's okay. You can live it vicariously through the book! I deep sea dive that way. LOL

Thanks so much, G. Bisbjerg! One of the men I spoke with had been through many jungles too, and it was fascinating!
(Terry Spear 2:43pm October 5, 2012)
In reality I would never pick the jungle as a place to go, but in a book I
could absolutely enjoy the experience .
(Ann Sheiring 3:59pm October 5, 2012)
Ann, I agree! I hate being really deep in the water, but I love to read where someone else does it in a book! :)
(Terry Spear 4:19pm October 5, 2012)
This book sounds great! Love the cover! Going to the Amazon would be quite an experience but I'd rather stick to reading about it in a book. I always loved watching Tarzan as a kid and envied Jane (what was I thinking)! Ha! I'm definitely going to read this one for sure Terry. Your books are so good!
(Linda Luinstra 5:51pm October 5, 2012)
Ah, thanks so much, Linda!! Yes, me too, I LOVED Tarzan and wanted to be Jane, too. LOL I don't know why I never thought about the bugs. I lived in Florida, for heavens sake!!! :) Mosquitoes were a REAL problem. I guess since they always looked so cool and collected, I never considered it could have been buggy! :)
(Terry Spear 6:57pm October 5, 2012)
I really enjoyed reading your posting tonight, and envied some of the things that you were able to do. Other things I never would have the guts to do, so I'm glad that you did them instead of me!! LOL I hate to admit it, but I have had a couple of bouts of sleepwalking due to one of the medications that I have to take. I've woke up out of my stupor, and found myself in some weird places in my apartment!! I wish I could say more, but unfortunately I can't. It's just a good thing that it's just my Husband and myself in the apartment. We've had a couple of laughs the following morning when I've related the stories to him, but to get out of bed, go to another room, and fall asleep there is pretty strange when it's the last place you should be sleeping!! That should give you a hint!! Your books sound exciting, and the cover of your latest book is wonderful!! I can't wait to read that one, too!! Congratulations!!
(Peggy Roberson 8:28pm October 5, 2012)
The Amazon is a fascinating place to read about, but the bugs would scare me. My sister sleeptalked and that was unsettling for me when we shared a room growing up since she'd answer and not remember anything. She was always worried about the pulls on the shades and cords on lamps. I had trouble convincing her they weren't snakes.
(Alyson Widen 8:31pm October 5, 2012)
LOL, Peggy, and I was totally shy! It was great doing these things because it made me realize I could do just about anything I set my mind to do. LOL about your sleepwalking! That's the thing of it. Half the time you don't recall about it at all! You just are somewhere you ought not be. :) Thanks so much, and hope you love it!!! It does have a beautiful cover!

LOL, Alyson! I was afraid of stuff under the bed. My parents loved horror stories, and I guess I watched one with them that really got to me. The woman went to bed and something under the bed dragged her underneath it. That was it! I slept in the middle of the twin better. If my arm draped over the bed in the middle of the night, it would wake me up! :)
(Terry Spear 10:08pm October 5, 2012)
i don't like roughing it. but when your book came out i went to b%n to get it and i looked ,looked after about 15 mins i asked someone so he started looking.well 30 mins. later and after he went in back, he found it!!! i just thought you should know? i don't know why they don't keep all new books in one place so your readers can find them.ps i love this book and can't wait for the next one..you don't have to nter me in contest i buy yours as soon as they come out..thanks for the many great books!! i think this series will be as great as the wolf books..thanks again jennifer beck
(Jennifer Beck 12:43pm October 6, 2012)
I wouldn't mind meeting a sexy jaguar shape shifter but the Amazon part yeah I could do without that part.
(Larena Hubble 12:59pm October 6, 2012)
Ah, thanks so much, Jennifer!!! I have to say we had the same problem at B&N here in Waco. I went to sign all my books there, and they only had one Savage Hunger, and I asked if she had any more, so she looked on the computer and sure enough there were 2 more. But where were they? They have 2 different new release stands and then the regular romance. I didn't even know about the one whole area of new releases. But I finally found them and autographed them! Thanks so much for loving both the wolf books and the jaguars. I think you'll have fun with Maya in the next book! I'm thrilled you're enjoying them!

LOL, Larena, but see, if you were a part time jaguar, you'd love it to! It would be in your blood! :)
(Terry Spear 8:29am October 6, 2012)
I think the Amazon would scare me but I would have to go if I was going to meet Mr tall, dark and handsome!!
(Christine Mead 9:33am October 6, 2012)
LOL, Christine, I agree! :)
(Terry Spear 11:41am October 6, 2012)
It's great to have flawed heroes and heroines, it makes you love them more. :)
(Krissy Malott 11:52am October 6, 2012)
Wow what an adventure filled life! I'm glad to just read about
them, thank you very much, lol. I'd love to win one of your
books, they sound fascinating and full of fun. I've been
tempted to take the plunge for a while but winning one would
get me started :-)
(Lenna Hendershott 3:59pm October 6, 2012)
LOVE THE AMAZON WHAT A WAY TO MEET A TALL, DARK, AND HANDSOME
MAN IN THE JUNGLE.
(Shelly Caggiano 4:02pm October 6, 2012)
Hey, Krissy! Yes, I so agree. No way is someone who's perfect appealing!!! :)
(Terry Spear 4:05pm October 6, 2012)
As a 4th or 5th grader I was a sleep walker. I slept in the 2nd floor attic. For example, I managed to walk down a steep set of stairs and turn on the TV. My parents moved me to the main floor and I stopped my sleep walking.I have no memories but my folks shared stories of my episodes.
The Amazon isn't on my bucket list; but I'd enjoy reading about it as well as your characters.
(Joanne Hicks 9:41pm October 6, 2012)
I went to Brazil one year but never got to see the
Rainforest. It would be interesting to see what actually
goes on - I can just imagine all different types of shifters
living in such a wonderous place.
I would love to put the Amazon on my bucket list if I could
have Terry as a tour guide (or at the very least my own
personal jaguar shifter).
(Lynn Reynolds 10:02pm October 6, 2012)
I love the thought, anyway, of finding a hunky jaguar shifter (or other type of shifter or vampire, etc.) I've never had any bouts of sleepwalking. Just want to say that your experiences are impressive!
(Janie McGaugh 12:40pm October 7, 2012)
Joanne, did anyone else do that in your family? My grandfather had a bedroom in the attic when he was a boy and climbed out onto the roof! My dad was a sleepwalker when he was young. I wonder if it's kind of hereditary or not! It's interesting that when you changed rooms, you were okay.

Lynn, that's cool that you went to Brazil!! Hey, we'd have a blast. Just bring your camera and we'll get some great shots. And when we see the jaguars, just be cool, calm and collected! Maybe we'll get lucky and they'll be our kind of jaguar!!!!

Janie, thanks!!! I was glad to have experienced them though I never thought I'd end up using so many in books!! Finding any of those hunky shifters...well, can you imagine having one under your tree for Christmas? Or...better yet, helping you to decorate one!
(Terry Spear 10:19am October 7, 2012)
I think Trapped would be a good book for me to give to my teen age granddaughter and maybe I could read it first and then we could discuss it together. Anything to get them reading. Hope I win.
(Mary Branham 12:53pm October 7, 2012)
Mary, I don't know anything about a book named Trapped, but I do have a YA fae series that's been really popular with every age. :) The Dark Fae starts out the series. Dragon Fae, 5th of the series, has just been released.
(Terry Spear 1:35pm October 7, 2012)
Just want to say I love your books Terry
(Wanda Flanagan 2:00pm October 7, 2012)
Ah, thanks so much, Wanda!!! I hope you enjoyed Savage Hunger!! :)
(Terry Spear 2:17pm October 7, 2012)
Sometimes it's hard to tell the difference. I just hope I can tell it most of the time.
(P Noda 5:20pm October 7, 2012)
LOVE your work!! PICK ME!! PICK ME!!
(Pamela Faye Howell 10:15am October 8, 2012)
LOL, Pamela!!! I'm glad you love the stories!
(Terry Spear 11:48am October 8, 2012)
Here I am again going for the chance at this book Savage
Hunger looks yummy.
(Denise Van Plew 12:47pm August 2, 2013)
Registered users may leave comments.
Log in or register now!