Ann Lawrence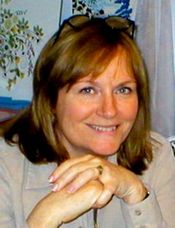 Stunning heroes . . . Indomitable heroines . . . Breathtaking tales
Contests
Win a print or ebook copy of Ann Lawrence's LORD OF THE HUNT along with a Crabtree & Evelyn travel kit.
LORD OF THE MIST Giveaway

Blogs:
Ann Lawrence - Facebook
Ann Lawrence - Goodreads

News
May 4, 2013
Ann Lawrence | Time Travel and Your Imagination
May 1, 2013
LORD OF THE MIST Re-Released in Digital Format
April 2, 2013
USA Today Best Selling author, Ann Lawrence's, second "lord" book is being rereleased as an Ebook
March 23, 2013
Ann Lawrence | A Rebirth...the Difficulties of a Re-Release
March 19, 2013
Ann Lawrence's Family Recipe for Irish Potatoes
March 4, 2013
Ann Lawrence LORD OF THE KEEP Re-released

E-mail me when Ann Lawrence releases a new book.
Blogging at Fresh Fiction
Ann Lawrence | Time Travel and Your Imagination
May 4, 2013
Would you like to really time-travel? Or are you content, as I am, to visit other times in your imagination? When I Read More...
Ann Lawrence | A Rebirth...the Difficulties of a Re-Release
March 23, 2013
Giving birth is really hard, but we forget the pain in the joy of the new baby. Writing a book is a little like giving Read More...
Dear Reader

I want to thank all of you who continued to email me during my hiatus from publishing. I appreciate and treasure every line. Please adopt the Leukemia and Lymphoma Society as a charity. Without the tremendous strides made in the last five years or so, I wouldn't be writing this today!

As many of you know, much of my backlist is being rereleased by Ellora's Cave in their "Blush" line. My historical romances are first out: LORD OF THE KEEP (March 7), LORD OF THE MIST (April 25), and LORD OF THE HUNT (May 30).

I'm extremely excited to see my books in digital form. I'm always glued to my ebook reader and know there's nothing that makes me happier than finishing a book at 3AM, and knowing I can just go online and download another (and read until dawn) without having to wait for morning and the stores to be open (or the library!). So, as a dedicated ebook reader, I'm very excited. Did I say I was excited?

I write both paranormal and historical romance. My paranormal romances include both ""time–travels"" into a virtual reality game of warriors and quests (VIRTUAL HEAVEN, VIRTUAL DESIRE, VIRTUAL WARRIOR) and a contemporary shape–shifter tale (DO YOU BELIEVE?).

And although politics may create the framework for my historic tales, you don't need to be a history buff to love my stories. These are romances and at the heart of each is an incredibly stunning man and an equally indomitable woman. In each book, I've paired a powerful man––whether nobleman or knight––with a humble woman. But humble doesn't mean ordinary. Each woman is more than a match for the hero!

In LORD OF THE KEEP, I paired Lord Gilles with a weaver. Emma weaves lovely fabrics, but she also weaves a spell of love that Gilles cannot escape––and doesn't want to! But this tale is also a tale of murder and revenge...Can Gilles protect this woman he's come to love?

In LORD OF THE MIST, I paired Lord Durand with an herbalist, one who makes soaps, perfumes, and love potions! Cristina falls for Durand at first sight as he rides out of the mist...but can she make a potion strong enough to resist such a powerful man?

In LORD OF THE HUNT (affectionately called LORD OF THE HUNG by my critique group), I paired a knight with the daughter of the Master of the Hunt. She's a huntress in her own right, trying to preserve her father's livelihood. To the hero, she's his Diana, a goddess he hunts, but who eludes him at every turn. Who's the hunter? Who's the quarry?

I hope you'll download each book, and if you aren't a digital reader, they'll be rereleased in print form within a few months. Please put my books on your TBR list and email me with your thoughts on each one. I answer all my email and love to hear from my readers.

Happy Reading!
Ann
* * *
USA Today Best Seller and Award Winning Author, Ann Lawrence, writes both paranormal and historical romances. But Ann also loves a good mystery, so she often includes a puzzle for the reader to solve along with the characters.
Ann was born in Gillingham, Kent, England, sometime after the Battle of Hastings but before David Beckham retired from soccer! When not reading, writing, and researching romance, Ann lives the real thing with her husband in the Philadelphia suburbs.
If asked, Ann considers her love of storytelling began in childhood when her parents would put her to bed on summer nights when the sky was still light. She could hear other kids outside playing and knew it would be hours before she fell asleep. (Until her own kids were born, Ann never considered her parents might have put her to bed so early because they needed a break!)
Ann and her sisters spent those twilight hours exchanging stories in whispers. Most of those stories involved knights and castles, princes and fair maidens!
What's coming next? Ann's working on a medieval romance . . . swords . . . lust . . . she's writing it with asbestos gloves!
In addition to writing, Ann is often asked to speak on writing. She's appeared both at national and regional conferences.
Books:
Lord of the Mist, May 2013
e-Book (reprint)
Lord of the Keep, March 2013
e-Book (reprint)
Do You Believe?, May 2005
Paperback
Lord Of The Hunt, January 2003
Paperback
Virtual Warrior, August 2002
Mass Market Paperback
Lord of the Mist, July 2001
Paperback
Virtual Desire, August 2000
Mass Market Paperback
Paradise, August 1999
Paperback
Virtual Heaven, May 1999
Mass Market Paperback