Ann Lawrence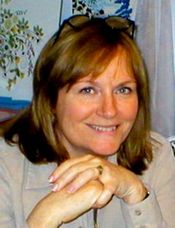 Stunning heroes . . . Indomitable heroines . . . Breathtaking tales
Contests
Win Books for Friends from Ann Lawrence
Give Yourself and a Friend a Holiday Treat, courtesy of Ann Lawrence!

Blogs:
Ann Lawrence - Facebook
Ann Lawrence - Facebook

News
November 23, 2013
Ann Lawrence | Christmas in Savage Bay
November 5, 2013
Ann Lawrence--Special Promotions and a Peek at a Christmas Release
October 12, 2013
Ann Lawrence | INSPIRATION BEHIND THE STORY
September 9, 2013
Beyond the Basics with Ann Lawrence
September 5, 2013
Ann Lawrence | Games in the Perfect Heroes Series
September 2, 2013
Ann Lawrence 2nd Perfect Heroes VIRTUAL DESIRE now in e-Book
July 30, 2013
Ann Lawrence's Perfect Heroes series is being reissued as an ebook!
June 17, 2013
Ann Lawrence's Summer Reading List Plus a Fruit Delight

E-mail me when Ann Lawrence releases a new book.
Blogging at Fresh Fiction
Ann Lawrence | Christmas in Savage Bay
November 23, 2013
Every year, I stock up on holiday books, and I've always wanted to write one. Well, I finally have! Read More...
Ann Lawrence | INSPIRATION BEHIND THE STORY
October 12, 2013
LORD OF SWORDS, my new historical romance, is on sale everywhere this month. I was Read More...
Ann Lawrence | Games in the Perfect Heroes Series
September 5, 2013
Are you a fan of games? I am. I even set a series of books set in a fantasy game based on Arthurian legend. My Read More...
Ann Lawrence | The Joy of Sequel Characters
June 7, 2013
Don't you just love sequel characters? I know I do. I love returning to a series, discovering the new romance, but also learning more Read More...
Ann Lawrence | Time Travel and Your Imagination
May 4, 2013
Would you like to really time-travel? Or are you content, as I am, to visit other times in your imagination? When I Read More...
Ann Lawrence | A Rebirth...the Difficulties of a Re-Release
March 23, 2013
Giving birth is really hard, but we forget the pain in the joy of the new baby. Writing a book is a little like giving Read More...
Dear Reader
I'm really looking forward to the holidays this year! Iíve written my first ever holiday book! Itís also the first book in my new contemporary romance series. CHRISTMAS IN SAVAGE BAY will introduce the characters who live and love in the picturesque seaside village of Savage Bay, Connecticut.
Savage Bay . . . Where all the men need taming and the women are up to the task!
CHRISTMAS IN SAVAGE BAY...starring Reed Savage and Kara Sinclair
Reed Savage returns to Savage Bay, Connecticut, to confront his past. Falling in love is not on his agenda. But when Kara Sinclair kisses him under the mistletoe, Reed knows one thing for sure, he definitely has time for a holiday fling.
Kara Sinclair has no plans for falling in love either, but she definitely wants more than kisses beneath the mistletoe. Can she accept what Reed is offering . . . a casual fling with a New Yearís Eve deadline?
And donít forget to pick up LORD OF SWORDS for all your friends who love historical romance. Itís a deeply emotional love story set amid the pageantry of medieval England.
LORD OF SWORDS
Guy de Maci has never lost a battle . . . will Lady Joia be his first defeat?
Guy de Maci's son disappears during England's bloody civil war. Guy follows his sonís trail to Stonewold Castle, becoming the bodyguard of Stonewoldís heir. Guy uses the child as a cover to search for his missing son, but guarding the boy hampers rather than helps Guy's efforts. He is soon entangled in not only the boyís life but also that of the childís sister, the rebellious and utterly captivating Lady Joia.
Lady Joia, betrothed to a man she despises, tries to enlist Guy in her plots to free herself from marriage. All of Guyís warrior skills are useless when it comes to resisting Lady Joia. But should he? Or should he succumb to the passion shimmering between them and learn the true meaning of love before they are separated forever?
Happy Holidays and Happy Reading!
* * *
USA Today Best Seller and Award Winning Author, Ann Lawrence, writes both paranormal and historical romances. But Ann also loves a good mystery, so she often includes a puzzle for the reader to solve along with the characters.
Ann was born in Gillingham, Kent, England, sometime after King Henry VIII beheaded his first wife and sometime before the birth of Prince William! When not reading, writing, and researching romance, Ann lives the real thing with her husband in the Philadelphia suburbs.
If asked, Ann considers her love of storytelling began in childhood when her parents would put her to bed on summer nights when the sky was still light. She could hear other kids outside playing and knew it would be hours before she fell asleep. (Until her own kids were born, Ann never considered her parents might have put her to bed so early because they needed a break!)
Ann and her sisters spent those twilight hours exchanging stories in whispers. Most of those stories involved knights and castles, princes and fair maidens!
Ann's special charity interest is the Leukemia and Lymphoma Society. Ann knows how valuable their work is as she has Chronic Lymphocytic Leukemia (CLL). The research into this disease has made it possible for Ann to receive treatments not available even 5 years ago. Please support this charity!
Visit Ann's website or find her on facebook, tumblr, and google+!
Books:
Christmas in Savage Bay, December 2013
e-Book
Lord of Swords, October 2013
He is the lord of swords...she is the lady of his heart
e-Book
Virtual Warrior, October 2013
Perfect Heroes #3
e-Book (reprint)
Virtual Desire, August 2013
Perfect Heroes
e-Book (reprint)
Virtual Heaven, July 2013
Perfect Heroes #1
e-Book (reprint)
Lord of the Hunt, June 2013
e-Book (reprint)
Lord of the Mist, May 2013
e-Book (reprint)
Lord of the Keep, March 2013
e-Book (reprint)
Do You Believe?, May 2005
Paperback
Lord Of The Hunt, January 2003
Paperback
Virtual Warrior, August 2002
Mass Market Paperback
Lord of the Mist, July 2001
Paperback
Virtual Desire, August 2000
Mass Market Paperback
Paradise, August 1999
Paperback
Virtual Heaven, May 1999
Mass Market Paperback