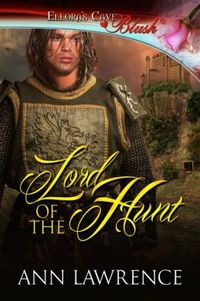 Purchase
Ellora's Cave
June 2013
On Sale: May 30, 2013
Featuring: Adam Quintin; Joan Swan
357 pages
ISBN: 141994598X
EAN: 9781419945984
Kindle: B00D46DX56
e-Book (reprint)
Add to Wish List

Adam Quintin, a man with a secret past, is on the hunt for a traitor to the crown. To find the traitor, Adam must join the many suitors of England's most desirable heiress. But no sooner does Adam arrive at Ravenswood Castle to begin his mission and his courtship, than his life is saved by the seductive, but humble, daughter to the keeper of the hunting hounds.
Joan Swan has her own secret mission––preserve her father's livelihood as master of the hunt. Her task becomes nearly impossible as suitors flock to court the lady of Ravenswood. Can Joan protect her ailing father? Can she protect her heart once she falls in love with Adam Quintin, a man destined for her lady?
Comments
23 comments posted.
Re: Lord of the Hunt

This would be a great read to start off the Summer!
(Sally Lincoln 12:42pm June 7, 2013)
I enjoy finding out what happens next with characters from a previous book. In fact, there are times when I search to find out if the author has another book featuring a special one.
(Anna Speed 12:54pm June 7, 2013)
I'm a fan of sequel characters. I'm always wondering what the other characters in the current book I'm reading story is. I loved Lord of the Keep.
(Laura Gullickson 1:17pm June 7, 2013)
I love sequel characters because if there's an awesome secondary character it's so easy to root for them to find love and be the hero of their own story.
(Jamie Fortney 2:09pm June 7, 2013)
Story sound great. Thanks for a chance to win your book.
(Linda Hall 3:11pm June 7, 2013)
Always enjoy seeing characters I have previously met have their chance to share their own stories... thanks for the chance to win! :)
(Colleen Conklin 4:31pm June 7, 2013)
i would love to read this im excited for the summer reads
(Denise Smith 4:35pm June 7, 2013)
I like seeing people and places I already know.
(Cheryl McEwen 5:53pm June 7, 2013)
I like seeing people and paces I already Know.
(Cheryl McEwen 5:54pm June 7, 2013)
this would be a great book to start my summer with...i have never read any of your books..sounds great
(Kimberly Hoefs 10:05pm June 7, 2013)
I love when secondary characters get their own story!
(Tracie Travis 10:08pm June 7, 2013)
I enjoy seeing secondary characters in their own stories and getting to revisit with characters from the previous book/books.
(Janie McGaugh 11:30pm June 7, 2013)
yes and yes,looks nice
(Kent Cook 11:53pm June 7, 2013)
Thank you for taking the time to read and comment on my blog. I appreciate the
time you took and hope that if you don't win, you will still pick up the book and
enjoy it as much as I enjoyed writing it.
Happy Summer Reading!
Ann
(Ann Lawrence 9:07am June 8, 2013)
I like it when characters return throughout a series.
(Sandy Giden 10:58am June 8, 2013)
Yep. I love to follow characters in a series and see how they
grow and what dilemmas they get into. Secrets are fine as
long as they aren't damaging to the person they concern.
(Alyson Widen 5:19pm June 8, 2013)
THANKS FOR THE GIVEAWAY!
(Shelley Summers 12:44pm June 9, 2013)
I'm good at keeping secrets, and I do love it when characters
have secrets of their own.
(Mary Preston 5:27am June 9, 2013)
I love a good story. If its a sequel so much the better. This sounds like a great story.
(Carol Woodruff 11:10am June 9, 2013)
I love sequel characters. They have a secret of their own that they have to have their own stories told. Not only do sequel characters have their own stories, they also bring back familiar characters with them.
(Kai Wong 5:01pm June 9, 2013)
I love sequel characters, you barely notice them in the first series then boom they grow and gain your love!
(Darci Paice 7:22pm June 9, 2013)
If the character is good to begin with and has an interesting dilemma, yes. Not if it's just a soap opera situation.
(Clare O'Beara 8:56am June 10, 2013)
Thanks again to everyone for reading my blog. I love the comments. I'm glad to
know so many of you readers are like me! Please come back and read my next
blog which will be in July sometime...TBA. Best Wishes, Ann
(Ann Lawrence 3:24pm June 11, 2013)
Registered users may leave comments.
Log in or register now!