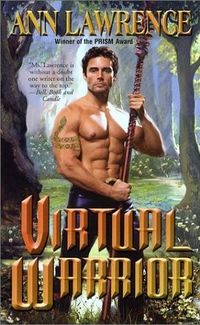 Purchase
Ardra desires only one thing--a strong warrior to defend her people from the enemy camped on her border. Neil also desires only one thing--a quiet place to lick his wounds and heal.
Dorchester
August 2002
On Sale: July 31, 2002
Featuring: Neil; Ardra
366 pages
ISBN: 0505524929
EAN: 9780505524928
Mass Market Paperback
Add to Wish List

Neil Scott's exhausted from the stress of caring for an alcoholic mother. He has just buried her after a suicidal auto accident. He's also suffering from the rejection of his girlfriend who resented the many hours Neil devoted to his widowed mother. Neil would like to go somewhere, lick his wounds, and live a life with no responsibility. He's had enough to last him a lifetime. And he knows just the place. A place of fascination and mystery to him. A place his business partner claims to have visited––a virtual reality game world called Tolemac.
Ardra has dutifully done what was necessary when the Fortress of Ravens was left without leadership upon her father's death––she life–mated with an elderly councilor. Now her life–mate, Tol, lies dying. Once again, her fortress is in danger of being claimed by anyone strong enough to take it. She fears for her people, and as Tol slips into unconsciousness, he tells her she must find an able warrior to stand at her side. She immediately thinks of the mysterious and alluring man who has appeared in her life. Is he the warrior who will help her protect her people? Or will he, like so many others in her life, walk away?
Comments
No comments posted.

Registered users may leave comments.
Log in or register now!