Leslie Budewitz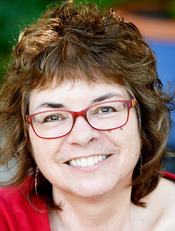 Blogging at Fresh Fiction
Leslie Budewitz | The Scent of Memory
October 3, 2016
You're walking down a street past an open window, and all of sudden, you're in your grandmother's house, a pot of her Read More...
Leslie Budewitz | Ten Favorite Things About Seattle
January 11, 2016
When I started telling people that my second Spice Shop mystery was on the way Read More...
Leslie Budewitz | The Family Biz
July 14, 2015
The family business is a small-town mainstay—alive if not always well. Those devilish statistics say about 30% of family-owned companies survive into Read More...
Leslie Budewitz | Collecting Can Be Murder
July 7, 2015
I thought I'd escaped the collector gene. My father's baseball cards and memorabilia, his stamps and first-day covers, his postcards, the cameras Read More...
Leslie Budewitz | Rural or Urban: The Two Lives of a Cozy Setting
March 2, 2015
For most readers, the term "cozy mystery"—the light-hearted side of the genre—evokes a rural image. That's certainly true of my Read More...
Leslie Budewitz | Where do you get your ideas?
July 1, 2014
I hear tell that some authors don't like that question. Not me! Maybe because I have a great memory—but mostly because it's Read More...
Leslie Budewitz | On Going Home
August 2, 2013
Home is—Jewel Bay, Montana "Home is where the heart is." "You can't go home again." "Home is the place where Read More...
Leslie Budewitz is the national best-selling author of DEATH AL DENTE, first in the Food Lovers' Village Mysteries set in northwest Montana, and winner of the 2013 Agatha Award for Best First Novel. Crime Rib, the second in the series, was published by Berkley Prime Crime on July 1, 2014. Her Seattle Spice Shop Mysteries will debut in March 2015.
Also a lawyer, Leslie won the 2011 Agatha Award for Best Nonfiction for Books, Crooks & Counselors: How to Write Accurately About Criminal Law & Courtroom Procedure (Quill Driver Books), making her the first author to win Agatha Awards for both fiction and nonfiction.
Series
Food Lovers' Village | Seattle Spice Shop
Books:
As the Christmas Cookie Crumbles, June 2018
Food Lovers' Village Mystery
Paperback
Treble at the Jam Fest, June 2017
Food Lover's Mystery #4
Paperback
Killing Thyme, October 2016
Spice Shop #3
Mass Market Paperback
Guilty as Cinnamon, December 2015
Spice Shop #2
Paperback
Butter Off Dead, July 2015
Food Lovers' Village #3
Paperback
Assault And Pepper, March 2015
Seattle Spice Shop Mysteries #1
Paperback
Crime Rib, July 2014
Food Lovers' Village #2
Paperback
Death Al Dente, August 2013
Food Lovers' Village Series #1
Paperback
Books, Crooks And Counselors, October 2011
Paperback