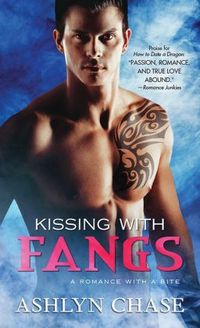 Purchase
Flirting with Fangs #3
Sourcebooks Casablanca
March 2014
On Sale: March 4, 2014
Featuring: Claudia Fletcher; Anothy Cross
352 pages
ISBN: 1402275757
EAN: 9781402275753
Kindle: B00GM43GQ8
Paperback / e-Book
Add to Wish List

Will she be willing to commit her heart for all eternity once the fangs come out?
Claudia Fletcher has her MBA and a stellar resume, so when the bar she manages burns down, she could easily move on to bigger and better things. But something about the bar owner, Anothy Cross makes it impossible to leave.
Anthony has never let on to the general public that he's a vampire, and most of his staff members have no idea Boston Uncommon was a safe gathering place for supernaturals of all kinds. Now that it's nothing but ash, the tentative peace among warring factions is starting to crumble. The last thing he wants to do is put Claudia in danger, but he also knows there's no way he can let her go...
Flirting with Fangs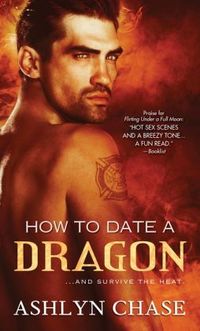 How To Date A Dragon
#2.0
Amazon.com | BN.com | | |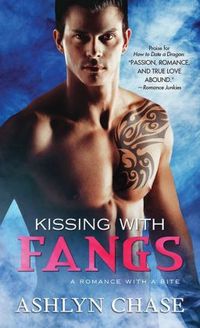 Kissing with Fangs
#3.0
Amazon.com | BN.com | | |
Comments
30 comments posted.
Love Ashlyn and her work. Lots of fun to read.
(Victoria Sloboda 10:38am December 29, 2013)
I think this sound really interesting. I really like the excerpt and can't wait to read the whole book.
(Denise Boyd 3:01am March 20, 2014)
This sounds like a wonderful read! I love paranormals!
(Linda Townsend 7:43am March 20, 2014)
Thanks Denise and Linda!
I'm always happy to meet more paranormal fans!!
(Ashlyn Chase 7:56am March 20, 2014)
Just stopping by to say hello. Love the title and the cover. I need to sit in front of a fan after staring at your covers too long!
(Carolyn Brown 8:24am March 20, 2014)
this sounds so good really love the cover i am such a
paranormal fan i love the vampire,warewolf bear shifters
stories i love them all so excited to read this
(Denise Smith 8:34am March 20, 2014)
O love paranormal romances and look forwards to reading this book!
(Bonnie Capuano 8:40am March 20, 2014)
I excited!!! Can't wait to read the whole book. I Love paranormal books...Please don't stop writing them!!!
(Bonnie Lujan 9:46am March 20, 2014)
That was a great excerpt! Thanks for the blog post today.
:-D
(Karin Anderson 9:51am March 20, 2014)
Thanks for the excerpt. It sounds interesting.
(Pam Howell 10:10am March 20, 2014)
Thanks, Carolyn! I think he's gorgeous too!
(Ashlyn Chase 10:49am March 20, 2014)
i have readand blog your fist book and thst was great book i love to read the others
(Desiree Reilly 10:51am March 20, 2014)
Thanks so much for the encouragement Denise, Bonnie, Karen and Pam... and don't worry Bonnie, I won't stop writing some form of paranormal fiction. If not these critters, others will show up.
(Ashlyn Chase 10:52am March 20, 2014)
Other than a Novella I read the other day, I have yet to read an entire book of this genre. I really enjoyed your excerpt, and got hooked by the story line. You have a way with words, and the conversation between the characters flowed so flawlessly, that I felt like a fly on the wall, watching intently!! I have to have this book on my TBR list for sure!! Great job, and I'm sure it's a great series!!
(Peggy Roberson 10:57am March 20, 2014)
I love your books. Have most of them but would love to have all in print.
(Robin Priddy 12:32pm March 20, 2014)
Oh I love the name of the book... paranormals are a fav of mine! Sounds good!
(Colleen Conklin 1:02pm March 20, 2014)
Wonderful feedback, Desiree and Peggy. It sounds like you'd enjoy the whole series. (hint, hint.)
(Ashlyn Chase 3:14pm March 20, 2014)
Hi, Robin!
It's always nice to see a fan.
If you want any of my books autographed, I'd be happy to send signed book plates. That goes for everyone! email me
[email protected]
(Ashlyn Chase 3:17pm March 20, 2014)
I can't take credit for the name of the book, Colleen. My editor came up with that. Even the series name was suggested by a facebook fan! LOL
(Ashlyn Chase 3:19pm March 20, 2014)
I love reading paranormal books are my favorite.
(Jane Thompson 3:43pm March 20, 2014)
Hi Ash! Not sure if you remember me or not. But I wanted to stop and say Hi. Congrats on the new book!!!
(Christine Hirth 4:47pm March 20, 2014)
you would be a new Author and read for me,the books sound awesome and love the covers ...
(Ruth Gutscher 5:08pm March 20, 2014)
I haven't read your books before, but I loved the excerpt and would love to read more.
(Marcy Shuler 5:32pm March 20, 2014)
I really enjoy paranormal books! I haven't read yours yet, and they do look and sound good. I only read paperbacks, not e-books (love your covers, nicely done).
(Linda Luinstra 7:15pm March 20, 2014)
Book sounds great. There are so many books about mermaids and not enough about merman. About time there's one.
(Kai Wong 9:52pm March 20, 2014)
Sounds really great; I look forward to reading it!
(Janie McGaugh 10:11pm March 20, 2014)
I just realized I never thanked you for the awesome review! Ack! I'm so sorry. I have to claim distraction by shiny objects.
Seriously though, you wrote a wonderful review and I'm so very grateful for your kind words. Thank you, thank you!
(Ashlyn Chase 7:31am March 21, 2014)
Greaet excerpt, my "to read" list just got longer!
(Jen Barnard 2:03pm March 25, 2014)
What a fascinating book! Thanks for sharing the great excerpt.
(Bonnie H 10:59pm March 26, 2014)
this was an amazing peek at the book.
(Sarah Hansrote 10:40pm March 31, 2014)
Registered users may leave comments.
Log in or register now!