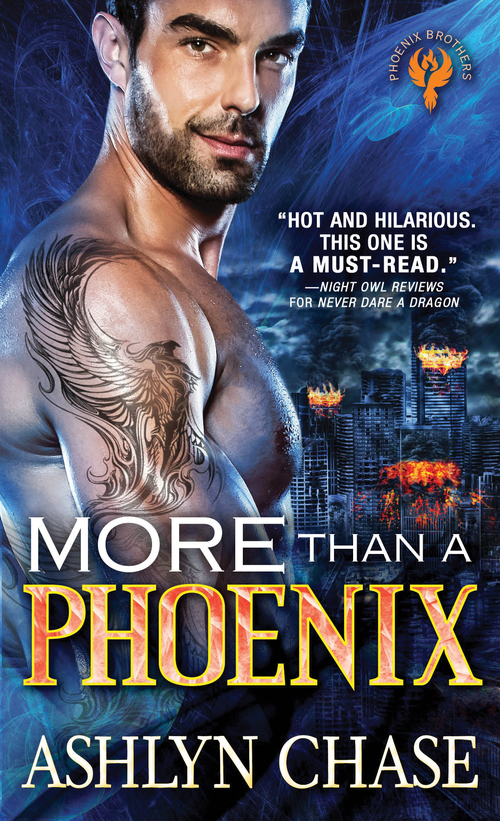 Purchase
Phoenix Brothers
Sourcebooks Casablanca
September 2018
On Sale: September 25, 2018
Featuring: Mallory Summers; Noah Fierro
ISBN: 1492645524
EAN: 978149264552
Kindle: B07DD2J15C
Paperback / e-Book
Add to Wish List

Romance Paranormal | Paranormal Romance
What do you get when you take Two phoenix shifter brothers Throw in one powerful witch And one...monkey shifter?
Mallory Summers is losing it. She's discovered she can talk to dead people—and she might be able to shift to monkey form. Firefighter Dante Fierro knows the quirky beauty isn't crazy—just supernatural. But what would she think if she knew his secret?
Hothead Noah Fierro has his own sparks flying with gorgeous ER doctor Kizzy Samuels. While the attraction is mutual, so are the supernatural secrets. With this much sizzle going on, how do you not get burned?
Fighting fires is easy... Finding love is the hard part.
Phoenix Brothers series: Hooked on a Phoenix (Book 1) More Than a Phoenix (Book 2)
Comments
21 comments posted.
You certainly took a winding road to your romance writing career. Even with
librarians, romance doesn't get the respect it deserves. I was the children's
librarian in a small county library. I ordered the romance books. No one else
would admit to reading romance. Oddly enough, they read Nora Roberts, J. D.
Rob, Diana Gabaldon, and many more who are romance authors. As with
anything else, there are good and not so good practitioners of the trade. It has
always been case of finding the good ones and spreading the word.
(Patricia Barraclough 12:52pm September 28, 2018)
i love romance books always been my favorites
(Vickie Couturier 6:30am September 28, 2018)
I've never thought there was anything wrong with reading
romances. Sometimes you just need the escape of a sweet
story. Good luck with your new book!
(Mary Songer 5:17pm September 28, 2018)
I prefer books that end with the sense that "they lived happily ever after." Just listen to the world news and you hear too many sad stories. A romance book helps me to escape to a more upbeat side of life.
(Anna Speed 12:31pm September 29, 2018)
Romance novels are one of my favorite genres along with
cozy mysteries which has romance, of course. I like to
see what entanglements the couple gets into and then how
long it takes to get straightened out. Reading romances
is better than watching RV because you get to fill in the
blanks and read between the covers and maybe know what
lines are going to come out of the main characters mouths
before uttered.
(Alyson Widen 1:23am September 29, 2018)
PNR is my favorite but if the book sounds good I will read it.Love the cover and can't wait to read!!
(Jennifer Beck 7:50pm September 29, 2018)
I read romances because they always end well. I need all the
happy I can get
(Melanie Rosen 11:43pm September 29, 2018)
I could not agree more that they have value and a great deal. Books are like friends and I go to certain ones when I need them. they are all romances.
(Debra Guyette 7:28am September 30, 2018)
I'm a romance lover, especially PNRs!
(Jana B 1:47pm September 30, 2018)
I love the idea of a monkey shifter, and dragons are always
fun. I've read romance novels since I was 13, because I love
a happy ending and enjoy the journey the characters take to
get there.
(Janie McGaugh 4:49pm September 30, 2018)
Ooh I really like the sound of this book... love paranormal romances.
(Colleen Conklin 6:12pm September 30, 2018)
I have two failed marriages behind me and I'll freely admit I never had much romance in my life. I started reading romances in my late teens and I'm now 66. I don't care who knows that I read romance books. I actually read all kinds of genres so I've pretty much got everything covered. Books have always been an escape for me, from a lousy childhood to lousy marriages. So I owe a great deal to authors like you who have kept me sane over the years. I always enjoy your books and they have a place of honor on my keeper shelves.
(Linda Henderson 7:17pm September 30, 2018)
Thank you for sharing your story. Love his TATTTOO! Perfect for the series.
(Debra Wolsleben 9:48pm September 30, 2018)
I read many genres, but romance is always on my list. It has gotten me through dark places and brightened good places.
(Sharon Mitchell 9:59pm September 30, 2018)
I love reading romance novels because they always have a happy ending.
(Linda Hall 10:13pm September 30, 2018)
I started reading romance in high school. I love Outlander too.
(Cynthia Cook 11:41pm September 30, 2018)
Romance novels are my favorites ones,this sounds like a
really good read for me
(Vickie Couturier 5:45am October 1, 2018)
I'll read anything as long as it has romance, any genre of
romance but romance none the less.
(Maria Dalmau 6:28am October 1, 2018)
If romance novels don't have value, why do so many of us read
them? Romances have gotten me through many rough times in my
life.
(Glenda Martillotti 12:16pm October 1, 2018)
If there isn't a happy ending whether in book or movie it
makes me feel irritated and let down.
(Amber Niebaum 2:15pm October 1, 2018)
I HAVE HEARD OF WOLF, DRAGON, AND BEAR SHIFTERS. THIS UNIQUE TO HAVE A MONKEY SHIFTER. SOOUNDS LIKE IT COULD BE A FUN READ WITH A SERIOUS TWIST.
(Diane McMahon 2:28pm October 1, 2018)
Registered users may leave comments.
Log in or register now!