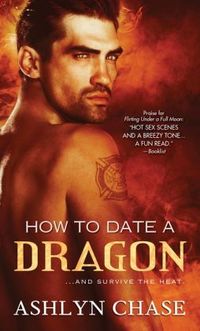 Purchase
and survive the heat!
Flirting with Fangs #2
Sourcebooks Casablanca
September 2013
On Sale: September 3, 2013
Featuring: Drake Cameron; Bliss Russo
352 pages
ISBN: 1402275722
EAN: 9781402275722
Kindle: B00DDWIT2S
Paperback / e-Book
Add to Wish List

Let the Sparks Fly
Bliss Russo thought nothing exciting ever happened in her life. Until her building caught on fire and she had to be carried out of the flames in the arms of a gorgeous fireman. Sure, her apartment is now in shambles and she'll have to start her huge work project completely from scratch. But at least her love life is finally looking up...if only she can find her red-hot rescuer again.
Dragon shapeshifter Drake Cameron is the last of his clan, and the loneliness is starting to claw at him. He's met only one woman who might be able to stand the shock of his true nature. After all, she barely batted an eyelash when her home burned down. And feeling her curves against him was just as hot as the inferno. Just when he thinks he'll never track her down, she walks into his firehouse—with no idea what she's about to get herself into...
Flirting with Fangs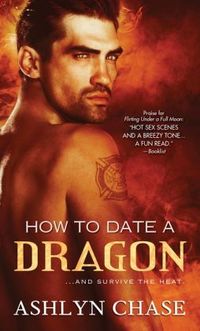 How To Date A Dragon
#2.0
Amazon.com | BN.com | | |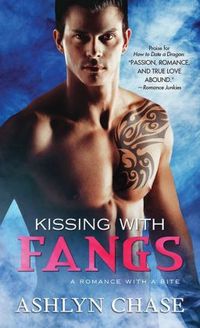 Kissing with Fangs
#3.0
Amazon.com | BN.com | | |
Comments
35 comments posted.
This is Ashlyn's best book yet. Can't wait for the 3rd one in the series as I know it will be even better. Love her...
(Shelly Dabbs 4:01pm July 29, 2013)
Ashlyn's books keep getting
better and better
(Crystal Scott 10:31am September 21, 2013)
Can't wait to read HOW TO DATE A DRAGON.
(Jennifer Richardson 12:38pm September 27, 2013)
Escape is important. Books have been my refuge all my life
they have been my port in all the storms of my life. I can't
write so I do appreciate those of you who can.
(Donna Antonio 7:30am September 27, 2013)
love to read this sounds so good thanks so much
(Denise Smith 8:02am September 27, 2013)
Love reading a book that I can escape into, this book sounds delightful.
(Jean Patton 9:29am September 27, 2013)
What a wonderful posting! Thank you for sharing so much about yourself - and what books/stories mean to you. Your book sounds fabulous. Thanks for the chance to win. But I feel YOU've given me a gift today - not only your posting but a new author to love and cherish. I've never read any of your books - but that is about to change. All the best in everything you do.
(Nancy Reynolds 9:44am September 27, 2013)
What a great story. :)

And yes, I think books are cheap in comparison to everything else!
(May Pau 10:18am September 27, 2013)
I would love to read this book and I really love the cover!!!
(Bonnie Capuano 10:20am September 27, 2013)
Thanks. I enjoyed your post.
(Sandy Giden 10:56am September 27, 2013)
I enjoyed your post, and How to Date a Dragon sounds like a great read!
Love the cover, too! Thanks for the chance to win!!!
(Linda Brennan 11:08am September 27, 2013)
Let me say how sorry I am for your loss. For you to lose both Parents around the same time, is something that I can't say I've experienced, but can only imagine feeling. I know what it's like to be the last one around, taking care of elderly Parents. My Mother had Alzheimer's, and my Dad kept her in the house, and took care of her, along with my help. My Sisters basically backed away from the challenge, so I was the one who stepped up to the plate, even with all of my health problems, and going against the advice of my Doctor. Anyway, I did what I could until the end, and I don't regret a thing. She's been gone 11 years, and it feels like yesterday. I miss her immensely!! I have good memories of her while she was well, and also while the Alzheimer's slowly took her from me. Anyway, I can relate to everything that you said in your posting, and even though your genre isn't something that I'd normally read, since I do feel that you're my intellectual soulmate in that respect, I would feel honored to read your book!! I look forward to reading and having that time for an escape, since my life has been so hectic and full of stress. I still have my Father who is alive, and is now in a nursing home for people with dementia. That wasn't my decision, and my Father begged me to take him out of there. It breaks my heart daily, since I can't do anything. I have no power of attorney. Anyway, you are on my TBR list for my escape. I wish that I had the time to be able to write the way you did. Sorry I took up so much time, but felt that you needed to know that you had more people out there that felt exactly the same way you did!! Congratulations on your book!!
(Peggy Roberson 11:14am September 27, 2013)
I love that you said, "Making someone smile is your ultimate goal." I have a saying that I live by, "If in this life, if I have brought a smile to one's face, then I have done something." I always love to give a smile, it doesn't cost a thing! Thank you for what you do and for the chance to win How to Date a Dragon.
(Melanie Backus 11:16am September 27, 2013)
Your book sounds so exciting and different, I have never read a shapeshifter story and would like to give it a try with yours. I really liked your heartfelt blog post and agree with everything you wrote. Thank you for this chance to win and I look forward to reading your book. The Best To You Always.
(Esther Somorai 11:38am September 27, 2013)
Oooh a firefighter and a dragon!!! Lovin it!
So glad things turned around for you and now we all get to enjoy what you create and share with us all in your books.
(Colleen Conklin 11:47am September 27, 2013)
What a beautiful post. Thank you for sharing with us.

According to Amazon Drake is on his way :).
(Victoria Sloboda 12:38pm September 27, 2013)
Thank you for all your lovely comments! I was away most of the morning and just got in. I expected crickets. What a nice surprise to find all your comments!
(Ashlyn Chase 2:15pm September 27, 2013)
I wish I could tell you each and every day, how important
you are to the world, and the difference your books make on
many lives, But I can't...mostly because, I don't function
before coffee, and i've been way to busy after, but if you
go ahead and print this up, it can be your constant
reminder, that your great! :)
(Jamie Gehman 2:33pm September 27, 2013)
Love fireman stories. Can't wait to read this one.
(Barbara Wells 3:05pm September 27, 2013)
Sharing our love of books with friends while we shop in bookstores.
(Sharon Shearouse 3:08pm September 27, 2013)
This genre is new to me, but I have been checking various authors, and your writing sounds so much like what I find fun and interesting. That being said, I would love to be the recipient of your book to get involved with your characters and their adventures/antics. Our family is deep into books, and I do mean like three feet deep!!! Everyone including our two and a half year old granddaughter loves books so what could be better for Christmas giving. Right??

Truly enjoyed reading the blog and continued success. Thank you so much.
(Cynthia Blain 4:23pm September 27, 2013)
Best of luck in the drawing, everybody!
Thanks again for all your encouragement.
(Ashlyn Chase 4:26pm September 27, 2013)
I read books to escape, too. This sounds like an enjoyable one.
(Janie McGaugh 5:14pm September 27, 2013)
Fantastic interview, thank you for sharing so much.

This book is a definite must read.
I couldn't put it down :-)
(Venus Cahill 6:02pm September 27, 2013)
How to Date a Dragon looks like a sizzling page turner. I'm
glad you passed on a book to someone who needed a lift. I
like to share books with friends and I match the book to the
person and the mood they find themselves in.
(Alyson Widen 7:32pm September 27, 2013)
Congrats on your book. The title of the book got me. I will be reading this book.
(Kai Wong 8:22pm September 27, 2013)
Wow, Congrats on your new book: HOW TO DATE A DRAGON. Your
book sounds like a hot and fascinating romance book to win
and read on these cool Fall nights. Yes, I agree that a
great book can really change a person's life. Thank You very
much. Cecilia CECE
(Cecilia Dunbar Hernandez 8:44pm September 27, 2013)
I've long been enamored of dragons but have never read a
dragon shifter story.
(Diane Sallans 9:17pm September 27, 2013)
Books provide a welcome escape; Thanks for the wonderful stories you write.
(Mary C 11:00pm September 27, 2013)
It's amazing how a break from life in an enjoyable book can be such a pick me up.
(Laura Gullickson 11:31pm September 27, 2013)
OMG! I'd love to date a dragon...
(Linda Townsend 12:29pm September 28, 2013)
Thank you for sharing. Books are amazing. Magic really.
(Mary Preston 7:44am September 28, 2013)
Sexy guys are important!
(Cherie Durbin 11:01am September 28, 2013)
I have to agree that books are a great escape from the stress in every day life, and some are quite uplifting with bits of humor. Others that are not and paint a miserable life with problems, make ours seem so insignificant in comparison. I have not read a dragon shapeshifter and firefighter book before and this one sounds like a hot romance I'd love reading. I'm glad you've found your niche in life and things have turned around for you...that's so terrific. I actually have nightmares about a couple of the places I've worked. I'm glad I no longer have that stress to cope with any longer, and am relieved to wake up knowing it was all just a really bad dream! Thanks for sharing. Books are so enjoyable, I just love them!
(Linda Luinstra 4:33pm September 28, 2013)
Ashlyn's books have definitely made it to my absolutely must
buy list... and this book is at the top... I can't wait to
read it
(Crystal Scott 4:51am September 29, 2013)
Registered users may leave comments.
Log in or register now!