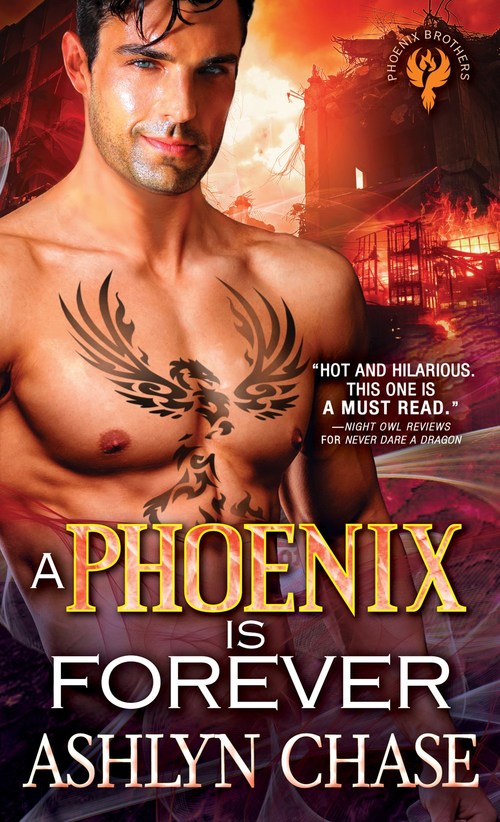 Purchase
Phoenix Brothers #3
Sourcebooks Casablanca
April 2019
On Sale: March 26, 2019
352 pages
ISBN: 1492645559
EAN: 9781492645559
Kindle: B07JNGDY7G
Mass Market Paperback / e-Book
Add to Wish List

Romance Paranormal | Romance Suspense
She didn't see this hot cop coming.
Dawn Forrest is ready for a big change. She's determined to put her criminal past behind her and only use her extraordinary psychic abilities for good from now on.
Luca Fierro is a Phoenix shifter and rookie cop with something to prove. The last person he should tangle with is a newly reformed bad girl, especially one as irresistible as Dawn. But he needs her help to find a missing child, and every minute counts. This case is going to put their skills to the test and force them to keep their sizzling attraction at bay...
Phoenix Brothers
Comments
14 comments posted.
Thank you for the wonderful review!
(Ashlyn Chase 2:15pm March 26, 2019)
This ought to be great! I am so looking forward to getting
my hands on it. Thank you for the great review.
(Victoria Sloboda 3:21pm March 26, 2019)
I did not discover romance until my 50's. I would sneak a look at the
blurbs and the stories sounded interesting, but the bodice ripper
covers put me off. I finally found a printing of Julie Garwood's
historical romances with covers featuring lovely fabrics and jeweled
broaches. I loved them and never looked back. I still don't like the
bodice ripper type covers, only now half naked men seem to be the
vogue. There are many well written romances out there, but the
stigma of the genre remains. When I was the children's librarian at
the county library, everyone else who worked there definitely DID
NOT read romance, so I got the job of ordering. They all read J. D.
Robb, Iris Johansen, Lisa Gardner, and several other authors who
write romantic suspense. The misconception of what are really
romance books and their quality is wide spread. People don't realize
how much research good authors put in to suspense and historical
romance among others.
Off book topic, thank you for serving as a Red Cross nurse. I am a
R.C. disaster volunteer and a R. C. Service to the Armed Forces
volunteer. I have called on our nurses many times to help clients
with ordering replacement medications and devices. I actually had
to call one tonight for a family of 6 who had a house fire. It is so
helpful to have them to take care of that part of a call.
Thank you for the giveaway. Have a great Spring. It will eventually
get to New Hampshire.
(Patricia Barraclough 12:28pm March 29, 2019)
I love how varied the romance genre is.
(Jana B 8:32pm March 29, 2019)
I drifted away from romance during the bodice-ripper years and
came back to it somewhere in the early 2000's to discover that
it had changed for the better. I also discovered paranormal
romance, which has become my favorite genre.
(Janie McGaugh 8:46pm March 29, 2019)
It was many, many years ago, but I was slightly embarrassed when I first started reading romantic fiction. Then a lovely lady mentioned that there was always something new that could be learned from them, perhaps something about places in the United States, another country, customs, or just odd bits of information. Nowadays, I simply pick up my book and enjoy.
(Anna Speed 11:43am March 31, 2019)
I read across many genres and enjoy romance novels
occasionally. There are so many different subgenres that
there is something for everyone.
(Jaime Minter 11:47am March 31, 2019)
Sound great I so want it to go with my other ones by you.
(Stacey Smith 9:12pm March 31, 2019)
I love paranormal romance!
(Melanie Rosen 10:06pm March 31, 2019)
Agree. So many options/genres now!
(Samantha Tennant 12:25pm April 1, 2019)
I love romance books
(Margo Beredjiklian 7:33pm April 1, 2019)
I love Paranormal romance! This book sounds amazing
I can't wait to read it 😊 Thank you so very much
for the opportunity.
(Melissa Fowler 10:22pm April 1, 2019)
Fantastic cover! Love his smile!
(Amber Niebaum 10:52pm April 1, 2019)
I love all genres of romance and read everything in between, it's a great escape and lulls me to sleep nightly!
(Amber Mancebo 11:00pm April 2, 2019)
Registered users may leave comments.
Log in or register now!