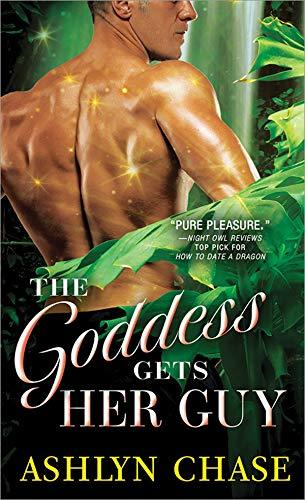 Purchase
The Goddess Gets Her Guy
Ashlyn Chase
Sourcebooks
December 2019
On Sale: November 26, 2019
320 pages
ISBN: 1492645583
EAN: 9781492645580
Kindle: B07T8YK7VS
Mass Market Paperback / e-Book
Add to Wish List

What happens when the goddess meets Mr. Right...but she absolutely can't tell him who she really is?
After leaving his job as a cardiac surgeon, Dr. Aaron Samuels needs a new purpose in his life. Wanting to help his patients even if he can't operate, he heads to the Puerto Rican rainforest to find a cure for heart disease. He never imagined he'd meet a beautiful, mysterious woman, especially not one talking to a frog in the middle of the jungle...
Gaia—a.k.a. Mother Nature—has had it with paranormals breaking her number one rule: Never reveal your supernatural powers to humans, not even your mate. Fed up, she transports to the rainforest, happy to converse with amphibians who don't talk back. But Dr. Samuels is a much better conversationalist, and Gaia can't wait to help him mend all those broken hearts he told her about.
When her attempts to help only complicate things between them, Gaia begins to wonder what would happen if she opened her heart and was honest with Aaron...and herself. Maybe her number one rule has been wrong all along...
Comments
13 comments posted.
I could really get into this book. Love the cover.
(Robin Davis 2:32pm November 15, 2019)
I love the cover but the blurb and excerpt have me hooked!
(Amber Niebaum 12:59pm November 21, 2019)
Fall is my favorite season
(Vickie Couturier 9:47am November 21, 2019)
sounds like a great book.
(Nancy Reynolds 9:57am November 21, 2019)
Congratulations on this release! Ot sounds like a great
read. My favorite season is fall. I love the cooler weather
and seeing the leaves changing colors.
(Tina Rucci 2:51pm November 21, 2019)
Looka like a good one to read.
(Vera Wilson 6:00pm November 21, 2019)
I like Spring because of renewals and the fall getting ready for the holiday season.
(Cynthia St. Germain 7:53pm November 21, 2019)
Spring is definitely my favorite. The air seems fresher and suddenly, just like magic, beautiful flowers appear. Even the leaves on the trees seem to be a special green.
(Anna Speed 9:21pm November 21, 2019)
I love the beach and warm weather, so summer is my favorite
season.
(Nancy Krueger 11:00pm November 21, 2019)
I love the sound of this book. Thank you for the excerpt.
Also, thank you so much for presenting us with a couple
that have a few years on them. Being over 50 doesn't mean
that your life stops and companionship and love are no
longer a factor in your life. There is a market of us women
of a certain age who appreciate stories we can more
realistically relate to. Thank you for the giveaway. Also
thank you for your time in the Red Cross. We volunteer
with the RC and have for years. We do Disaster and Service
To The Armed Forces, including No Vet Dies Alone. Your
line of work was so necessary, especially in big disasters.
(Patricia Barraclough 12:59pm November 23, 2019)
Fall tends to be my favorite for the in-between temperatures
and beautiful fall colors.
(Janie McGaugh 12:03pm November 24, 2019)
I am a spring and fall person, love them both,
(Lorena Keech 3:21pm November 24, 2019)
My favorite season is fall. I love the cooler weather and
the beautiful changing of the leaves.
(Lynne Brigman 10:40am November 25, 2019)
Registered users may leave comments.
Log in or register now!