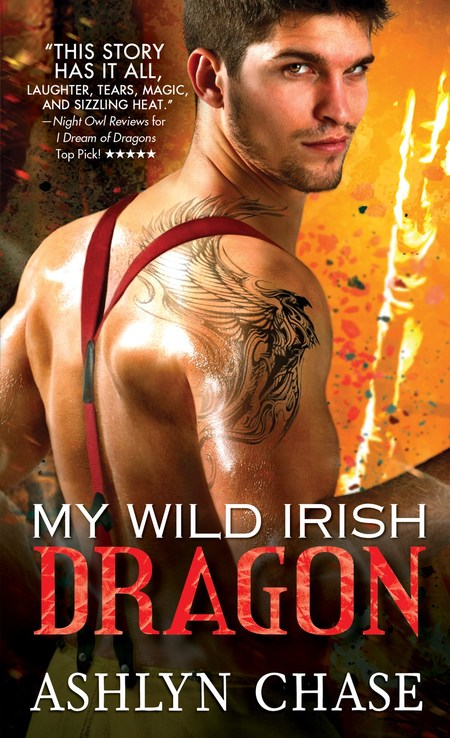 Purchase
Boston Dragons
Sourcebooks Casablanca
September 2016
On Sale: September 6, 2016
Featuring: Ryan Fierro; Chloe Arish
400 pages
ISBN: 1492610097
EAN: 9781492610090
Kindle: B01ENNQ242
Paperback / e-Book
Add to Wish List

ONE JOB OPENING
TWO SHIFTERS APPLY…
SPARKS FLY
Dragon shifter Chloe Arish is hell-bent on becoming a Boston firefighter. She uses her Irish charm and fake documents to score an interview, knowing she has to work every bit as hard as a man—harder if she wants their respect.
Born into a legendary Boston firefighting family, phoenix shifter Ryan Fierro can't possibly let someone best him on the training course or the job. He'd never hear the end of it. When a feisty new recruit comes along who's determined to do just that, Ryan plots to kick her out—until their sizzling chemistry turns explosive…
Boston Dragons
Comments
22 comments posted.
Fascinating post. Cool book and captivating writing.
(Sharon Berger 5:42pm September 1, 2016)
I so love your books. I loved your Strange Neighbors series and the Flirting With Fangs series. Now I can't wait to read more of your dragons. And a phoenix too, I'm in heaven. Can't wait for this one to come out.
(Linda Henderson 8:23pm September 1, 2016)
A Phoenix shifter as a firefighter hero? Sounds like great
fun.
(G. Bisbjerg 8:54pm September 1, 2016)
Oh this has caught my attention!
(Colleen Conklin 8:55pm September 1, 2016)
This sounds quite "fiery"! I look forward to reading it.
(Janie McGaugh 11:15pm September 1, 2016)
Dragons and shifters are always great reads. I am looking forward to adding your books to my collection. Sounds like your research trip was amazing. Thanks writing the books, and thanks for the chance to win.
(Amy Kincade 12:12pm September 2, 2016)
Would love to read this! I've never read a book about a
dragon shifter and a phoenix shifter. Sounds great!
(Tanja Dancy 5:57am September 2, 2016)
Great post. I look forward to reading your book.
(Leona Olson 8:15am September 2, 2016)
I must admit I have not read any of your books but this blog is so interesting that I know I'll be reading this book. It's on my TBR list!!
(Bonnie Capuano 8:45am September 2, 2016)
I love Ash's answers :). I am also a big fan of her books
and love this series spin off of the spin off of the spin
off :). They are really fun reads and I can't wait for
this one. Thank you.
(Victoria Sloboda 4:23pm September 2, 2016)
This is a new to me author. I can see I have some catching up
to do! Interesting premise in the Firefighters series.
(Kathleen Bylsma 5:04pm September 2, 2016)
I'm dying to read this book. Irish and a fire fighter what more can you want.
(Amy Burke 7:18pm September 2, 2016)
I'm a new to you reader. But I adore dragons being I'm born
in the year of Dragon. I've been to Boston where you'll
find a lot of Irish and Italians. We lived in RI where
there is a abundance of Italians. Enjoyed your guest post.
(Zina Lynch 9:25pm September 2, 2016)
Firefighters, Irish and paranormal all in one book. I know I'll love it.
(Donna Graham 1:54pm September 3, 2016)
I haven't read a story about a dragon shifter yet!
(Diane Sallans 3:07pm September 3, 2016)
Very interesting post. Wow, didn't know what our brave firemen
go through. Look forward to reading this.
Carol L
Lucky4750 (at) aol (dot) com
(Carol Luciano 9:10am September 4, 2016)
Looks like an awesome read.
(Stephanie Allen 10:59am September 4, 2016)
Your book sounds like one I would enjoy.
(Jackie Wisherd 11:37pm September 5, 2016)
I have to commends you for researching on Irish dragons and firefighters. Not the easiest of topics to research due to so much information about both subjects. That is what makes me want to read your books.
(Kai Wong 1:54am September 6, 2016)
This sounds HOT!!
(Vanessa Hinman 10:34am September 7, 2016)
I like the phoenix rising story too - interesting take off!
(Beth Elder 12:45pm September 7, 2016)
I love how the mind of a writer works! Please don't ever stop.
After this I can't begin to imagine where you will go. You keep
us entertained!!!
(S W 4:08pm September 8, 2016)
Registered users may leave comments.
Log in or register now!