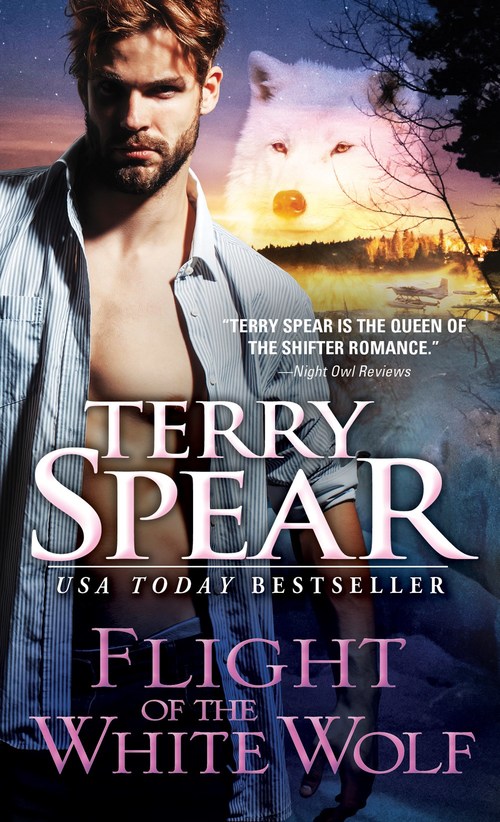 Purchase
Flight of the White Wolf
Terry Spear
White Wolf #2
Sourcebooks Casablanca
March 2018
On Sale: March 6, 2018
352 pages
ISBN: 1492655783
EAN: 9781492655787
Kindle: B076C255XL
Mass Market Paperback / e-Book
Add to Wish List

Stranded in the wilderness, these warring hearts will be forced to work together—or die together.
Gavin Summerfield—an arctic wolf shifter with a fear of flying—has to fly into the vast lakeland wilderness of northern Minnesota to track down his suspect—where his ability to shift will come in very handy. Imagine his chagrin when his pilot turns out to be the woman who tasered him last time they saw each other. Things are off to a rocky start...again.
Arctic wolf shifter Amelia White isn't entirely displeased to see Gavin again, but priorities shift when their plane is sabotaged and goes down in the middle of nowhere. As their attraction grows, Amelia hopes Gavin doesn't discover the secret she's been keeping...she knows he could never forgive her...
White Wolf
Comments
17 comments posted.
No, but I am afraid of falling from up high... hate ladders.
(Colleen Conklin 12:37pm March 29)
Yes!!! I doubt I will ever do it lol. Just the though makes
me feel panicked.
(April Kirkland 11:27pm March 29)
I am not afraid to fly, but there have been times I have been concerned. Anymore,
it depends on the mood I am in when I get on the plane.
(Patricia Barraclough 2:32am March 30)
I am not fond of flying but manage to do so. It is nice to
have when a character has vulnerabilities/concerns, it
makes them seem more real to me.
(G. Bisbjerg 9:24am March 30)
No, but I haven't been on a flight when there was turbulent weather. That might make me change my mind.
(Anna Speed 1:21pm March 30)
I'm not afraid. I ussed to love to fly, but now I hate the hassle and don't , instead I travel in my RV whenever possible.
(Sharon Mitchell 3:37am March 31)
I'm not afraid but I don't like it.
(Sharon Extine 2:12pm March 31)
Not afraid to fly. I live in Alaska! But very afraid of the
TSA and all the uproar they cause.
(Kathleen Bylsma 4:35pm March 31)
Overall, I enjoy flying since it gets me places I wouldn't
get to otherwise. Bad weather and flying? Not my cup of
tea.
(Lynn Rettig 4:52pm March 31)

(Lilah Chavez 6:33pm March 31)
No afraid of it, just find it a hassle, don't really like it
(Jean Patton 7:40pm March 31)
I'm afraid but it's the fast way to get places. but as a
teen went to see my grandpa by my self was so scared my
stomach was a mess for days after I went on the plain.
(Stacey Smith 8:50pm March 31)
I haven't flown very much but when I do I love it!! I find it exciting!
(Rita Spratlen 10:06pm March 31)
I'm not afraid to fly, but I get nervous sometimes
(Charlotte Litton 10:20pm March 31)
I have a fear of heights. So I am nervous flying.
(Cynthia Cook 11:29pm March 31)
not afraid to fly but i have PTSD and a severe anxiety disorder called
Agoraphobia that causes me to have problems around crowds and strangers. so
even though the airplane flight doesn't bother me being inside cooped up with a
couple of hundred strangers makes it impossible for me to travel that way.
(Tammy Ramey 8:16pm April 1)
Not crazy about flying but love to go places so I suck it up
and go.😁
(Joy Adair 12:40pm April 2)
Registered users may leave comments.
Log in or register now!