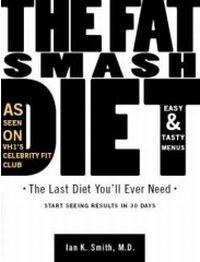 Purchase
As seen on VH1's Celebrity Fit Club
Health Media
January 2006
107 pages
ISBN: 0977688909
Paperback
$9.95
Add to Wish List

Self-Help Health | Self-Help Fitness
You've seen the diet on VH1's number-one rated show, "Celebrity Fit Club," where eight Hollywood celebrities are divided up into two teams of four to lose weight. Dr. Ian Smith is the medical/diet expert and he has the celebrities following his new diet, THE FAT SMASH DIET. The celebrities lose tremendous amounts of weight on the diet, and now you can do the same with this healthy, inexpensive eating plan that will revolutionize the way people think about diets. THE FAT SMASH DIET is not a gimmick or short-term fix, rather a plan that can lead to lifestyle changes and permanent weight loss. It is a 4-phase diet that starts out with a natural detox phase to clean the impurities out of your system. Once you have finished with this phase, you then progress to the subsequent phases, eating normal, everyday foods that you can make right at home or order at a restaurant. There are lots of different foods on the "allowable" food lists so that vegans, vegetarians, and meat eaters can all find what they like and still follow the program.
The most amazing thing is that there is no more counting calories. Dr. Ian does it for you. Just choose the foods from the lists and follow the other recommendations and you will start to see that weight coming right off. Dr. Ian has helped tens of thousands of dieters and this new plan will put the final peg in place for a program that can sustain you for life. Many have been on the plan and don't even realize they're on a diet, because they are eating normal foods in the proper portions. He has specially designed this scientifically-based program not just with celebrities in mind but everyone who has ever looked in the mirror and uttered the words, "I really need to lose weight." His philosophy rings true throughout the book "Losing weight should not be painful, expensive, or punishment. It should be invigorating, inexpensive, and spiritual." It's refreshing that the book is not hundreds of pages of wasted information, as he has "cut the fat" and given us the plan and the essential ingredients needed to finally win the battle of the bulge. Gone is the fancy doctor talk and the big medical words and instead we find a program in clear, easy-to-understand language that will benefit everyone from those trying to lose 10 pounds to those trying to lose 200. And as an added bonus, there are plenty of tasty, easy-to-cook recipes that will make you forget that you're even on a diet. The Fat Smash Diet is unlike any other program on the market. In fact, it's the LAST DIET YOU'LL EVER NEED!


Media Buzz
Imus in the Morning - August 22, 2006
The View - August 18, 2006
The View - June 28, 2006
Today - April 7, 2006

Comments
No comments posted.

Registered users may leave comments.
Log in or register now!