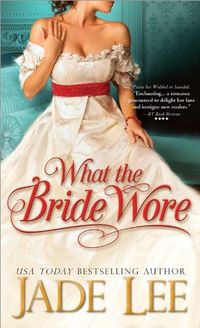 Purchase
What the Bride Wore
Jade Lee

Grant Benton Gets More Than he Bargained for
Bridal Favors #3
Sourcebooks Casablanca
August 2013
On Sale: August 6, 2013
Featuring: Lady Irene Knopp; Grant Benton
384 pages
ISBN: 140228375X
EAN: 9781402283758
Kindle: B00CA3SI0Y
Paperback / e-Book
Add to Wish List

This hot new series is set in a daring, high-energy Regency world where deep longings, secret scandals, and the competition for social stature are all set against the glittering weddings of the season.
Grant Benton, Earl of Crowle finally has the funds he always pretended to have and what he wants now is a woman. That woman is Lady Irene Knopp, who spends her days helping debutantes plan their weddings. A recent widow, Irene longs for love again, but she's afraid to risk her heart, especially to the notorious Grant Benton.
Comments
98 comments posted.
Waving at you as you pass under Michigan!
(Marcy Shuler 6:13pm August 5)
This sounds like a great series! I'm looking forward to it.
(Betty Hamilton 6:25pm August 5)
I live in Pennsylvania! Welcome! Safe travels and thanks for the
giveaway!!!
(Linda Brennan 6:50pm August 5)
Wow, Congrats on your book: WHAT THE BRIDE WORE and Congrats
to Elizabeth on her book: LORD OF DARKNESS. They both sound
like fantastic books to win and read this summer. Congrats
on your road trip to Pennsylvania. Sounds like a bunch of
fun in the sun. Be safe on the roads and watch out for the
people texting while driving. Please come to visit us in
Austin, TX in the future when you can too. Thank You very
much. Cecilia CECE
(Cecilia Dunbar Hernandez 7:46pm August 5)
I've been enjoying the road pictures on Facebook.
(Mary Chin 7:55pm August 5)
I've seen some of your tweets - what fun! The longer the
drive in the day the more I want to stop & stretch (& hit
those rest areas!). Sounds like you two have fun together.
(Diane Sallans 8:59pm August 5)
Congratulations on the new release. Your trip sounds like a great deal of fun.
(Janie McGaugh 9:16pm August 5)
Have a fun and safe trip! :)
(Colleen Conklin 9:23pm August 5)
Have a great time - its good to get away and
work, but as important not to work too hard and
enjoy the time spent with others.
(Carla Carlson 11:24pm August 5)
Good luck getting to the retreat before it's over. If you do
end up in Toronto I'll stop in (since it's only two hours
from me) and give you a detailed and highlighted map with
directions to Pennsylvania. :-)
It sounds like you two will have lots of fun on the trip
there and back and hopefully just as much fun at the
retreat.
(Lisa White 12:02pm August 6)
i have been wanting this book for a long time i would love to
own this congratulations on the release of this book
(Denise Smith 1:09am August 6)
Congratulations on your new book. I came home to DE from Pittsburgh yesterday. Would have loved to attend a signing but was there for my mother's funeral. Maybe another time.
(Marcia Berbeza 1:42am August 6)
Have fun and drive carefully. Look forward to the books. I am following on Twitter.
(Leona Olson 8:50am August 6)
I'll just have to wait for your books to come out. I have no way to tweet, and don't have a Facebook account. With over 13,500 pieces of e-mail in my regular account, the last thing I need is another account to worry about!! There's just too much on my plate!! I do love your antics, though, as well as your books!! Have fun on your travels!!
(Peggy Roberson 9:02am August 6)
Have not read any of your books yet. Would like to win to see what they are like. The is how I find new authors.
(Judy Ferguson 10:10am August 6)
I may run into you. I live in Illinois and have family in Pa and Nj that I will be
driving to in August. Lol. I have done that drive so many times in the last 20
yrs I could have been your driver. Congrats on all of your success and may
your travels be only eventful in good and happy ways.
(Patti Paonessa 10:19am August 6)
This sounds great, I would love to win, thanks for the chance...
(Linda Scarchuk 11:20am August 6)
Have fun! This is one time I wish I did Twitter or Facebook. That way I could keep up with your adventures.
(Anna Speed 12:14pm August 6)
Hopefully Ohio was nice to you. We have been having decent weather. I'm guessing you were on the Turnpike (I-80). Thanks for the chance.
(Sue Galuska 12:40pm August 6)
You should have taken me with you as navagator. I'm awesome with directions and
telling drivers where to go, lol. I was trained by my husband and he's a sailor at
heart! We work as a team when traveling and it's about the only time we really get
along - ha ha. Have a great tour :-)
(Lenna Hendershott 1:06pm August 6)
The road trip sounds like it will be lots of fun. Hope you will be updating with all the adventures.
(Pam Howell 1:30pm August 6)
I think I need a trip like yours---anything to get me out of this office--maybe even a good book to read.
(Sue Farrell 2:04pm August 6)
Sounds interesting my two favorite things to do is reading and my grand
kids Thank you
(Ava Curtis 2:14pm August 6)
enjoy the trip
(Debbi Shaw 2:49pm August 6)
I love road trips and this one sounds like fun. Can't wait to read your updates. Have a great trip!
(Joanne Balinski 3:09pm August 6)
I'm a terrible road tripper! But I have had to drive with 3 kids under 8, a cat and a dog from KS to AK. Also drove with 4 kids under 13 from AK to SC. Why? you ask? The US Army told us to!!
(Kylan Alexander 3:11pm August 6)
Best movie reference ever. :-D Have fun on your trip!
(Karin Anderson 3:24pm August 6)
It sounds like you're both having fun on your road trip and that's what counts. I sure would like very much to win and read one of your books. Thank you for this chance to win. The Best To You.
(Esther Somorai 3:38pm August 6)
Love your books... Hope you get lots of writing done so I have more to read!
(May Pau 3:41pm August 6)
Have a wonderful trip, it sounds like an awesome way to procrastinate writing lol.
(Jamie Fortney 3:51pm August 6)
We're working hard at our retreat. We made it here only 2
hours late because of 3 accidental detours. Check on line (my
facebook page or twitter) for pictures of what we've been
doing!
(Jade Lee 4:02pm August 6)
have fun
(L Lam 4:03pm August 6)
Sounds like great fun. Have a safe trip back. Would love to win a copy of one your books.
(Carol Woodruff 4:16pm August 6)
Have fun on your trip!
(Cheryl Haut 4:22pm August 6)
Sounds like a trip that could get fast and furious.
(Sheila True 8:53pm August 6)
Just got back from a great road trip. Enjoy!
(Melanie Backus 9:09pm August 6)
I love this cover, I would love a chance to win this book.
Thank you
(Angela Holland 9:59pm August 6)
It sounds like your trip is going to be a real adventure. You and Elizabeth sound
like my sister and I. We're both terribly directionally challenged. :D
(Barbara Elness 10:25pm August 6)
I would love to go on another road trip but this time a little more leisurely to take in the sights.
(Kai Wong 11:45pm August 6)
I've not read anything by Jade Lee before...but now I will! I love historical Regency romance, so this fits right into my reading habit. :-) I'm so glad to get introduced to another historical romance author as I just can't get enough of it! :-) jdh2690@gmail.com
(Janice Hougland 4:00pm August 7)
It all sounds like so much fun.
(Mary Preston 10:02pm August 7)
i would sophie and the wrong woman from kimberly truesdale
(Denise Smith 12:31pm August 29)
I have been stuck on the old authors Victoria Holt and Phyliss
A. Whitney. I am looking for someone new that I will love as
much as them! Thanks for the chance to win your book.
(Sandra Gest 1:22am August 29)
I like a couple of short stories recently.
Monuments to the Dead by K. Rusch and The Man Who Planted Trees by
J. Giono.
(Laura Gullickson 1:52am August 29)
It's early morning here, but my favorite book is Roses by Leila Meacham. I also like anything by Janet Evanovich!! Your posting was great, but then again, who wouldn't enjoy anything you write!! Have a great day!!
(Peggy Roberson 7:37am August 29)
I am a little behind but I recently finished the autobiography about us. Nice one.
(Hetal Gandhi 8:24am August 29)
I love the f/c! ..and am looking forward to reading this! TY for the opportunity to win a copy.
(Betty Hamilton 9:13am August 29)
I loved The Prayer Box by Lisa Wingate and Into the Free by Julie Cantrell. I love a variety of books! I would love to read your book so thank you for the opportunity.
(Melanie Backus 9:25am August 29)
Sure this will be a good book to read.
(Charlotte Wills 9:37am August 29)
I love all your books and can't wait to read this one!!!
(Bonnie Capuano 10:04am August 29)
I recently began listening to audiobooks. The London Steampunk series by Bec McMaster is narrated by Alison Larkin and I fell in love with it! I cannot even imagine reading it in any other way.
(Karin Anderson 11:16am August 29)
I love the Historical romances but I been reading all of Fool's gold by susan Mallery! I love her books as well.
Penney
(Penney Wilfort 11:59am August 29)
I read a bunch of books by Robin Perini... truly enjoyed them, especially her Montgomery justice books.
(Colleen Conklin 12:54pm August 29)
I enjoy a variety of types of books, but do not want to read one about a vampire. Something about it turns me off.
(Anna Speed 1:22pm August 29)
I have been reading the Percy Jackson series the follow-up series Heroes of Olympus.
(Pam Howell 2:04pm August 29)
I'm really enjoying Jaci Burton's One Sweet Ride. Now I have
to check out the rest of the Play-by-Play series. lol
(Deidre Durance 3:13pm August 29)
historical romance but i read em all
(Debbi Shaw 3:25pm August 29)
Looks like a good read.
(Elizabeth Bayer 3:39pm August 29)
My taste in reading material depends on my mood - I like a lot of genres. I
just finished Angel Sister by Ann B. Gabhart, and I loved it. Just started The
Gallery of Vanished Husbands by Natasha Solomons. I like it so far. I
would love to read What The Bride Wore! Congratulations and thanks for
the chance to win!!!
(Linda Brennan 3:51pm August 29)
I enjoy different types of books, but there are some I have never read. I really liked Love Always by Harriet Evans, Riversong by Tess Hardwick, Nowhere To Hide by Jasmine Cresswell, Lake Country by Sean Doolittle, Calling Me Home by Julie Kibler, and The Intercept by Dick Wolf to name a few. Thank you for this chance to win your book as I would like very much to read it. The Best To You Always.
(Esther Somorai 4:59pm August 29)
I just finished reading J. Kenner's Damien Stark Trilogy -
"Claim Me"; "Complete Me"; & "Release Me". Scorching HOT
reads - I didn't want the series to end.
(QuenKne M 5:02pm August 29)
I've been on a Julia Quinn kick recently... I've almost finished reading every book
of hers I own, so it's time to start thinking of where/who/what I'll read next!
Would love to read yours!
Thanks for the giveaway.
(Becca Luman 6:30pm August 29)
I enjoy different romance genres. I especially love and have enjoyed every book written by Sarah Jio...
Violets of March Blackberry Winter
The Bungalow The Last Camellia
I would also recommend Karen Kelley these books were very good...
Where There's Smoke Where There's A Will Smoking Hot
I loved Cindy Holby's cowboy romance books...
Angel's End Colorado Heart
When I find good author's I like to read all their books, and I'm enjoying many.
(Linda Luinstra 7:08pm August 29)
My titles of books (above) ran altogether making it confusing. I had spaces in between when I typed it up. So, will list them over again.
Sarah Jio...Violets of March, Blackberry Winter, The Bungalow, The Last Camellia.
Karen Kelley...Where There's Smoke, Where There's A Will, Smoking Hot.
Cindy Holby...Angel's End, Colorado Heart.
(Linda Luinstra 7:14pm August 29)
I like all romance book from regency to paranormal. But I can read just about anything. I usually read any where from 3 to 6 bks a wk. I never go anywhere with out a bk.
(Felicia Sidoma 8:18pm August 29)
I prefer historical books, but also enjoy contemporary. Right now I am reading Sweet Enemy by Heather Snow.
(Cathy Phillips 9:55pm August 29)
I recently discovered Kody Kepling who is a young adult author and I really like her books.
(Jamie Fortney 11:01pm August 29)
Wow, Congrats on your new book: WHAT THE BRIDE WORE. I love
the book cover too. I would recommend the book: WHITE PICKET
FENCES by Susan Meissner. Also, PLEATING FOR MERCY by
Melissa Bourbon. I would love to win and read your new book
this summer. Thank You very much. Cecilia CECE
(Cecilia Dunbar Hernandez 11:26pm August 29)
Sounds like another great book!
(Vicki Hancock 11:35pm August 29)
I would love to read this new book. Just finished reading "The Chance" by Karen
Kingsbury (cried 12 times). It was so good.
(Diana Kaye 12:10pm August 30)
Congrats on the new book. I'll put it on my list of books
to read. One of my favorite newer series is by Deborah
Harkness. A Discovery of Witches and the sequel A Shadow of
Night will keep you up nights until you finish them. I am
eagerly awaiting the last book in the series. I will
however be very sad to see it end. Have a great day.
(Amy Kincade 12:40pm August 30)
Hi Jade!

Many years ago I was pretty stuck in reading only contemporary and historical romance. One day I went to our local bookstore and they had just put a display of a book by a new author and one ob the booksellers told me I should check it out. She said it was by a new author, some guy named Tom, but I might think it would be a good book for my husband The name of the book was The Hunt for Red October. I decided to pick it up for him because at the time he was in the Navy flying on P3's.

Since he wasn't going to be home for a few more weeks I decided tor read it while since he was chasing subs on a P3!

Needless to say he loved the book but more surprising is that so did I! I never would have picked it up much less read it if that one bookseller didn't tell me about it - a book by the way he hadn't read, if she hadn't pointed it out to me!

Who would have thought back then that it would become such a huge success not only in the book world but as a movie as well!

Now I find myself reading some of the books my husband reads so we can talk about them - but I still haven't gotten him to read any of my beloved romance novels!
(Jeanne Miro 12:41pm August 30)
I recommends reading Taming Me: A Memoir of a Clever Island Cat and Sacred Games (The Athenian Mystery). Sacred Games is about a mystery murder set in ancient Greece during the Olympic after the Greece/Persian War.

Another one is The Faceless One. It is a supernatural, horror story. I don't read too much horror stories but I like this book.
(Kai Wong 12:57pm August 30)
Hi. I finished reading two books I loved this past week : "Love and Other Scandals" by Caroline Linden and "Once Upon a Tartan" by Grace Burrows. Both were well written with characters that I'll remember for a while. I love historical romance! My spouse and I listened to "The Cuckoo's Calling" when we returned from up north this week. J. K. Rowling has written an interesting mystery, but every other word was "fucking". I couldn't stand it. Maybe I love historical romance because the characters don't constantly use crude language. :-)
(Elaine Carlini-Davis 1:31am August 30)
Loved Taking Shots by Toni Aleo. Cannot wait to read the rest of the series. Am reading a 2nd one now.
(Pat Lieberman 9:08am August 30)
I just finished Fool For Love and The Trouble With Love by Beth Ciotta. I loved both books.
(Rita Wray 9:39am August 30)
Not romance, but anyone who enjoys humor and urban fiction might get a kick out of "The Rook," by Daniel O'Malley--it is fast and funny.
(Janet Martin 9:43am August 30)
I agree, if that lady had not read romance in a long while she's in for a treat! The genre has really moved on and includes so many sub-genres from inspirational to suspense. A reader is a reader and it's always good to try something new.
I can recommend The Rosie Project, an often hilarious look at how a professor in genetics tries to establish who would be the right woman for him, while brash Rosie has her own agenda and teaches him to live in the real world.
(Clare O'Beara 10:08am August 30)
I love your books of course. :)

I also love Julie Anne Long's books.
(May Pau 10:31am August 30)
Lately, I've been rereading some of my Julie Garwood Historical books. She's my favorite historical author, but I haven't read any of your books yet.
(Carol Woodruff 11:01am August 30)
I would recommend Neanderthal Seeks Human by Penny Reid. The heroine was definitely unique.
(Maureen Emmons 4:57pm August 30)
The Story Guy by Mary Ann Rivers.
(Marcy Shuler 6:59pm August 30)
There are a ton of great books out there! I lean toward
historical & contemporary romance. I love Laura Florand's
contemporary books, like The Chocolate Thief, which are very
sensual.
(Sharlene Wegner 7:45pm August 30)
Golly, I can admire Stephen King and think that he is brilliant, but it doesn't mean that I want to read his books. I really want to be able to sleep at night! ;-) On the other hand, I really love romances!
(Marcia Berbeza 10:21pm August 30)
I would love to win one of your books. You are one of my
favorite authors!
(Charlene Fraley 10:43pm August 30)
Who doesn't want to read books about love, romance and yes I enjoy reading a good mystery too! Thank you for the opportunity.
(C Culp 6:55am August 31)
Thank you for an amusing post! As far as genres are concerned, I usually like to read historicals, but I do like some contemporaries. Lately I've been reading the companion books to my favorite sci-fi show "Supernatural", which if you like the tv show, you'll love the books as well. I liked reading Tessa Dare's "Any Duchess Will Do" (she's one of my favorites).
(Sandy Kenny 10:35am August 31)
I'm happy to try reading all genres. I've found some great
books that way.
(Mary Preston 6:58am September 1)
Count me in!! I would love to read this book! I love your work!
(Lisa Glidewell 3:07am September 5)
Although I never had kids, I, too, have gone through a lot of the same things you have, so you can rest easy knowing that what you have been going through is just normal, everyday getting older. I can actually take it a step further. When I get to the grocery store, which takes my Husband and I a half-hour to get to, I'll reach in my purse, and my shopping list isn't there. That's because I FORGOT to put it in my purse before I left!! If there's one distraction before I leave to go anywhere, and I can't do a mental rundown of things I'm supposed to do beforehand, I'm bound to forget something!! When I'm on the computer, there's always something that I forget to do, which is very important to me. In fact, it's one of the reasons why I got on line to begin with!! Some days my thoughts tend to bleed into the next, and I'm lucky if I get one thing done. Don't feel bad, Jade. Just join the club!! I'm going to sit back and enjoy your book in the meantime!!
(Peggy Roberson 9:41am November 5)
OMG, I'm doomed...
(Jade Lee 11:03am November 5)
Maybe with the kids/chaos out of your daily routine, your brain still needs
something to stress about. I've always been a worrier, so I can relate. What
the Bride Wore sounds wonderful! Thanks for the chance to win!!!
(Linda Brennan 9:38am November 6)
I am sooo a worrier and this sounds great
(Patricia Lambert 2:25pm November 6)
I'm in a nursing home, so I usually don't have to worry about shopping and etc. I do worry whether I have all my paperwork when I go to the Dr.'s.
(Carol Woodruff 4:20pm November 6)
Seems like you have to learn focus. Today's net-hopping lifestyle means people have shorter attention spans, which is why they check mail all the time or send updates when they should be immersed in an experience. Try living net-free and phone-free for a week.
(Clare O'Beara 9:47am November 7)
Counting down or up to the time when things have to happen
is a way of managing time and creating some order to your
life. I find that setting the clock 10 minutes early helps
a bit plus trying to get to a spot 10 minutes early which
means I'll be there right on time or 5 minutes late.
There's an arc to aging with forgetting both a blessing and
a curse. What matters the most is what you'll pay more
attention to. Chunking the tasks down to smaller parts
gives you a sense of order and accomplishment when you've
done part of it. Your Regency story is appealing and I love
learning about the social skills, place in society and the
decor of the time.
(Alyson Widen 1:06pm November 9)
SRSG incorporated in 1997 with a vision to provide the technology of Apple. SRSG is one and half decade old agile and adaptable company dealing with wide spectrum of broadcast IT and media technology products and services.
Apple service center in guwahati
ipad service center in bhubaneswar
Macbook pro service center in delhi
(Rodene Lee 4:56am March 6)
SRSG incorporated in 1997 with a vision to provide the technology of Apple Computers, the Services and Technical Support that is a match for its power and usefulness.
[url=http://www.srsg.com/broadcast-automation.html]Broadcast automation[/url]
(Rodene Lee 4:56am March 6)
Registered users may leave comments.
Log in or register now!