M.L. Buchman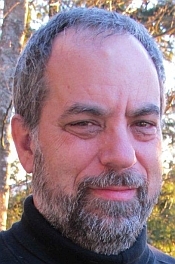 Blogging at Fresh Fiction
M.L. Buchman | Forming A Military Family
March 2, 2015
There are unique challenges faced by our Armed Forces that I have done my best as a civilian to understand. And the results of years Read More...
M.L. Buchman | An Alpha To the End
September 9, 2014
I've watched her shoot dozens of times. I still don't know how she does it." Bill blinked Read More...
M.L. Buchman | Bringing the Heat
May 13, 2014
I have to confess that starting a new series—even a spin-off one—is a harrowing event, at least for this author. The exploits Read More...
ML Buchman | Take Over At Midnight
December 20, 2013
Beginnings are such fun. I love finding new and amusing ways to introduce new people, it's something I always look forward to. Part of Read More...
ML Buchman | Balance Of Home
February 28, 2013
I've learned as I write, that books have background layers. That which appears behind the dialog, plot, and action. The readers may not even Read More...
M. L. Buchman | My Wife Loves When I Laugh
August 2, 2012
It's how she knows the book is going well. I'm sitting off in my writing corner; surrounded by pretty pictures, important sayings, a Read More...
M.L. Buchman | The Day I Became a Writer
February 16, 2012
I oddly enough know the exact day I became a writer, almost the exact hour. I had no intention of writing fiction, not in the Read More...
M. L. Buchman has worked in fast food, theater, computers, publishing, and light manufacturing. It's amazing what you can do with a degree in geophysics. At one point he sold everything and spent 18-months riding a bicycle around the world. In 11,000 miles, he touched 15 countries and hundreds of amazing people. Since then, he has acquired a loving lady, the coolest kid on the planet, and lives in Portland, Oregon.
Books:
Target Engaged, December 2015
Paperback
Hot Point, August 2015
Paperback
Way of the Warrior, May 2015
Paperback
Bring On The Dusk, March 2015
The Night Stalkers #11
Paperback
Full Blaze, December 2014
Firehawks
Paperback
Light Up the Night, September 2014
The Night Stalkers #5
Mass Market Paperback
Pure Heat, May 2014
Firehawks
Paperback
Where Dreams Unfold, April 2014
Paperback
Take Over at Midnight, December 2013
The Night Stalkers #4
Paperback
Peter's Christmas, November 2013
Night Stalkers Novella
e-Book
Frank's Independence Day, May 2013
The Night Stalkers
Paperback
Where Dreams Reside, April 2013
Angelo's Hearth #2
Paperback
Wait Until Dark, February 2013
The Night Stalkers #3
Paperback
Daniel's Christmas, November 2012
Night Stalkers
e-Book
I Own The Dawn, August 2012
Night Stalkers #2
Paperback
The Night Is Mine, February 2012
Night Stalkers #1
Paperback
Where Dreams Are Born, December 2011
Angelo's Hearth #1
e-Book