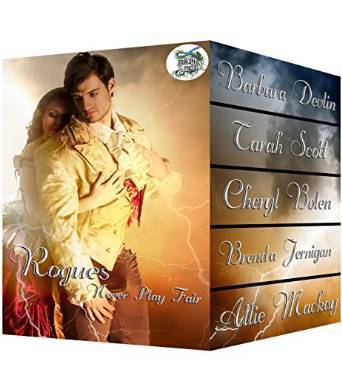 Purchase
Author Self-Published
May 2016
On Sale: May 20, 2016
ISBN:
Kindle: B01EX4XVJA
e-Book
Add to Wish List

Romance Anthology | Romance Historical
OUT OF PRINT The authors who penned the blockbuster anthology Gentlemen Always Play Fair bring you the second anthology in the Gentlemen, Rogues and Lords series ROGUES NEVER PLAY FAIR. Over 1000 pages of historical romance to delight your daylight hours and fill your nights with delicious dreams. THE LUCKY ONE by Barbara Devlin When a band of thieves steals a priceless family heirloom from Nautionnier Knight Dalton Randolph's ship, he vows to recover the treasured artifact and bring the criminals to justice. But the local governor is missing in action, and the governor's daughter, Daphne Harcourt, is anything but cooperative, which presents a most irresistible challenge for the happy-go-lucky rake. Miss Daphne Harcourt has spent her entire life on Portsea Island. When desperate circumstances force her to take drastic measures, she is discovered in a compromising position by a handsome stranger. To the undiscerning eye, Dalton Randolph could be the answer to her prayers, and an ancient brooch with mystical powers predicts just that. But is the charming sea captain her salvation or her downfall? MY HIGHLAND LOVE by Tarah Scott How does a woman tell her betrothed that she murdered her first husband? Shipwrecked in the Scottish Highlands, American heiress Elise Kingston quietly plans revenge for the deaths of her daughter and the brother who sacrificed his life to save her. When Marcus MacGregor, Marquess of Ashlund, returns to his Highland home to discover a stunning American woman has been taken in by his clan, his attraction is instant and he resolves to make her his--no matter what secret she's keeping. Elise is shocked by her need for Marcus and, too late, discovers that her feelings make him a target of her enemy--a man powerful enough to destroy even a Scottish nobleman. THE EARL'S BARGAIN by Cheryl Bolen Finalist for Best Historical, International Digital Awards The impossibly young, stunningly beautiful widow Louisa Phillips finds herself penniless upon the death of her no-good husband. What's a man-hating bluestocking to do? Enter the Earl of Wycliff, who offers her financial security for life. All she has to do is travel across England posing as his wife. They're both hiding secrets – not the least of which is their budding love for each other. LOVE ONLY ONCE by Brenda Jernigan Bitter Betrayal - Jonathan Hird, Earl of Longdale, wants sweet revenge on Lady Elizabeth Trent for leaving him at the altar. After a couple of years at sea, Jonathan returns and forms a perfect plan for Sweet Revenge. WINTER FIRE by Sue-Ellen Welfonder Flames of winter burn the hottest… Katla MacKenzie is fascinated by the legends and lore of the Vikings, her mother's people. When she meets a dashing stranger in an enchanted place known to be a haunt of Norse deities, she gladly gives her heart – and her passion – to the lover she only knows as the Lord of Winter. Secretly flattered when a bonnie lass believes him a god, Gunnar MacLeod can't resist her and seduces Katla atop the mountain known as Odin's Flame. In truth, he is the one seduced. But when he learns her name, he must let her go - and not just because their clans are warring. When a clan tragedy forces Gunnar to leave Skye, he'll sacrifice everything before he can return to Katla. When he does, a bitter enemy is waiting. But a heart that loves is powerful, and Gunnar will do whatever he must to claim Katla as his own.
Comments
No comments posted.

Registered users may leave comments.
Log in or register now!