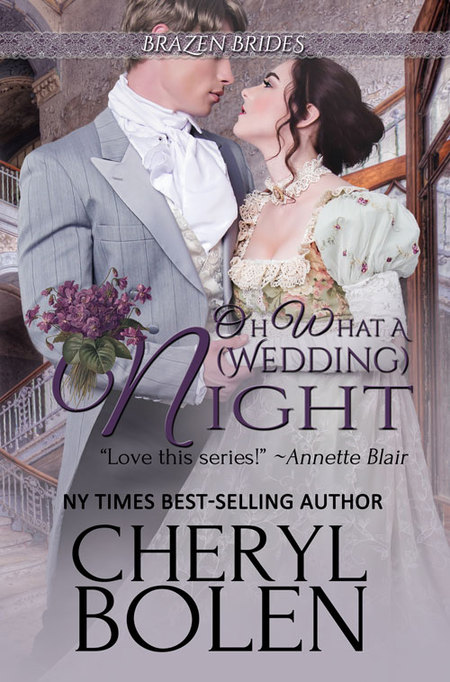 Purchase
Oh What a (Wedding) Night
Cheryl Bolen
Brazen Brides #3
Harper & Appleton
April 2016
On Sale: April 19, 2016
Featuring: Sophia Beresford
ISBN: 0157627616
EAN: 2940157627614
Kindle: B01BZG0QXS
e-Book
Add to Wish List

As Lady Sophia Beresford (recently Lady Finkel) passes through the gates of her new bridegroom's country estate and he begins to whisper in her ear of the delights that await her in his bed, Lady Sophia realizes she has made a most dreadful mistake. There's only one thing to do. She must bolt.
The bride-on-the-run is rescued by the exceedingly handsome William Birmingham who thinks she's a woman named Isadore, and though he's the richest man in England, she mistakes him for a common (but well-to-do) criminal. Since she'd rather be dead than wed to Finkel, Sophia pretends to be Isadore and take her chances with the provocative Mr. Birmingham. But how could she have known that her ruse would bring the gallant Mr. Birmingham into such peril from the wicked man she married? And how could she have known her enigmatic rescuer would ignite passions she'd never known she possessed?
Brazen Brides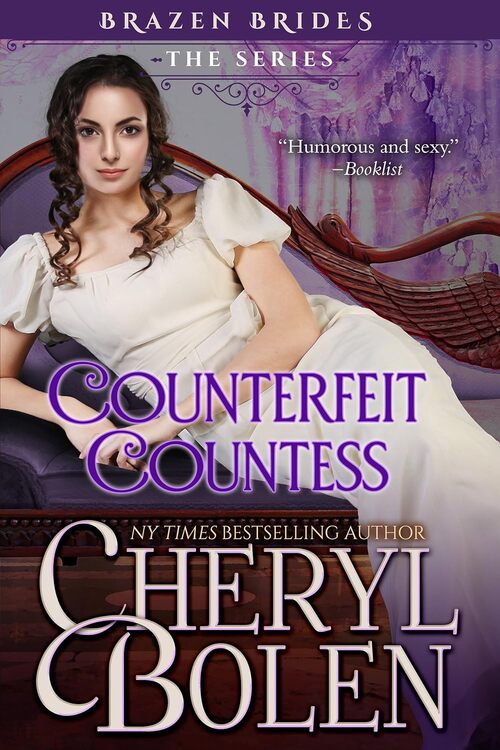 Counterfeit Countess
#1.0
Kindle | BN.com | | Kobo |
Comments
13 comments posted.
Congrats on the release of book 3! I love many tropes... some of my favs are secret baby, amnesia, fairytale types, etc...
(Colleen Conklin 12:44pm April 19, 2016)
Those are good tropes, Colleen.
(Cheryl Bolen 5:32pm April 19, 2016)
I am not sure I have an all time favorite because I tend to read depending
on my mood. Although I do enjoy wallflower stories and misunderstood
Heroes or heroines. I am looking forward to this story. It sounds intriguing.
(Tiffany Upperman 5:53pm April 19, 2016)
I have many favorites: Friends to lovers. Enemies. Old
flames. Hero and heroine grew up together as children.
Arranged marriage. Mail order bride. Marriage of convenience.
Unrequited to requited love. It's up to the author to make
the storyline work. And, Ms. Bolen, you certainly do!
(Edward Washington 10:28pm April 19, 2016)
Thanks, Edward. Tiffany, I read like you -- according to my mood. I used to eat up tortured heroes, but the older I get the more I crave stories with humor--along with a lot of emotion and amour!
(Cheryl Bolen 1:51pm April 20, 2016)
One of my favorite tropes is the bluestocking and the rake
(Mary McCoy 6:30pm April 24, 2016)
That's a good one, Mary.
(Cheryl Bolen 8:54pm April 24, 2016)
I'm one of those people who read just about anything they can get their hands on, including the cereal box (hey, I was desperate!). However, I am a big sucker for Regency romances (thank you, Georgette Heyer!), and this one has a premise new to me, so even if I don't win, I can guarantee that I'll be checking all three of the series out from my local library!!
(Lynn Rettig 10:01pm April 24, 2016)
I love all kinds of literature, but one of my favorites in historical fiction is the
warrior returned home to the lady who tames him into a loving husband and
caring lord / laird for his people.
(Samantha Morris 10:15pm April 24, 2016)
I have looked everywhere and cannot find the answer to the question can anyone help me with the answer thanks
(Jeri Dickinson 5:32pm October 3, 2016)
I am hoping that the maid has helped her dress as Isadora and she has said she is either very tired from her travels or has a headache as I too read and did not pick up on anything. Thank you for this giveaway and I hope I can win to find out the answer.
(Ann Thaxton 10:07am October 8, 2016)
Cheryl I have read the excerpt but no where does it say what the mail helped her with is it in that one or is it no where to be found?
(Jeri Dickinson 4:52pm October 16, 2016)
Hi, Cheryl. I have also read the excerpt and can't find the answer to your question! Would love to win and find out for myself!
(Robin Wood 12:48pm October 27, 2016)
Registered users may leave comments.
Log in or register now!