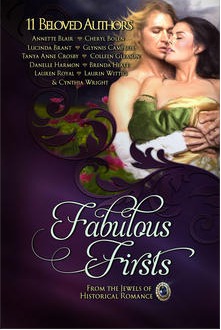 Purchase
A Boxed Set of Eleven Full-Length Series-Starter Novels
Author Self-Published
December 2014
On Sale: December 16, 2014
3000 pages
ISBN: 0046313869
EAN: 2940046313864
Kindle: B00O5B3RDM
e-Book
Add to Wish List

Romance Historical | Romance Anthology
OUT OF PRINT
Eleven full-length novels from eleven New York Times, USA Today, and internationally bestselling authors! Each book is the first in a beloved series. From the majesty of medieval castles to the glittering ballrooms of the Regency, read an enchanting novel from each of the Jewels of Historical Romance!
UNDENIABLE ROGUE by Annette Blair, Book 1 of her Rogue's Club series
London, 1815: Thanks to a battlefield promise, Gideon St. Goddard, Duke of Stanthorpe, will take a bride. Sabrina Whitcomb needs to provide for her children, but wedding a stranger is no light matter.
THE BRIDE WORE BLUE by Cheryl Bolen, Book 1 of her Brides of Bath series
England, 1813: For six long years Thomas Moreland has dreamed of the beautiful young noblewoman who rescued him. Wealthy now, he's come to Bath to rescue his fair Felicity—while endeavoring to win her love.
NOBLE SATYR by Lucinda Brant, Book 1 of her Roxton Family Saga
France & England, 1740s: In the age of hedonism and enlightenment, Antonia is abandoned at Versailles, where the predatory Comte de Salvan plots her seduction. The Duke of Roxton snatches Antonia to safety—but is Roxton a noble savior or a satyr most despicable?
LADY DANGER by Glynnis Campbell, Book 1 of her Warrior Maids of Rivenloch series
Scotland, 1136: Deirdre of Rivenloch has never had trouble turning away men. But when she marries the powerful Sir Pagan Cameliard to save her sister, Deirdre soon finds herself losing the battle over her heart.
THE MacKINNON'S BRIDE by Tanya Anne Crosby, Book 1 of her Highland Brides series
Scotland, 1124: When Iain MacKinnon's young son is stolen by the English, he captures the daughter of his enemy to bargain for his son's return. But even as Page blames the chieftain for welching on a contract with her father, she suspects the truth...
LUCIFER'S ROGUE by Colleen Gleason, Book 1 of her Draculia Vampire Trilogy
England, 1802: Voss, the Viscount Dewhurst, is an immortal who loves women and all things pleasurable, with no regard for others. Things are about to change when Miss Angelica Woodmore crosses his path and the rake falls...hard.
THE WILD ONE by Danelle Harmon, Book 1 of her De Monteforte Brothers series
England, 1776: When handsome black sheep of the family Lord Gareth de Montforte thwarts a stagecoach robbery, he finds himself inheriting his dead brother's fiancee and infant baby.
ROGUE'S HONOR by Brenda Hiatt, Book 1 of her Saint of Seven Dials series
London, 1816: A duke's daughter in disguise is rescued by legendary Regency Robin Hood, the Saint of Seven Dials. Love is the last thing either needs, but when was love ever wise?
AMETHYST by Lauren Royal, Book 1 of her Chase Family Series
England, 1666: Amethyst Goldsmith will soon be condemned to a loveless marriage, and she sees no way out—until a devastating fire sweeps through London, and tragedy lands her in the arms of dashing nobleman Colin Chase.
THE DEVIL OF KILMARTIN by Laurin Wittig, Book 1 of her Scottish Highlands series
Scotland, 1307: Symon MacLachlan encounters Elena Lamont and discovers her touch frees him from the madness he battles. Certain she is the legendary Lamont healer, he tries to lure the skittish lass to marry him, but will he be able to win her love?
SILVER STORM by Cynthia Wright, Book 1 of her Rakes & Rebels series
Connecticut & Virginia, 1783: Dashing privateer Captain Andre Raveneau saves spirited Devon Lindsay from the Redcoats. He reluctantly agrees to deliver her to her fiancé, but doesn't count on falling in love with her himself!
Comments
No comments posted.

Registered users may leave comments.
Log in or register now!