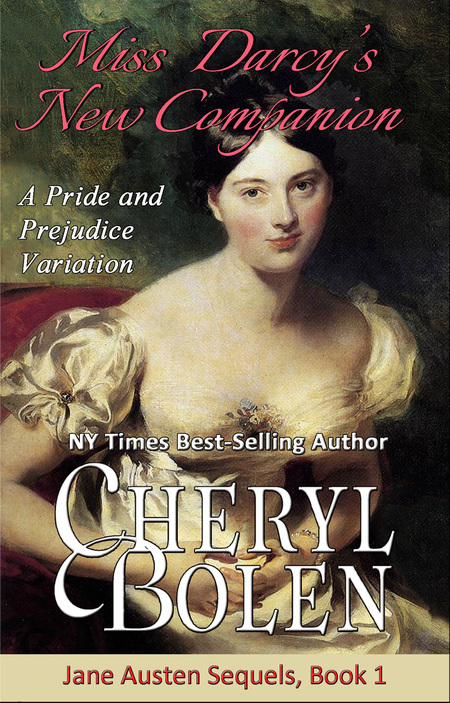 Purchase
Miss Darcy's New Companion
Cheryl Bolen
A Pride and Prejudice Variation
Jane Austen Sequels #1
Harper & Appleton
July 2016
On Sale: June 28, 2016
Featuring: Lucy Wetherspoon; Lord Fane
88 pages
ISBN: 0158453336
EAN: 2940158453335
Kindle: B01H0UFFDE
e-Book
Add to Wish List

Novella / Short Story | Romance Historical
As the Darcys are about to embark on their wedding trip to Italy, they lose the capable service of Miss Darcy's long-time companion. What will they do? They cannot leave dear Georgiana without a proper lady for a companion. Elizabeth Darcy's aunt comes to their rescue, recommending the lovely spinster Lucy Wetherspoon, whose family she has long known.
Darcy also asks his neighbor, Lord Fane, to watch out for Georgiana in their absence. At two and thirty, Lord Fane has decided he needs to wed an heiress to restore his ancestral pile. Miss Darcy's fortune is just what he needs.
Then he meets the shabbily dressed Miss Wetherspoon, and his world is utterly shaken by the profound feelings the beautiful woman elicits in him. After meddling from misguided-but-well-meaning Mr. Collins, Lord Fane's honor demands he offer for Georgiana Darcy though his heart will ever belong to her shabbily dressed companion.
Jane Austen Sequels
Comments
16 comments posted.
Re: Miss Darcy's New Companion

Pride and Prejudice books are always fun to read. I'm sure Jane Austin would approve.
(Betty Breithaupt 2:57pm June 28, 2016)
Oh boy...I do not own an e-reader anbd it is so frustrating because I can't get these books. I wish some publisher would just put some of them together into one book so we couyld read themon paperback. I'd LOVE that!!!
(Bonnie Capuano 6:16pm June 28, 2016)
I'm also a Jane Austin fan and am always looking for similar stories. Since I have always read your books, I am looking forward to reading the novellas.
(Sharon Mitchell 3:30am June 29, 2016)
they look great and then the middle one catch my eye andd then i would pick up off shelf real quick
(Desiree Reilly 8:05pm June 29, 2016)
Love the covers! Very authentic looking1
(Nancy Ludvik 10:39pm June 29, 2016)
These covers are darling and show what I expect the
heroines to look like from that age.
(Beth Tilley 11:45am June 30, 2016)
I like all the covers... too hard to choose just one! My favorite Jane Austen book is definitely Sense and Sensibility. It's my favorite book ever!
(Jamie Stein 12:29pm June 30, 2016)
It's a nice change to see these covers because they are different from books that are based in modern times. I am not even going to try to pick a favorite Jane Austen book, but will say that I love what I have read.
(Leni Kaye 6:55pm June 30, 2016)
I like the cover for Miss Darcy's New Companion the best. As for which
Austen book, Pride and Prejudice.
(Connie Williamson 9:50pm June 30, 2016)
Pride and Prejudice is my favorite of Miss Austen's books.
The covers reflect a feeling of the period. The cover for Miss Darcy's New
Companion is my favorite.
(Patricia Barraclough 10:23pm July 1, 2016)
I love the covers. They make me feel as if I have gone back in time. Most of all, I love the premise of stories which return me to the world of Jane Austen.
(Annette Naish 4:48pm July 2, 2016)
The covers fit perfectly for what you're trying to do- in my opinion. All books are my favorite- depends on my mood. :)
(Sally Hannoush 2:20pm July 3, 2016)
Bonnie Capuano, all three books are combined into one print book titled Jane Austen Sequels. Sharon Mitchell, thanks for your loyalty. Thanks to all of you who stopped by and commented.
(Cheryl Bolen 4:35pm July 3, 2016)
I particularly want to read your novella about Miss Darcy's new companion. (I kind
of wanted to write "Georgianna," but propriety overcame me.)
(Mary Ann Dimand 7:32pm July 3, 2016)
I do not have a favorite Miss Austen book, but would like to read Miss Darcy's New Companion. It's always interesting to find out how and why the hero changes his mind and decide the poor, hardworking lady is the right one.
(Anna Speed 7:36pm July 3, 2016)
I love the covers and I LOVE that it comes in a paperback!!! YIPPEE! Can't wait to read it!!
(Bonnie Capuano 10:23pm July 3, 2016)
Registered users may leave comments.
Log in or register now!