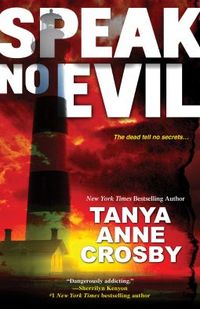 Purchase
Kensington
March 2013
On Sale: March 7, 2013
Featuring: Caroline Aldridge; Jack Shaw
283 pages
ISBN: 1601830602
EAN: 9781601830609
Kindle: B00AKI4IPU
e-Book
Add to Wish List

The story of three sisters redefining their lives after the death of their mother. As they struggle to come to grips with each other, their past and the flood of memories of their young brother's disappearance, a killer begins ot terrorie thier community and murder comes way too close for comfort.
SPEAK NO EVIL is set near Charleston, South Carolina, where Crosby lived for many years and which remains one of her favorite cities. It's a contemporary story of secrecy, a grand southern family in decline, and what happens to three sisters when their mother, newspaper heiress Florence Willodean Aldridge, unexpectedly dies. Her daughters––Caroline, Augusta and Savannah––return for the funeral, unsurprised that the dark past they share still casts its shadow over them and their legacy.
Florence has left a number of demands, including that the sisters live together in the family home for one year or lose their inheritance, and that Caroline must take over The Tribune. They've barely settled in when a series of kidnappings and murders stirs memories of their brother's disappearance as a child. Amid rising tensions, it soon becomes clear that Caroline, having unwittingly taken a major role in the investigation through The Tribune's coverage, is most likely the killer's next target.
Even as she tamps down her fear and struggles with turmoil at home and at the paper, Caroline must confront her feelings for ex–fiancĂ©, Jack Shaw, the only man she has ever loved and perhaps the only person who stands between her and the killer.
Comments
28 comments posted.
Re: Speak No Evil

Thanks for the opportunity to win one of your great books.
(Elaine Thomas 10:21am April 17, 2013)
I absolutely cannot wait to read this book. I am a huge mystery fan, and the south is about my favorite place in the US. Would love to take this book along with me on our annual trip to South Carolina in May!!! Thanks for sharing!
(Stephanie Strausberger 10:27am April 17, 2013)
I love Charleston. One place that I have thought of living, and love to visit. The private gardens, Rainbow Row. I love to be at the battery looking at Ft Sumter in the distance, in that moment it is as if time has stood still in an amazing city. I also have the belief that we are all connected the that one action can be the "butterfly effect" for good or evil.
(Carla Carlson 10:41am April 17, 2013)
I love mystery/suspense books, and this book sounds fantastic!
Thanks for the great giveaway!
(Sara Doyle 11:29am April 17, 2013)
This sounds like the type of book I enjoy. Thanks for giving me a chance to win it.
(Anna Speed 11:59am April 17, 2013)
Happy release day. I love romantic suspense so Speak No Evil sounds like a great read.
(Anne Muller 12:27pm April 17, 2013)
This looks like a GREAT read!!! I've ALWAYS wanted to go to SC so I can't wait to read it from the characters point of view!
(Jamie Carollo 12:29pm April 17, 2013)
I have been in a romantic suspense mood lately... this sounds like one I would enjoy reading!
(Colleen Conklin 1:00pm April 17, 2013)
This sounds like a good read.
(Sandy Giden 1:14pm April 17, 2013)
This book sounds like the stuff that I like to watch on TV.
(Milagros Gagliano 2:19pm April 17, 2013)
Great setting and compelling novel.
(Sharon Berger 2:25pm April 17, 2013)
I met my husband when he was stationed in Parris Island. Loved it down there, probably because of that. Any book set there has to be good!
(Annetta Sweetko 2:57pm April 17, 2013)
Wow, I really can't wait to read this book, it looks AMAZING! Romantic suspense
is my weakness. I just moved from SC and my mom lives in Charleston, how
awesome! Thank you for giving us a chance to win the book.
(Val Pearson 3:38pm April 17, 2013)
This sounds like a very good romantic/suspense/thriller, and the type of book I'd enjoy with a great storyline and setting focused around the area you grew up!
(Rich Cook 5:20pm April 17, 2013)
What a great cover for your book, SPEAK NO EVIL! I can't wait to read it and follow the three sisters through this compelling story in South Carolina.
(Linda Luinstra 6:44pm April 17, 2013)
love the cover and sounds great to read and love to win
(Kimberly Hoefs 9:55pm April 17, 2013)
love to visit places in South Carolina
(Patricia Kasner 10:51pm April 17, 2013)
Just curious, if there was one place you could go today (that you've never been to before) where you think you would be able to gain inspiration for a new book, where would that be?
(Donna Holmberg 11:09pm April 17, 2013)
I have never been in the South except Virginia. I would like to visit the deep South one of these days.
(Kai Wong 12:14pm April 18, 2013)
I WOULD LIKE TO VISIT THE AREA ONE DAY. THANKS FOR THE GIVEAWAY AND GOOD LUCK WITH YOUR BOOK!
(Shelley Summers 12:59pm April 18, 2013)
Thank you to everyone for the support and the kind words! You all rock!
(Tanya Anne Crosby 8:34am April 18, 2013)
Love Charleston and enjoy reading books set in the area!
(Bonnie H 11:15am April 18, 2013)
This sounds like a great book! All the best to you!
(Natalie Field 12:35pm April 18, 2013)
Charleston is one place I have always wanted to visit---maybe I'll have to settle for visiting it in your book.
(Sue Farrell 3:30pm April 18, 2013)
I've never had the opportunity to visit Charleston but I'm sure your book will paint a beautiful picture in my mind for me.
(Janis Milford 4:55pm April 18, 2013)
I've never been to South Carolina, but heard that it's a beautiful place. It sounds like the superstitions there are similar to those in Louisiana. The swamps and cemetaries sound similar as well. I have a dear friend who is like a Sister who lives there, and she's told me stories about living there. I would love to read your book, and get a little bigger taste of what life is like out there. It sounds like such a great read!! Congratulations on your book!!
(Peggy Roberson 9:13pm April 18, 2013)
I do love to visit different settings with my reading.
(Mary Preston 1:01am April 19, 2013)
Great to write in the setting where you grew up! You share not just observations but personal memories that way.
(Clare O'Beara 7:12am April 19, 2013)
Registered users may leave comments.
Log in or register now!