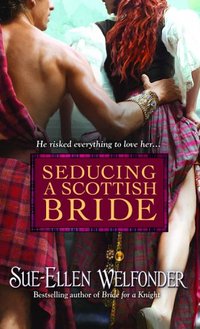 Purchase
Forever
March 2009
On Sale: February 24, 2009
400 pages
ISBN: 0446195294
EAN: 9780446195294
Mass Market Paperback
Add to Wish List

Gelis MacKenzie is one of the most desirable heiresses in all the Western Highlands. She is the youngest and much adored daughter of the indomitable Black Stag of Kintail, Duncan MacKenzie, who was the hero of Welfonder's novel DEVIL IN A KILT. Unfortunately, Gelis has been branded unmarriageable, but not for lack of masculine interest. No matter how lofty the ancestry, how deep the purse, or how mighty the sword arm, nary a one of her suitors is good enough for her father. Although he loves Gelis fiercely and knows he must someday see her settled and wed, Duncan isn't quite ready to let her go.

But now Duncan has received an offer for Gelis's hand in marriage that he is honor-bound to accept-and it comes from the worst possible quarter. The suitor, Ronan MacRuari of Castle Dare, is the last man Duncan MacKenzie would wish for a son-in-law. Known as the Raven, Ronan is the scion of a dark clan that has been marked by a deadly curse.

Ronan and Gelis are instantly attracted to one another, but they are immediately estranged. Ronan's last two wives have died abruptly and he doesn't want to see his vivacious newly- wed Gelis suffer the same fate, so he distances himself from her as much as possible. In the meantime, Ronan searches for the Raven Stone, a fabled treasure that he believes holds the power of the curse over his clan. But Gelis has fallen in love with her new husband, and she's determined to help him. Though Ronan doesn't know it, Gelis also has the gift of second-sight, and she has seen a future in which she is destined to help redeem her cursed husband.
Comments
No comments posted.

Registered users may leave comments.
Log in or register now!