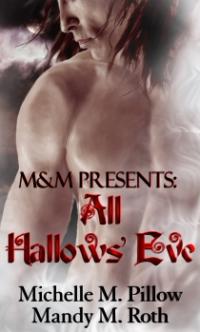 Purchase
M & M Presents
New Concepts Publishing
October 2004
Featuring: Jean-Pierre Dubois; Porter; Audrey Hayes
ISBN: 1586082515
e-Book
Add to Wish List

Romance Erotica Sensual | Romance Paranormal
A Midnight Seduction by Michelle M. Pillow: After her mother's death three years ago, Audrey Hayes is mildly content to run the greenhouse left to her. She has a good life, though she is alone. Then, on All Hallows' Eve, a man walks into the store looking for her mother, Clara.
Porter is a full blooded lycan sent to collect Clara and bring her back to the Dark Realm to be with Audrey's vampire father so they may conceive a child by midnight in fulfillment of the elfin prophecy, or both their worlds will be lost to demons forever. Instead, he discovers Clara is dead and must he take her daughter instead —a woman who has no clue she's even of supernatural descent. Getting Audrey to the realm is the easy part, it's convincing her to join him in fulfilling the prophecy that proves to be a challenge.
Fate of the Heart by Mandy M. Roth: Blinded by love…
Two hundred and fifty years ago, master vampire, Jean- Pierre Dubois returned from a night of feeding to find his new bride dead. Unable to accept that his love would be forever lost to him, he sought guidance from the seers. They warned him not to tempt fate, not to change the course of a natural death, but he did not listen. Now, after all these decades, she has finally returned to him, yet all is not as it appears to be.
Hanging on to hope…
Elise Marie Wiseman can't get a moments peace in her small town. Having been born with a weak heart, it's all she can do to convince the people who care about her to let her out of the house for a few moments. She can understand their concerns, because she's aware of how fast her heart is giving out on her. Determined to enjoy her last days on this Earth, she sets out to attend the All Hallows' Eve party to end all parties—Dubois Manor's costume party. When she meets the charming French stranger, she's sure that they've met somewhere before. Drawn to him in the most carnal of ways, Elise finds herself submerged in a world of sex, blood, and immortality.
Rating: Contains GRAPHIC violence, explicit sex scenes, strong language, and is not for the faint of heart.
Comments
No comments posted.

Registered users may leave comments.
Log in or register now!