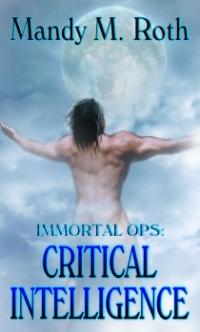 Purchase
Immortal Ops Book 2: Critical Intelligence
Michelle M. Pillow
Immortal Ops #2
New Concepts Publishing
February 2006
Featuring: Missy Carter; Roi Majors
ISBN: 1586087355
Trade Size (reprint)
Add to Wish List

Romance Paranormal | Romance Erotica Sensual
Missy Carter leads a boring, overworked life as a system analyst for the State Department or rather, that's what she lets everyone believe. In reality, her life is anything but boring. As an agent with the Paranormal Security and Intelligence, she's seen and done it all. Intelligence is her specialty, assassination is her hobby. The only problem is that the things she spies on don't die easily. She's learned to handle anything life can throw at her. That is until the biggest paramilitary pain in her ass shows up … again. Lucky for him, he's sexy.
Roi Majors, second in command of the I-Ops, is having a hard time believing that Intel can only get half the information needed to bring down an underground ring of vampires who are hell bent on creating a race of supernaturals with multiple strands of DNA. As the team looks for answers, Roi searches for sexual release. When he's paired with the one woman in the world who seems immune to his self-proclaimed charms, he can't wait to see her to safety and bid her good riddance. He never counted on falling in love with her. And he sure as hell never counted on her claiming to be an agent with a branch of the government no human should know about.
Rating: Contains graphic violence, explicit sex, and strong language.
Comments
No comments posted.

Registered users may leave comments.
Log in or register now!