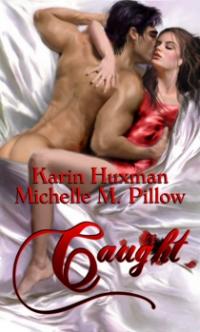 Purchase
New Concepts Publishing
August 2005
Featuring: Miranda; Everest Beaumont; Chloe Masters
ISBN: 1586086936
Trade Size (reprint)
Add to Wish List

Romance Anthology | Romance | Romance Contemporary
Two women are caught by men completely wrong for them ... and deliciously irresistible.
The Commitment by Karin Huxman (Contemporary Romance): Jilted for the third time at the altar, morose and disgusted, Miranda drinks too much and the next morning, finds herself in bed with a naked man. To her horror, she discovers she's wed to her boss/ex brother-in-law, sexy bad boy Drake. He wants her, and there's not much a girl can do to resist a gorgeous man in his birthday suit.
But Drake has much more on his mind than Miranda in a sexy negligee….
Mountain's Captive by Michelle M. Pillow (Contemporary Romance): Waking up with a hangover in a Las Vegas hotel, New York writer Chloe Masters is sore from an unusual night of passion with a man she vaguely recalls. She soon discovers that the night before she dialed the wrong hotel suite and Paul, her arranged fiancé, is frantically waiting for her in a different room. And if that isn't bad enough, she married the wrong guy. Now she has to track down the mysterious Montana mountain man, Everest Beaumont, and get him to sign divorce papers so she can marry Paul and complete the terms of her father's will.
Everest Beaumont likes living on his own and is as rugged as the mountain demands. But when a woman—whom he drunkenly mistook for a Vegas prostitute sent by a corporation to sweeten the deal—shows up on his door claiming to be his wife, he is awestruck. The woman may be his wife, but she is not his to hold. Everest must resist the urges of his body in order to do what is morally right and not touch the woman engaged to another.
Rating: Contains explicit sexual situations and graphic language.
Comments
No comments posted.

Registered users may leave comments.
Log in or register now!