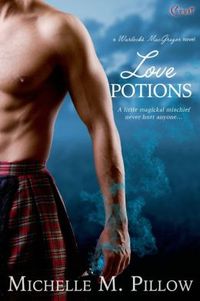 Purchase
A little magickal mischief never hurt anyone...
A Warlock MacGregor novel
Entangled Covet
June 2014
On Sale: June 2, 2014
Featuring: Lydia Barratt; Erik MacGregor
218 pages
ISBN: 1622665937
EAN: 9781622665938
Kindle: B00K9ODF5E
e-Book
Add to Wish List

Other Editions
e-Book (June 2014)
Romance Contemporary | Romance Paranormal
Erik MacGregor, from a clan of ancient Scottish warlocks, isn't looking for love. After centuries, it's not even a consideration...until he moves in next door to Lydia Barratt. It's clear that the shy beauty wants nothing to do with him, but he's drawn to her nonetheless and determined to win her over.
Lydia Barratt just wants to be left alone to grow flowers and make lotions in her old Victorian house. The last thing she needs is a demanding Scottish man meddling in her private life. Just because he's gorgeous and totally rocks a kilt doesn't mean she's going to fall for his seductive manner.
But Erik won't give up and just as Lydia let's her guard down, his sister decides to get involved. Her little love potion prank goes terribly wrong, making Lydia the target of his sudden embarrassingly obsessive behavior. They'll have to find a way to pull Erik out of the spell fast when it becomes clear that Lydia has more than a lovesick warlock to worry about. Evil lurks within the shadows and it plans to use Lydia, alive or dead, to take out Erik and his clan for good.
Comments
23 comments posted.
Re: Love Potions

Wow.. give me a Scottish Man in a Kilt any day of the week and
I am there..I would not kick him out of my bed for eating
crackers. If the characters are as good on the bit you put
here then I am getting this book one way or another. Thanks
and Best wishes for a number one hit.
(Tina Ullrich 12:15pm June 5, 2014)
I love this cover and look forward to reading this book! Thank you Michelle and good luck!
(Bonnie Capuano 9:40am June 5, 2014)
This not only sounds like a fun read, but a good Romance
story for me to get my feet wet with this particular genre.
I've never read any books having to do with Scottish clans,
let alone warlocks before, but after reading your posting,
this book sounds like something I could really get into this
Summer!! I really loved the way you explained your book,
and I love the cover of your book as well!!
Congratulations!!
(Peggy Roberson 9:56am June 5, 2014)
cover looks ok for my niece
(Kent Cook 10:44am June 5, 2014)
The description absolutely caught my interest! Scotland and magic are always fun reads. Further, this premise is new. I'm putting it on my "to read".
(Anna Mekus 11:08am June 5, 2014)
Oh I love the book quotes! Sounds great!
(Colleen Conklin 12:45pm June 5, 2014)
I have always wanted to visit Scotland.
(Nancy Wolfe 6:58pm June 5, 2014)
OM NOM to the gentleman on the cover...can't wait to read this
one!!
(Michelle Brown 7:48pm June 5, 2014)
This sounds like a fun book to read.
(Sally Hannoush 1:56am June 6, 2014)
Yum - what a combination of cool stuff going on!
(Felicia Ciaudelli 9:16am June 6, 2014)
Scottish man in a kilt. Love that. And the sense of family makes it even better.
(Pam Howell 10:40am June 6, 2014)
This sounds like a really fun book to read. I like the humorous quotes.
(Cheryl Castings 11:25am June 6, 2014)
sounds like a good book. Have put it on my tbb list
(Robin Priddy 1:18pm June 6, 2014)
i love the quotes the book sounds really good
(Denise Smith 2:23pm June 6, 2014)
I lived in Scotland for several years and the kilts were
awesome!
(Denise Austin 5:01pm June 6, 2014)
love Scotland stories
(Brenda Hook 5:38pm June 6, 2014)
It's now on my wish list in case I don't win. My Dad's side of the family has a pair of Santa "HO HO HO" panties someone who was moving into a dorm found in the back of a drawer. They keep showing up at Christmas over the years.
(Laura Gullickson 8:20pm June 6, 2014)
ye had me with the shirtless warrior in kilt
PICL ME!!!!
(Pamela Faye Howell 10:48pm June 6, 2014)
Scottish and magic... great combination of physique and power. What a great combination.
(Kai Wong 1:45am June 7, 2014)
"I mean, how can a writer resist a hot guy in a kilt with a knee-weakening accent?"
Don't resist, don't resist!
(Debbie Kelly 9:20am June 8, 2014)
This sounds like such a good book with a cute title, which I would love to read. Hot Scottish guy in a kilt with a little magick, mystery and mischief...what could be better?
(Linda Luinstra 4:14pm June 8, 2014)
Your book sounds like a good read. Would love to win it.
(Carol Woodruff 8:01pm June 8, 2014)
What a fun book! Love the combination of humor, magic, and sexy Scottish warlocks.
(Bonnie H 10:49pm June 17, 2014)
Registered users may leave comments.
Log in or register now!