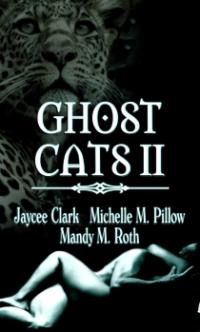 Purchase
New Concepts Publishing
May 2006
Featuring: Mason Blackwolf; Fiona; Reya Lynx
ISBN: 1586087843
Trade Size (reprint)
Add to Wish List

Romance Erotica Sensual | Romance Paranormal | Romance Anthology
Return to the world of the ghost cats ... immortal lovers of fierce passions and deadly legacies.
Revenge II by Jaycee Clark: Reya Lynx has all she's ever wanted. Life seems full of promise, with her husband, her pregnancy and her career. It's been a long time since peace has surrounded her.
But peace won't last.
Detective Lorenzo Craigen has just about had it with his wife and her procrastination of the inevitable. In one night, he reminds her who she belongs to, always has, and always will. She's his mate, his she-cat. When she finally agrees to claim before The Council she always has been and always will be his mate, he's relieved. Finally, they can have the life he's dreamed of for centuries, before everything went so blasted wrong.
Yet from her past, comes the wind demon Nybras. He's always loved his Precious, and he won't let her belong to anyone else….
Carnal Instinct by Michelle M. Pillow: When Fiona's boyfriend breaks up with her, he doesn't just leave, he cleans out her bank account, leaving her no choice but to go crawling back to her rich father. Now in her father's debt, she's practically forced to work at the Jameson Wild Life Rescue and Preserve taking care of animals.
Cade is a catshifter content to live out his day in cat form at the preserve. Besides, it's easier for him to be in charge of security if he's always on the grounds. But, when one of his new 'caretakers' can't seem to stop making jokes at his expense, he's determined to show her just how much of a man he can be.
Dance of Souls by Mandy M. Roth: Mason Blackwolf had no intention of settling down. His best friend Brayen has strapped himself to a woman for eternity and no part of that appeals to him. There are so many woman, so little time--if he didn't factor in being immortal and all. When his shaman grandfather, Running Elk, sends him on a wild goose chase, Mason soon finds that whatever his intentions in life were, they've now changed. He didn't plan on falling in love--he didn't plan on Chandra.
Rating: Contains graphic language, explicit sexual content, and violence.
Comments
No comments posted.

Registered users may leave comments.
Log in or register now!