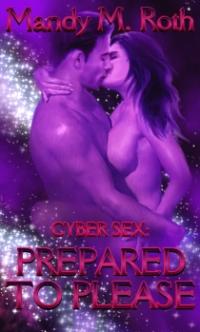 Purchase
Cyber Sex Book 1: Prepared to Please
Mandy M. Roth
Cyber Sex #1
New Concepts Publishing
December 2004
Featuring: Lieutenant Commander Destiny Stewart; Captain Roman Parker
ISBN: 9999999996
e-Book
Add to Wish List

Erotic | Romance Erotica Sensual
Captain Roman Parker has been with the Star Union for fifteen years and is a decorated officer. When he realizes he wants more from life than a title, he sets his sights on a woman who makes his blood boil and fire shoot through his loins. Only problem is, Lt. Commander Destiny Stewart does not appear to share his feelings. Desperate to relieve his sexual tensions, Roman creates a holographic program that simulates Destiny's body. The hologram lacks any real emotion, and always leaves him longing for the real deal.
Lt. Commander Destiny Stewart has had her eye on her superior officer from the moment they met. He's never shown any interest in her, and when he finally does, she's convinced it's a test. Not wanting to lose her position aboard the expedition vessel, Destiny sticks with pleasuring herself and enlists the help of a holographic likeness of Captain Parker.
Can two people, obviously meant for one another, find happiness or are they destined to rely on technology to satisfy their needs?
Rating: Extremely erotic, contains EXPLICIT sex and language, multiple partners, anal sex, and oral sex--Not to be confused with other works by author.
Comments
No comments posted.

Registered users may leave comments.
Log in or register now!