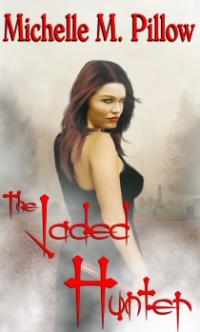 Purchase
Tribes of the Vampire Book 2: The Jaded Hunter
Michelle M. Pillow
Tribes of the Vampire #2
New Concepts Publishing
November 2005
Featuring: Jaden MacNaughton; Tyr
ISBN: 1586087169
Trade Size (reprint)
Add to Wish List

Romance Paranormal | Romance Erotica Sensual
…When you killed, you took a part of that being with you. The blood, the moment could not be rid of. It jaded your thoughts, your soul. It marked you and marred you. It tore out a piece of you, carving a home deep inside…She knew what she was doing this night, seeking out the killer. She wanted to die. She wanted the curse of her life to be over…
Jaden MacNaughton has been raised to do one thing—kill vampires. It's her life's work to hunt down the guilty creatures of the night and bring their victims justice. And, being a dhampir, she is better matched to deal with them than a mere mortal. Never has she doubted her purpose in life or the sacrifices she's had to make, until the night a mission went terribly wrong.
…Tyr did not make a move to harm Jaden. In all the centuries since his human birth, he had never unjustly ended an assignment just for the sake of ease. As a human he was bred with honor. As a vampire he was bred with prudence…
Tyr is a Dark Knight, a member of an elite group of vampiric punishers so secretive only the tribal elders know of their existence. When it is learned Jaden unjustly killed the vampire Bhaltair, he is sent to judge her. However, when he meets the beautiful dhampir, he is not prepared to find the hunter sick of the hunt. Tired of feeling the emotions of those around her, Jaden is searching for peace. And death is the only peace she can know.
Rating: Contains graphic sexual content, adult language, and violence.
Comments
No comments posted.

Registered users may leave comments.
Log in or register now!