Jamie Oliver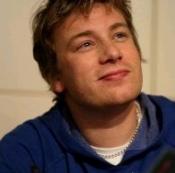 Restaurants and cooking are in Jamie Oliver's blood, having grown up around the successful pub/restaurant owned and operated by his parents in Cambridge, England. At 8 years old, Jamie was peeling potatoes and podding peas with the rest of The Cricketers staff and by 11, he could julienne vegetables as fast as any of them. At 16, Jamie completed his formal training at Westminster Catering College.
A fresh face in the culinary world, Jamie Oliver began work at the critically acclaimed River Cafe in London for three years. After appearing on television as part of a documentary on the River Cafe, Jamie was called the next morning by five of the top production companies in England. Jamie went with Optomen Television to produce the first series of the enormously successful Naked Chef. He has since gone on to produce Oliver's Twist and multiple specials.
In addition to his TV shows in Britian and America, Jamie has writen the bestselling The Naked Chef (Hyperion), The Naked Chef Takes Off, Happy Days, and Jamie's Kitchen. He's also food editor for British GQ magazine, a columnist with the Saturday Times Magazine, and monthly food editor for Marie Claire magazine in the UK.
Now 27, Jamie continues his work as consultant chef at Monte's, an advisor for top British supermarket chain Sainsbury's, and design consultant for quality cook and tableware for Royal Worcester. In 2001, Jamie took his live cookery show on the road: His Happy Days Tour packed theatres in Cambridge, Bournemouth and London as well as in seven cities in Australia and New Zealand. Jamie's cooking is even in demand by the British government: In 1999, Jamie was invited to 10 Downing Street to prepare a lunch for the British Prime Minister, Tony Blair, who was entertaining the Italian Prime Minister.
Most recently Jamie opened a not-for-profit restaurant, Fifteen, with the goal of training young unemployeds to work in the kitchen and on the floor. The London restaurant has become a hit.
Jamie's passions are pasta and breadmaking. He still travels through London on motorbike and plays drums with his high school mates in the band Scarlet Division, whose sound Jamie likens to a mixture of "Catatonia and Texas with a harder edge."
Jamie married his childhood sweetheart, Jools, in 2000. They live in London with their daughters Poppy Honey and Daisy Boo.
Series
Books:
Jamie Oliver's Meals In Minutes, October 2011
Hardcover
Jamie's America, October 2010
Hardcover
Jamie's Food Revolution, October 2009
Hardcover
Jamie At Home, September 2008
Hardcover
Cook With Jamie, October 2007
Hardcover
Jamie's Italy, November 2006
Hardcover
The Naked Chef Takes Off, September 2005
Trade Size (reprint)
Jamie's Dinners, November 2004
Hardcover
Jamie's Kitchen, October 2003
Hardcover
The Naked Chef Takes Off, September 2001
Hardcover
Naked Chef, May 2000
Hardcover