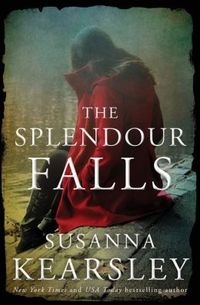 Purchase
Sourcebooks Landmark
January 2014
On Sale: January 14, 2014
Featuring: Emily Braden
384 pages
ISBN: 1402258615
EAN: 9781402258619
Kindle: B00F8HUAFA
Paperback / e-Book
Add to Wish List

An Ancient Castle, a Tragic Love, and a Web of Secrets Begins to Unravel...
Emily Braden has stopped believing in fairy tales and happy endings. When her fascinating but unreliable cousin Harry invites her on a holiday to explore the legendary own of Chinon, and promptly disappears—well, that's Harry for you.
As Emily makes the acquaintance of Chinon and its people, she begins to uncover dark secrets beneath the charm. Legend has it that during a thirteenth-century siege of the castle that looms over the city, Queen Isabelle, child bride of King John, hid a "treasure of great price." And in the last days of the German occupation during World War II, another Isabelle living in Chinon, a girl whose love for an enemy soldier went tragically awry.
As the dangers of the past become disastrously real, Emily is drawn ever more deeply into a labyrinth of mystery as twisted as the streets and tunnels of the ancient town itself.
Comments
39 comments posted.
I'd love to read your book, please include me in your contest.
Thanks, Sally H
(Sally Lincoln 4:04pm January 23, 2014)
I had a dream to live in a foreign country and I did I lived in Scotland for two years. What a magical time although I do enjoy living in my home country of the United States!
(Denise Austin 5:06pm January 23, 2014)
I can't say that I have ever lived out a dream of my own, but love when I can do so through reading books. I love looking at old castles in documentaries on TV or in movies. They are so fascinating, huge and beautiful. I'm sure the one in France was magnificent to view, even from a distance. What a great setting for writing your book!
(Linda Luinstra 6:28pm January 23, 2014)
Wow, Congrats on your new book: THE SPLENDOUR FALLS. I like
the book cover too! I have not lived out a dream of my own
yet except for being married 25 years to my husband. That is
like a dream come true. I would love to be like Merlin with
King Arthur and be around pretty castles. Your book sounds
fascinating and I would love to win and read your book in
the New Year 2014. Thank You very much. Cecilia CECE
(Cecilia Dunbar Hernandez 8:31pm January 23, 2014)
This sounds good.
(Callie Stuck 9:50pm January 23, 2014)
Travelling to China and Hong Kong fulfiiled a dream.
(Mary C 10:45pm January 23, 2014)
I always dreamed of owning my home and now I finally do! Not so romantic...but very cozy!
(Diane Pollock 10:53pm January 23, 2014)
I went onto college and graduated after my divorce and worked in a job I loved. Now my dream is to get a house on the water. a romantic character could live nearby....
(Barbara Studer 10:57pm January 23, 2014)
Stopped believing in fairy tales. That's just too sad.
(Lisa Hutson 12:16pm January 24, 2014)
I've been blessed beyond measure, but not many of my childhood dreams have come true....still dreaming.
(Brenda Rumsey 7:18am January 24, 2014)
I live out my dreams in books and your book sounds like a
wonderful getaway! Thanks for the contest!
(Linda Townsend 7:40am January 24, 2014)
Your book sounds really good. Always have been a Mary Stewart fan.
(Jean Patton 8:38am January 24, 2014)
I think I have realized I have more than what I actually
dreamed and reality is not so romanticized but it is awesome!
(Darci Paice 9:06am January 24, 2014)
Loved your blog today - and I bet lots more of your dreams have come true since then. I traveled much in making my dreams come true, and am now married to a fantastic man. So many dreams have been realized and so many more to achieve. Your book sounds fantastic. Thanks for the chance to win.
(Nancy Reynolds 9:08am January 24, 2014)
The first time I laid eyes on my Husband (before we were married), I said to myself that I was going to marry him one day. It took a few years of us going our separate ways, but after he came to his senses, and through a mutual friend, we got back together, and the next thing I knew, he was proposing!! We have been married now for over 30 years!! I also dreamed about living in the area that I'm living in now, and it's finally come to pass, too!! It's quiet, scenic, beautiful, and near the water. So you could say my car might not be fast, but it's getting me where I want to go!! lol Loved your posting today, love the cover to your book, and can't wait to read your book!!
(Peggy Roberson 9:45am January 24, 2014)
I devoured Mary Stewart novels in my youth. So I'd love to read this book of yours.
(Sue Farrell 10:46am January 24, 2014)
Dreams can come true if you persevere and believe enough.
Congratulations and best wishes on this wonderful novel. I
triumphed over my illness crisis.
(Sharon Berger 11:37am January 24, 2014)
A very good story
(Aaron Polish 2:41pm January 24, 2014)
Your book sounds fascinating. I am definitely intrigued. Hope I win!
(Susan Mahaffey 3:35pm January 24, 2014)
I adored Mary Stewart! No one wrote the gothic story better than she did. It would be amazing to be one of her heroines! My first Susanna Kersley book was Shadowy Horses, and it was really excellent! Now, I look for her books whenever I can, and I have never been disappointed. I wanted to be a Social Worker when I was a teenager, because of a fictional Social Worker in a TV show named East Side/West Side. I have been a Social Worker for 30 years now, so I totally fulfilled that dream! I honestly don't think I could chose just one favorite character to be in a book, though.
(Sandy Fielder 4:17pm January 24, 2014)
I'm so sorry I misspelled Susanna's last name! It's Kearsley!
(Sandy Fielder 4:19pm January 24, 2014)
I would love to read your book. It sounds great. I hope I win.
(Sarah Bauman 5:22pm January 24, 2014)
I love it when a dreams come true, as several of mine have! My fingers are crossed to win a copy of this intriguing book!!
(Britney Adams 8:57pm January 24, 2014)
ill read this asap!
(Debbi Shaw 9:16pm January 24, 2014)
I still have those moments where I love when I make something come true for myself. I always will want to be those heroines in the books.
(Kai Wong 9:54pm January 24, 2014)
I am intrigued by this one. Thank you for the opportunity to be a winner.
(Melanie Backus 10:18pm January 24, 2014)
I've always dreamed about living outside the U.S. for a few years. I studied abroad in college and it was one of the best experiences, I hope I can live abroad for longer some day.
(Jamie Fortney 8:12am January 25, 2014)
I love your summary of your book. I will definitely have to put this on my tbr pile. Congrats on your new release!
(Elisa Varey 11:01am January 25, 2014)
this book looks very good..
(Yvonne McKenzie 11:02am January 25, 2014)
I love her books and have several on my shelf that I re-
read. Talking about your travels, I remember seeing a castle
on a hill in Europe and told my friend "that is a setting
for a book". Fictional character? I chose the name Diana
after Wonder Woman from the comics for my daughter. (I am
dating myself)I always loved the name.
Appreciate such a nice giveaway and I will look for your
book.
(Leona Olson 11:04am January 25, 2014)
I dreamed of travelling to England and did go with my husband
and kids. My dream didn't include children since I was very
young when I first wanted to travel, but the reality was so
much better having them there.
(Glenda Martillotti 1:21pm January 25, 2014)
I don't have much of a dream. I'd love to spend a while living in a medieval castle, preferably in England or Scotland. But, I think a real dream is to have a wonderful cottage on a country lane with an English garden and a gardener to keep it beautiful.
(Vennie Martinisi 1:51pm January 25, 2014)
My dream of a European vacation namely to London and Paris have yet to be met, sorrowfully....
(Susan Coster 6:48pm January 25, 2014)
Congratulations on your new release! It sounds like a fascinating book. I have always enjoyed reading historical romance and have dreamed of living in a castle.
(Bonnie H 7:47pm January 25, 2014)
Congrats on the new release! Sounds exciting.
(MaryAnne Banks 9:45pm January 25, 2014)
I love your books and can't wait to read this! Thanks for offering your newest release for a prize!
(Jan Terry 11:48pm January 25, 2014)
Thanks for sharing the point of views of Greg Canada, regarding the admission procedure of University of California, Hastings College of the Law. Regards, Simon,
Hayward Bag Fitler
(m Hassan 6:25am January 26, 2014)
I've been delighted to see gothics making a comeback, and
I've read several terrific ones in the past several years.
Splendour Falls us definitely on my "to-read" list!
(Janet Martin 4:51pm January 26, 2014)
Stick me in a Louis L'Amour novel and I would fit in. I had the ability to play in the high country Rocky Mountains when I lived in Denver, Colorado. Wandered around Red Rocks and climbed up to the big hole in the rock that now looks over the ampitheather. Later in life I roamed the deserts of Arizona. I absolutely loved Cochise's Stronghold and felt like I belonged to the land. Yes, I'm a western lover, but love the mystery of life that fill books.
(Rosemary Simm 2:37pm January 27, 2014)
Registered users may leave comments.
Log in or register now!