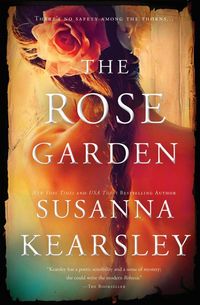 Purchase
Eva Ward is a modern woman thrown back three centuries to 1715 only to find that might be exactly where she belongs.
Sourcebooks
October 2011
On Sale: October 1, 2011
Featuring: Daniel Butler; Eva Ward
448 pages
ISBN: 1402258585
EAN: 9781402258589
Kindle: B005EU50HY
Trade Size / e-Book
Add to Wish List

Romance Historical | Romance Time Travel
Acclaimed author Susanna Kearsley's previous works have won the RT Book Reviews Reviewers Choice Award, and finaled for both the UK Romantic Novel of the Year and the RITA awards.
When Eva's film star sister Katrina dies, she leaves California and returns to Cornwall, where they spent their childhood summers, to scatter Katrina's ashes and in doing so return her to the place where she belongs. But Eva must also confront the ghosts from her own past, as well as those from a time long before her own. For the house where she so often stayed as a child is home not only to her old friends the Halletts, but also to the people who had lived there in the eighteenth century.
When Eva finally accepts that she is able to slip between centuries and see and talk to the inhabitants from hundreds of years ago, she soon finds herself falling for Daniel Butler, a man who lived - and died - long before she herself was born. Eva begins to question her place in the present, and in laying her sister to rest, comes to realize that she too must decide where she really belongs, choosing between the life she knows and the past she feels so drawn towards.
Comments
43 comments posted.
Re: The Rose Garden

Can't wait to read this one!!!
(Susan Harrison 11:37am September 24, 2011)
I like supporting casts in books. My favorite secondary characters are Ramses and Nefrit in the Amelia Peabody mysteries written by Elizabeth Peters. Like Amelia and Emerson, Ramses and Nefrit seem like real people to me because they are so well written.
(Jennifer Langford 3:35am October 12, 2011)
In real life, none of us live without a circle of friends and
family that surround us. The same is true of characters in
books. Imagine how boring life, or a book would be without
them!
(Mary Baker 9:15am October 12, 2011)
I think supporting casts make the book. I think those secondary characters add to the book, by making the lead male/female character have charisma and are likeable. They also show some of what a person is by seeing who the share their lives with and make them seem more real. Secondary characters are great because then they are usually what the next book is about. I love that male-rake friend/brother. They are usually my favorite, because they think they will not fall like their friend.
(Chris Bails 10:35am October 12, 2011)
I love to read a book with secondary characters - gives alot more depth to the mains and you can relate more to the general story.
(Beth Elder 10:54am October 12, 2011)
I do like knowing about the supporting cast in a story and it's often interesting to see them through the main character's eyes. Also seeing a character's family and friends gives me clues about the characters themselves.
(Maureen Emmons 10:58am October 12, 2011)
Supporting casts is what helps build up the book. You need them as much as a strong lead couple. I am so looking forward to reading this book Susanna. Congrats on the release.
(Christine Arcidiacono 11:06am October 12, 2011)
Some supporting cast takes over the book and makes it a lot better... :) It makes a difference!
(May Pau 11:46am October 12, 2011)
I believe that the different points of view and imput from supporting characters is very important. Otherwise the story is usually flat and I don't seem to be as drawn in to the characters or care about what happens to them.
Looking forward to reading this one. It is on my wish list.
(Patti Paonessa 11:51am October 12, 2011)
I love supporting casts, you can learn so much a bout the main
characters thru them.
(Diane Sallans 12:22pm October 12, 2011)
Supporting cast in books are an added bonus... they add more to a story and round out the characters' lives... I also enjoy getting to know then and hoping they get their own story one day!
(Colleen Conklin 1:23pm October 12, 2011)
I love secondary characters, it adds that dimension. Sometimes I can find myself enjoying them more than the main characters. There is something to be said, my grandmother taught me, "show me your friends and I will tell you about yourself" - wise words and I love reading and experiencing that in a great book.
(Carla Carlson 1:34pm October 12, 2011)
Charlotte Lucas, I think, is an excellent example of why you need good supporting characters. Her words of wisdom, concerning both on how to get a man, and what makes a happy marriage, are things I carry with me today. Supporting characters are the foundations from which our heros and heroines grow.
(Dana Molloy 2:03pm October 12, 2011)
The supporting cast can make a story so much more interesting. In fact, there are time I find one so fascinating that I hope the author will write another book with him or her as the main character.
(Anna Speed 2:06pm October 12, 2011)
I support casts in novels when I am in a dream mode. That is when I'm not doing anything and really have an open mind to a book. A lot of times my friends think I won't like a book, so I challenge them with my mind open, and when I read, I feel like I'm actually in the book with the characters. Sometimes I feel like I'm my favorite character in that book and am talking to the people that they are talking to. I do that a lot and it helps me to relax. Basically, I agree with the idea of supporting characters, especially when I'm trying to write my book because it helps me to get ideas. Hope you have a great day aand continue writing. :)
(Meghan Anderson 2:28pm October 12, 2011)
I love a good supporting cast in any novel, I love them more when they lead to their own books, therefore creating a series.
(Elizabeth Rodriguez 2:48pm October 12, 2011)
Thanks for the great post! Can't really add much but I agree w/ everyone else. A good support cast can definitely add depth and enrich a story.
(Erin Fender 2:53pm October 12, 2011)
The supporting cast is what usually carries a resident through the book. From point to point, without them we would get lost.
(Lorraine Rodriguez 3:53pm October 12, 2011)
I have read Named of the Dragon and Shadowy Horses and both of those books were amazing! The characers were very well developed and complex. The setting were compelling. The stories were enthralling! I'm looking forward to reading more!
(Sandy Fielder 4:31pm October 12, 2011)
A good supporting cast adds much more depth, interest and dimension to any novel because of how every character has their own individual personality and how they relate overall to the main character, which helps with how the story all enfolds along with them. The Rose Garden sounds like a book I would very much enjoy reading!
(Linda Luinstra 4:31pm October 12, 2011)
I like supporting the casts in a book, it makes the story much more interesting
(Shirley Younger 6:34pm October 12, 2011)
I guess you could say that I have favorite "friends" in books, because there are certain authors that I gravitate to and make sure that I read their latest book as soon as it comes out. One that comes to mind are the books of Janet Evanovich. Whenever I'm in the mood to laugh or need something a little on the lighthearted side, I can always count on her to come through with a good book with parts in it to make me smile and outright laugh. I have a couple of other authors who are like putting on a comfortable pair of shoes. The characters are like sisters, and you can't wait to find out what is new with them when you read the books. I think the cover to your latest book is gorgeous, and I can't wait to read it. I also never thought about the theory of how your friends fill in spaces where you are lacking, but I suppose that could very well be true, at least in my case. I truly enjoyed your post very much, and am sure I'll love your book!!
(Peggy Roberson 7:16pm October 12, 2011)
HI SUSANNA! HOPE YOU MAKE IT ALL THE WAY DOWN HERE, LOL YOU
ARE NEW TO ME AND I'D LO0VE TO WIN ONE OF YOUR BOOKS.

LINDA B
(Linda Bass 7:21pm October 12, 2011)
I love the supporting cast in the IN Death series.

The Winter Sea is one of my favorite books - looking forward to reading The Rose Garden!
(Mary C 8:41pm October 12, 2011)
A supporting cast makes all the difference so the reader knows more about feelings and the main characters have something to "sound out" their bright and not-so-bright ideas and plans with.
(Alyson Widen 8:52pm October 12, 2011)
Only rarely does literature succeed with a lone star. The norm is an alloyed cast, which--even more than a setting--guide/cue the reader/viewer as well as the plot's activity. Louisa May Alcott's enduring, classic novel "Little Women" is an excellent example of this ensemble technique. So, of course, I welcome and appreciate the contrasts and complements which distinguish a larger gaggle of characters in any work of literature. Susanna Kearsley has it right!
(Carla Schuller 8:54pm October 12, 2011)
I think it definitely adds depth to the book. You need more than just two characters - they have to interact. I have heard some wonderful review on this book and it sounds wonderful!
(Jeanne Sheats 8:56pm October 12, 2011)
A supporting cast makes the story much more interesting.
(Lisa Garrett 9:00pm October 12, 2011)
I love the connection between the supporting characters and the main characters. When the characters are carried from book to book, it is like going to a family reunion each time. I look forward to reading your books and getting to know your "book" family.
(Pat Walker 9:07pm October 12, 2011)
Every book needs supporting casts, makes the story more interesting.
(Wilma Frana 9:27pm October 12, 2011)
If I win this will go directly to my best cousin ever in the U.K.!
(Susan Coster 9:39pm October 12, 2011)
My favorite supporting character in a book is Mammy in Gone With The Wind.
(Renee Pajda 9:43pm October 12, 2011)
The supporting cast is often what I, myself will get attached to. It's the cast that makes you feel, at the end of the book that you are saying goodbye to family/friends. I have often come upon the ending of a book and purposely read it slower just so I can savor the book- and I don't want to say goodbye! Maybe that is why I enjoy trilogies so much! I look forward to getting to know you, as well, when I start reading your books!
If I win, please know that this book will be passed onto others. I believe in sharing great books!
(Patti DelValle 10:22pm October 12, 2011)
The supporting cast can be critical to the success of a novel. I like it when an author knows how to sprinkle in the supporting cast in just the right amount. The interactions between the main characters and the supporting cast help to complete and balance the story.
(Jennifer Beyer 10:43pm October 12, 2011)
A short story that I read recently is certainly a good example of having rather many people to elucidate the characters of the main protagonists. It was one of the most enjoyable short stories I've read in quite a while.

I'm always trying to find the rest of your books, Susanna. I bought the first ones decades ago, but have had problems finding the rest. Are some of them available as e-books?
(Sigrun Schulz 11:28pm October 12, 2011)
I believe that you are perfectly correct in how important the supporting cast is to learning about the main characters. After all, you do learn alot about a person if you know who they grew up with and with what friends they surround themselves.
(G. Bisbjerg 12:20pm October 13, 2011)
The supporting cast is all important. They make a story three dimensional.
(Mary Preston 3:51am October 13, 2011)
I will admit sometimes I like some of the supporting cast better than the main characters in some books. I usually don't want to hear about the main characters only.
(Debbie Penny 6:56am October 13, 2011)
I love a book that has a strong supporting cast. I get involved with the characters and if the book is part of a series, I get to find out what happens to the supporting characters. I enjoyed the Essex Sisters series by Eloisa James. I love historical romance novels. I'm unfamiliar with your books, but I will be sure to check them out.
(Monica Vargo 10:39am October 13, 2011)
I think the supporting cast makes the book complete and full---otherwise the hero or heroine can just seem empty and not connected.
(Sue Farrell 1:17pm October 13, 2011)
I love how the supporting actors help make the story much more interesting. I would love to win a copy of The Rose Garden by Susanna [email protected]
(Lnda McFarland 2:13pm October 13, 2011)
A good supporting cast is essential...and sometimes, is so important that readers hope for a book or two based on them!!
(Penny Mettert 4:24am October 14, 2011)
I agree that the secondary characters make a complete picture of the H&H. It shows so many aspects of the main's character and then as they grow on you there's the possibility of a second and third book. :)
Carol L
Lucky4750 (at) aol (dot) com
(Carol Luciano 7:01am October 26, 2011)
Registered users may leave comments.
Log in or register now!