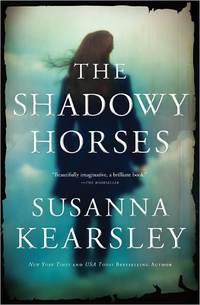 Purchase
Sourcebooks Landmark
October 2012
On Sale: October 1, 2012
Featuring: Verity Grey
448 pages
ISBN: 1402258704
EAN: 9781402258701
Kindle: B008BWDBUA
Paperback / e-Book (reprint)
Add to Wish List

Romance Suspense | Romance Paranormal
THE INVINCIBLE NINTH ROMAN LEGION MARCHES FROM YORK TO FIGHT THE NORTHERN TRIBES. AND THEN VANISHES FROM THE PAGES OF HISTORY.
Archaeologist Verity Grey has been drawn to the dark legends of the Scottish Borderlands in search of the truth buried in a rocky field by the sea.
Her eccentric boss has spent his whole life searching for the resting place of the lost Ninth Roman Legion and is convinced he's finally found it—not because of any scientific evidence, but because a local boy has "seen" a Roman soldier walking in the fields, a ghostly sentinel who guards the bodies of his long-dead comrades.
Here on the windswept shores, Verity may find the answer to one of the great unsolved mysteries of our time. Or she may uncover secrets someone buried for a reason.
As she becomes entangled in a subtle web of treachery and danger, Verity begins to believe that there is a Roman sentinel haunting the site. And he's there to do more than guard the bodies of his fallen comrades...
Comments
55 comments posted.
Dialect in a story most certainly adds to the story. Since I am not an expert, I have no idea if they are using the words correctly or not. But, I do enjoy a story that has certain characters that speak in their own dialect.
(Kathleen Yohanna 3:01am October 12, 2012)
Hi Susanna,
I reviewed The Shadowy Horses first time it was released for publications in Ireland and Scotland. My husband is Scottish which does not make me an expert on accents, but he read The Shadowy Horses more recently and really enjoyed it.
I thought the accents and word usage really reflected the locale - it is more problematic when a person is taken out of their environment and placed in a strange city, say.
Good luck with the relaunch and I can recommend the book.
(Clare O'Beara 5:58am October 12, 2012)
I think that if it's done well, using a dialect can really enhance the story
and transport you to the time period represented. Sometimes it takes me
a chapter or two to get used to it, but then the pages just start flying by,
and I forget I'm even reading it until someone around me asks me a
question. I think Carol K. Carr does this well, with her India Black
mysteries, and so does Deanna Raybourne, with her Julia Grey mysteries.
I also liked the dialect used in The Help. If the author stays in character,
then it works. I prefer that to having just a couple of foreign words or
exclamations tossed in gratuitously, which I find fake and annoying, like
when a news reporter suddenly becomes Spanish for two words.
I've never read The Shadowy Horses, but it looks very good. Thanks for
the chance to win it. :)
(Debbie Burdeen 7:34am October 12, 2012)
it's interesting to me that there are three different languages spoken in the same country. Your book sounds wonderful, thanks for the chance to win!!!
(Christine Mead 9:08am October 12, 2012)
I would love to win this!!
(Bonnie Capuano 9:23am October 12, 2012)
I love anything about Scotland. My home in my past life.
Everytime I hear bagpipes, I cry.
(Janet Hubler 10:04am October 12, 2012)
What a great topic for a story!
(Mary Allen 10:05am October 12, 2012)
I've loved all of Susanna's books. The detail is so real.
(Melissa Smith 10:10am October 12, 2012)
I love a well done dialect. It makes the book ring even
truer to character. I am guilty though of being a sucker for
a brogue. Some series I will only listen to on audio when
the narrator does a good job because it makes the experience
even more enjoyable.

Diana Galbadon's Outlander series is a perfect example. I
buy the books too but listen as well because the narration
is perfect. I am listening to Nora Robert's Circle Trilogy
now and am enjoying the lilt of Irish accents with the clash
of a New york accent. It is quite well done. Plus who
doesn't love Roarke's Irish lilt in the In Death series by
Nora Roberts too. I can't wait to read The Shadowy Horses.
I was late discovering Ms. Kearsley but am catching up
quickly. The Rose Garden is one of my favorite books of all
time!
(Poppy Fields Cook 10:30am October 12, 2012)
Dialect totally adds to the story for me. I can often "hear" it. :-)
(Judith Kaplan 10:32am October 12, 2012)
This sounds like a great story, the dialect adds to it.
(Wilma Frana 10:35am October 12, 2012)
I think it is extremely important, because it adds depth to the characters
and creates a sense of place. I think Ms. Kearsley does an excellent job,
and as someone else mentioned, I "hear" it in my head as I'm reading,
which transports me to the place she is writing about. Truly a lovely
escape to read one of her books.
(Erica Bruno 10:39am October 12, 2012)
Dianna Gabaldon springs to mind for me too, in terms of a Scottish accent. Love her Outlander series. Love everything I've read thus far of Kearsley's novels, particularly The Winter Sea. Would love to win this one.
(Nan Zahar 10:42am October 12, 2012)
I agree that too much dialect distracts from the story, but I
do enjoy a little. I would love to win this book.
(Mary Hay 10:47am October 12, 2012)
I love all Susanna Kearsleys book!!! Like the above comments, when I read her books I "hear" the characters and am instantly transported to that time and place :)
(Stacey Shackel 10:49am October 12, 2012)
I think some dialect adds to a story - as long as it's used appropriately and judiciously...You do a great job with that, Susanna :)
(Teresa Eckford 10:57am October 12, 2012)
Dialect definitely adds to a story especially one based in Scotland. I love the Shadowy Horses and the dialect adds flavour to the story:)
(Adele McLennan 11:24am October 12, 2012)
Dialect absolutely adds to a story. It is what often makes
the book believable or not. It used just as the people in the
area speak, it (cannae) be overdone! I love your books!
(Lori Renfro 11:37am October 12, 2012)
I feel like adding dialect isn't something that makes the
greatest difference to the story. It defiantly helps in
making the the setting feel more authentic, especially if it
is in a foreign country. The setting is defiantly an
important part and making it feel real (if your choosing to
do that with added dialect) it only expands the story. I
always felt like the story line and characters are what
really make a book enjoyable and immersive. I think that is
why I enjoy the books you write. I've read Mariana and The
Rose Garden (currently reading The Winter Sea) and both have
dialect from certain periods. It really lets you feel like
you traveled back to those time periods with the characters.
The fact that the story is so compelling, the characters are
so relate-able, and I feel completely immersed into the
surroundings is why I'm just really enjoying these book so
much.
(Nickolle Spenny 12:14pm October 12, 2012)
Pretty creepy but realllllly interesting! Your book looks
great, a true mystery!
(Candice Duffey 12:36pm October 12, 2012)
I like dialect and believe that it adds to a story. Helps me
feel transported so to speak.
(G. Bisbjerg 12:54pm October 12, 2012)
I feel it adds something to the story... gives us a more in depth feeling for a character.
(Colleen Conklin 1:17pm October 12, 2012)
It depends - is it so incorporated into the story that it feels like reading a book in a totally different language. I do like when words are thrown in, little phrases - those things add to the story.
(Carla Carlson 1:52pm October 12, 2012)
As long as it fits the character & adds to the story (and I
can understand what is meant) I think it's great and can add
to the ambiance of the story.
(Diane Sallans 1:55pm October 12, 2012)
Hi
I think it adds to the story if done well and fits the
characters.
Thanks for the chance
(Pam Brewer 2:22pm October 12, 2012)
This sounds like a great story. I sure would love to win it.
(Linda Hall 2:28pm October 12, 2012)
Your stories are wonderful and hope I am lucky enough to be today's winner.
(Shelly Itkin 2:40pm October 12, 2012)
I bought my original copy of 'The Shadowy Horses' when I lived in Scotland and would love to own a copy of the beautiful new re-issue! I love the story and think it is one of your very best books, Susanna and one of my favourite books of all time! And indeed, I believe dialect is imperative to good story-telling ~ transports the reader into another time and place and much more believable ~ Snatches the reader directly out of time and place when you do not use proper dialect and I find it hard to 'get into a story' so to speak ~ Thank you for the chance!
(Elizabeth MacGregor 2:48pm October 12, 2012)
I THINK DIALECT ADDS TO THE STORY SO YOU CAN UNDERSTAND
EVERYTHING IN THE BOOK MORE. I WOULD LOVE TO WIN IT, IT SOUNDS
LIKE A VERY INTERESTING STORY.
(Shelly Caggiano 3:21pm October 12, 2012)
This sounds like a great book. Hope I win.
(Rita Wray 3:43pm October 12, 2012)
Dialect can be overdone, which causes me to lose interest real fast. Enjoyed your blog.
(Sheila True 3:47pm October 12, 2012)
ok great
(Kent Cook 4:36pm October 12, 2012)
Dialect can add flavor, but it has to be in small doses. Otherwise, it becomes a distraction. I'd love to win this book!
(Lisa Wolf 4:39pm October 12, 2012)
As someone who reads the OED and DARE (Dictionary of American Regional English) for fun, I think that dialect is very important. Of course, growing up in Madison, Wisconsin, in a split-dialect household (Mississippi Gulf Coast and Indiana small town) and being a professional musician, language and dialect are very important to me.

It doesn't bother me to read books set in the British Isles that are full of dialect. I actually like them quite a bit, as it takes me back to the time I've spent over there, and makes me want to go back again!

Later,

Lynn
(Lynn Rettig 4:44pm October 12, 2012)
If you can understand Southern dialog, you can certainly understand a Scottish brogue......
(Susan Coster 5:21pm October 12, 2012)
The Shadowy Horses looks great.
(Janet Gould 5:54pm October 12, 2012)
I think if the dialect is well-done it adds to the story and actually makes it more realistic. Diana Gabaldon's books definitely are some of the best. I have read The Shadowy Horses twice and it is still my favorite of your books Susanna. The dialect is just right in my opinion. Here's hoping more people discover your books!
(Mary Perry 6:52pm October 12, 2012)
I absolutely love books about Archeology, & then this one is a historical fiction to boot, so I know I will enjoy these books! I also love books set in foreign countries & to think about all those men in kilts, well, lets just say that's the icing on the cake! I can hardly wait to get my hands on these books! Thanks for adding them to this contest! I really hope I win this one! :)
Keep up the good work!
(Quetzi Fernald 8:18pm October 12, 2012)
I love books with foreign language in them. It's my way of learning a few phrases here and there. I love Archeology storylines. For me, it's Indiana Jones all over again.
(Kai Wong 9:24pm October 12, 2012)
Wow! This is a great contest and I would love to win your book, The Shadowy Horses. The dialect & the history will make this a good book to read. Your reader,
(Lois Imel 9:40pm October 12, 2012)
I know that Authors like to be as authentic as possible, but when they use too much of the official language, to me it gets a bit boring, and takes away from the book. The best way to describe it is like watching a foreign, sub-titled movie. You don't know whether to watch the movie, or read the sub-titles, and end up getting a bit frustrated with the whole thing. When it's done in bits and pieces, it's a little more palatable. That's just my opinion.
(Peggy Roberson 9:46pm October 12, 2012)
love to read about other countries.
(Kathy Weber 9:49pm October 12, 2012)
so much work to do such a book; I guess if I was a writer, I'd go for plain English:) But it does add to the story, I just never thought about all the work an author does to prepare. And there is always someone who could find a mistake if made!!
(Barbara Studer 10:05pm October 12, 2012)
Sounds like a great read. Love the dialect comments
(Roseann Moss 10:38pm October 12, 2012)
Sounds intriguing, looking forward to reading your work.
Good luck and happy writing!
(Tracie Travis 11:17pm October 12, 2012)
A little dialect is an asset to the story, but it can easily be overdone. The reader can infer a lot from the author's use of colloquialisms.
(Janie McGaugh 12:37pm October 13, 2012)
I think the dialect adds a lot to the story and makes it seem more real---just have to make sure that it's totally understandable to us plain English readers, though.
(Sue Farrell 9:38am October 13, 2012)
Dialect is an asset to the story to give it authenticity. This sounds like a great read and looking forward to reading this one and finding out more about your books!
(Rich Cook 5:45pm October 13, 2012)
I don't mind some dialect and phrases from the area and time, but too much makes it hard to follow.
(MaryAnne Banks 9:32pm October 13, 2012)
If done correctly, dialect adds to a great read. Adds to the believability. JK
Rowling did a wonderful job in the Harry Potter series - it was printed in
both British English and American English, but left enough in the
American version to hear the accent.
(Kelli Jo Calvert 12:34pm October 14, 2012)
I think dialect does add to a story just like using words from the time
frame of the book, if historical. Makes it more believable!
(Vicki Hancock 12:58pm October 14, 2012)
Dialect adds richness to the story. I remember on Johnny Carson Show one guest could tell which london suburb the person was from by the way he talked with accents and the slang of the town.
(Alyson Widen 3:24pm October 14, 2012)
Dialect is an important component in a novel. Your novels are
compelling and wonderful. I enjoyed Mariana and would love to
read The Shadowy Horses very much. Best wishes.
(Sharon Berger 3:42pm October 14, 2012)
I do like some dialect. Sounds like a wonderful book with archaeology (my major) and Scotland (where I have visited. I went to visit Nessie but no show that day).
Appreciate such a nice giveaway,
(Leona Olson 5:24pm October 14, 2012)
i think dialect makes the story !
(Danielle McDonald 7:19am October 16, 2012)
Registered users may leave comments.
Log in or register now!