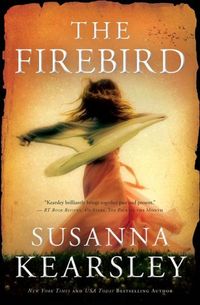 Purchase
The Scottish series #2
Sourcebooks Casablanca
June 2013
On Sale: June 4, 2013
Featuring: Nicola Marter
544 pages
ISBN: 140227663X
EAN: 9781402276637
Kindle: B009RXJONA
Paperback / e-Book
Add to Wish List

Romance Paranormal | Romance Historical
Two Women.
One Mysterious Relic.
Separated By Centuries.
Nicola Marter was born with a gift so rare and dangerous, she kept it buried deep. When she encounters a desperate woman trying to sell a small wooden carving called "The Firebird," claiming it belonged to Russia's Empress Catherine, it's a problem. There's no proof.
But Nicola's held the object. She knows the woman is telling the truth.
Beloved by readers as varied and adventurous as her novels, you will never forget spending time in New York Times and USA Today bestselling author Susanna Kearsley's world.
The Scottish series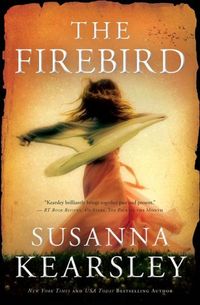 The Firebird
#2.0
Amazon.com | BN.com | | |
Comments
28 comments posted.
Re: The Firebird

I read some beautiful reviews for your book! I would love to read and review your novel for my honest opinion! The Books that will always stay in my mind would be Outlander by Diana Gabaldon.
(Nicole Laverdure 2:37am June 6, 2013)
Reading books about horses in different parts of the world, such as the Silver Brumby and the Black Stallion series, showed me drama and travel not possible in Ireland. Reading science fiction, I got into Asimov around eleven (because the books weren't available earlier) and then fantasy with The Lord of the Rings at twelve, opened my mind completely.
(Clare O'Beara 7:49am June 6, 2013)
there are alot of books that has made me but the one book
that i love is called The Wrong Woman (Unexpected Love Series)
(Denise Smith 8:16am June 6, 2013)
Oh wow - how cool - Little Women has always been of one of my all-time favorites as well Louisa May Alcott's An Old Fashioned Girl - just clicked with them, and can read them time after time and never be bored. It is fascinating how certain books resonate with us.
(Felicia Ciaudelli 8:21am June 6, 2013)
I remember Little Women as well. There was a book that came out before that, which was called The Little Peppers. One book that always gave me strength and shaped me as a person was the Autobiography by Helen Keller. Since it's a bit early in the morning, and I haven't been up long, the title escapes me, but after reading about her trials and tribulations, I admired her immensely, and tried to pattern myself after her. I always wanted to be a writer, but that was the only part of my life I never pursued for several reasons. I'm looking forward to reading your book. Congratulations!!
(Peggy Roberson 9:23am June 6, 2013)
My all time favorite book is Anne of Green Gables - and the entire series. But so many of the things from that book have stuck with me my entire life: Kindred Spirits, each day being new with no mistakes in it, etc., etc. But I love hearing about other peoples favorite books, or books that made a differene. Thanks for sharing yours. and thanks for the chance to win your newest book. Best of luck with it.
(Nancy Reynolds 9:39am June 6, 2013)
I enjoyed your wonderful post today. The book that you
chose is special and deserves recognition. I was reading
about Louisa May Alcott last week and it was fascinating.
Books are so powerful and special. The book that was
memorable for me was the entire Anne of Green Gables series
which I read many years ago when I was young and still
treasure.
(Sharon Berger 9:45am June 6, 2013)
Jules Verne books. I re-watched 20,000 Leagues Beneath the Sea again today. I started reading his books in JR. HI.
(Leona Olson 12:30pm June 6, 2013)
Loved Anne of Green Gable.
(Jaclyn Tonyan 1:09pm June 6, 2013)
Before I started My father to read me every night. We read the novel Heidi, the Black Stallion series and many others. One book that made me is The Man Who Planted Trees by Jean Giono. It showed me that little by little you can accomplish big things over time.
(Laura Gullickson 1:52pm June 6, 2013)
For me, it was Anne of Green Gables. This book made me fall in love with reading!
(May Pau 2:13pm June 6, 2013)
Little Women has always been my favorite..also A Christmas Carol by Charles Dickenson
(Bonnie Capuano 2:35pm June 6, 2013)
It would be a compilation of many books.
(MaryEllen Hanneman 4:05pm June 6, 2013)
It's surprising that you would mention Phyllis A. Whitney. Some of the very first adult books I read were hers when I first got into reading (back when I was 19)! I guess she was an influence for me to keep reading other authors books. I remember reading several in high school for book reports, and I loved the one about Admiral Byrd and his expedition to the North Pole (the title I can't remember). It was so mesmerizing what this one man challenged alone. I remember my English teacher having me read my book report aloud to the class, because she'd given me an A+ on it. No one else read theirs, so I was a little embarrassed and caught off guard that day in 10th grade.
(Linda Luinstra 5:35pm June 6, 2013)
I would have to say anything by Jane Austen :)
(Aimee Robison 7:54pm June 6, 2013)
Little Women is the book that I have always associated with my love of reading -
although there were several favorite children's stories before that. I also was
really into the American Girl books (Samantha being my favorite Girl). And
Nancy Drew and The Hardy Boys were there too. They helped bridge that gap to
teen books with The Nancy Drew Case Files. By 7th grade I was reading Anne
McCaffrey's Dragonriders series, and in 9th grade my mother handed me
Danielle Steele's Palomino. Needless to say, my tastes still vary from mystery, to
fantasy, to romance and all combinations therein. I don't know what I would do
without my books! Thanks for the post and the contest.
(Becca Luman 7:58pm June 6, 2013)
My first favorite book was "Wait Til Helen Comes". I read it in 3rd grade and
repeatedly checked it out from the library. I think it's part of the reason I
love "paranormal" stories so much!
My favorite classic is either Emma, Tale of Two Cities or Tess of the
d'Urbervilles!
(Laura Hermes 8:59pm June 6, 2013)
bible
(Kent Cook 9:24pm June 6, 2013)
Nancy Drew books
(Susan Falkler 9:25pm June 6, 2013)
I not sure about making me but some I've read have reminded me
of the truths in my own life An Embarrassment of Riches by
Gerald Hansen for example.
(Theresa Norris 9:41pm June 6, 2013)
I used to read a lot of horror novels so I am sort of glad that they didn't "form" my personality! The book that really stuck with me from my early reading is On A Pale Horse by Piers Anthony. It was the most creative thing I had ever read up to that point. It taught me to reach out and read outside of my comfort zone.
(Jennifer Beyer 9:48pm June 6, 2013)
I was not a reader in my younger years and still haven't read any of the classics.So,all the books that increased my love for reading are the ones that make me what I am today.
(Sheila True 10:09pm June 6, 2013)
little women and gone with the wind
(Debbi Shaw 10:53pm June 6, 2013)
Pippi Longstocking, a very independent snd strong child who lived without any parental supervision.
(Mary C 10:58pm June 6, 2013)
The Bible and reading about God and Jesus Christ are my
favorite and I love Poetry and other books too. Sherlock
Holmes and other mystery and romance novels, Science Fiction
is great too. I love reading exciting books that keep you on
the edge of your seat wanting more, more, more. Thanks for
the great book: THE FIREBIRD. I love the cover and would
love to win and read your book too. Thank You, Cecilia CECE
(Cecilia Dunbar Hernandez 11:21pm June 6, 2013)
It is the Nancy Drew and Hardy Boys series where I want to be a detective. I may not be a detective but I work with forensic. It's close enough.
(Kai Wong 12:39pm June 7, 2013)
I love your books. Have all but 1 and its because I rechecked it out so didn't
need to buy!!!!!
(Vicki Hancock 9:36am June 7, 2013)
At first it was the dog stories, Lad a Dog, and Anne of Green
Gables and Little Women. Now, I read a range of genres and
like romantic suspense and comedy.
(Alyson Widen 5:23pm June 8, 2013)
Registered users may leave comments.
Log in or register now!