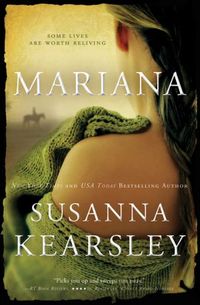 Purchase
Sourcebooks Landmark
April 2012
On Sale: April 1, 2012
Featuring: Julia Beckett; Mariana
416 pages
ISBN: 1402258674
EAN: 9781402258671
Kindle: B007HB5U0U
Paperback / e-Book (reprint)
Add to Wish List

"Tread lightly, she is near."
Julia Beckett believes in destiny, settling into her rustic new home, Julia encounters haunting remnants of a beautiful young woman who lived and loved there centuries ago.
It's seems Mariana has been waiting for Julia.
The new owner of a 16th-century Wiltshire farmhouse, Julia finds herself transported back and forth in time to the life of a woman named Mariana. Enthralled with the long-ago world, in love with a man who lived centuries before, Julia must lay the past to rest if she is to find love in the present.
Comments
32 comments posted.
Re: Mariana

I prefer the originals because readers are able to observe how times were
different, and how much the author has changed in writing style over the years. I
feel like once the writers attempt to rework their stories, the stories change too
much from the original.
(Hyunjin Jeon 3:47am April 12, 2012)
I think you should let the story remain in its original format. I would correct any typos or minor mistakes like calling the person the wrong name but that is it.
(Kathleen Yohanna 4:00am April 12, 2012)
I don't think an author should re-work a story to make it more current, but if there are mistakes definitely fix them.
(Pam Howell 7:25am April 12, 2012)
Whatever format your books are in - they are terrific! I loved The Winter Sea and The Rose Garden. So goood!!!
I like reading stories that are set before all this technology took over our lives. Thank you for many hours of sheer enjoyment.
(Karen Gervasi 7:31am April 12, 2012)
I prefer that a writer doesn't "modernize" her/his work. There will always be technological (and other) innovations. I don't see how adding something like a cell phone could make the story better. But yes, fix mistakes if you get the opportunity.
(Deborah Rosen 8:05am April 12, 2012)
I'd keep the original it's always the best
(Bonnie Capuano 8:45am April 12, 2012)
I prefer an original rendition, too...but there have been times when I was reading a story set in the '70's/80's/90's and just couldn't appreciate complications caused by a lack of instant communication...unless it was set in a mountain cabin, or some off-the-grid setting. Somehow makes for a slower read.

As for reworking passages, I'd think you could drive yourself nuts, in pursuit of perfection. If there's nothing disastrous, I'd let it be.

I'd never change the content of a story.

LOVED Winter Sea and The Rose Garden.
(Nan Zahar 9:35am April 12, 2012)
I know authors reissue books, but they should keep them the way they originally were.
(Wilma Frana 10:17am April 12, 2012)
I prefer the original too unless there are errors like spellings or wrong names...
(May Pau 10:31am April 12, 2012)
Your book sounds wonderful - and I love the cover. I would love to win a copy - but plan to read the book, winner or not. Best of luck with it. Nancy
(Nancy Reynolds 11:13am April 12, 2012)
im excited to reread this book
(Denise Smith 11:31am April 12, 2012)
The originals are usually best---and what's wrong with a little cultural history with your reading?
(Sue Farrell 11:43am April 12, 2012)
I really love winning contests. I'd love to read Mariana.
(Mary Hay 11:47am April 12, 2012)
I'd leave it alone, except for errors. If you absolutely feel the need to revise, make it a separate re-issue.
(Lisa Elwood 12:03pm April 12, 2012)
I love your books. I think it would be fun to read one that was written early on to see how your writing style has changed. And, I would not want you to change a thing.
(Sandy Fielder 12:09pm April 12, 2012)
Correct blatant errors. But other than that, leave the original alone.
(Jane Limback 12:16pm April 12, 2012)
I like books to be the way they were when they first came out... let them be how they were originally written.
(Colleen Conklin 1:11pm April 12, 2012)
I like when books are re-released. Sometimes I discover an author I really like and when I go to read their backlist I find they are no longer available so it's great when they are re-released. I would prefer the originals to remain the same, though with only technical errors (spelling, grammar, formatting) done.
(Na S 1:44pm April 12, 2012)
Thank you for your post, Susanna. Like you, I prefer to read works that HAVEN'T been updated. I think such revisions are a bad idea for the reasons you cited, plus three more.

First, when an author revises her work, too often she does so to make it more appealing to today's readers. Or at least, she tries to edit it to fit what she perceives to be the demands of today's readers.

As a result, the book will end up resembling all other works of its type now on the market. And if a reader wants those, she can access them easily. She doesn't have to make the extra effort to find an older one.

Therefore, the reader is most likely deliberately looking for a book representative of its period. In terms of the reader's needs, updating the book would be defeating the purpose.

Second, I haven't heard any demand for updating from the readers' community. Therefore I must conclude that such revisions matter only to authors, and possibly publishers. Readers don't always notice these details. And they make a difference even less often.

Lastly, it's impractical, perhaps impossible, to update a book often enough to keep up with changes in technology. Not to mention the cultural-social changes that take place in connection with technology. An author would have to revise her backlog every five years or so---probably more often in the future, since the pace of change is increasing. This would leave precious little time for her to create new works.

Therefore, unless we're talking about typos, grammatical errors, anachronisms, scientific errors, or the like, I say the author should re-issue her works as they were originally published. It's fine with this reader---and, I suspect, most others.

Good luck with the re-issue of "Mariana"!
(Mary Anne Landers 2:25pm April 12, 2012)
I like reading books that have been re-released, but I prefer that they remain the same unless there is something very wrong with it don't change it. If the book was a success before there is no need to change it. I story written before lets the reader know about that time and gives them and understanding of what was going on then to the characters as well as what the author the author was wanting to say at that time.
(Wendy Hulbert 2:28pm April 12, 2012)
Maybe I'm crazy, but sometimes I enjoy reading both versions of a book, both the original and an updated version. Mostly just for comparison, but a few times (albeit rarely), I have found that the updated version was actually better than the (really) good original!

The main thing to keep in mind is that this process really only works very well with historicals, that is, when it works at all.

Like many have said above, trying to keep up with the changes in technology if the book was set in the present era would be enough to drive someone completely crazy, and yes, it would be an entirely new book because of that (the technological changes, not because the author went crazy updating it!) (or maybe because of both!!).

Anyway, for me, most of the time I'm in the "if it ain't broke, don't "fix" it" camp. Even with historicals, really the only reason to update them would be to correct gross errors in spelling and how people were addressed in that era.

"Mariana" sounds like it would be an interesting book to read.

Later,

Lynn
(Lynn Rettig 3:42pm April 12, 2012)
I'd leave it alone,except for spelling errors. Thanks for giving me a chance to win your book.
(Linda Hall 3:56pm April 12, 2012)
I think it's best if the author let's the story remain in its original rendition, only correcting spelling and grammatical errors if re-releasing the book. Many books are printed with a few errors. Mariana has a great story-line, and a book I'd like to read and enjoy!
(Rich Cook 5:40pm April 12, 2012)
Books need to stay original - only correcting spelling errors and such. Sounds like a great story!
(Erin Koiso 5:49pm April 12, 2012)
Keep the original without revisions, just correct errors in spelling, words omitted, etc. Story sounds great - I'd love to read the re-issue of M A R I A N A. Beautiful cover, too!
(Linda Luinstra 6:51pm April 12, 2012)
To rework is fine as long as you know there's another version out there which may be tricky if you are in a book club discussion. It helps to know which version is in use.
(Alyson Widen 7:02pm April 12, 2012)
I think that unless there's a major flaw with the book, it should stand as written. This way, it shows the growth of the author. Many times, I've read reviews of books, and I've seen where someone will write that a certain book isn't as good as the first one that was written, for example. If you go back and change it, the whole integrity of the book gets changed, and perhaps the story doesn't give the same impact as you hoped it would. Instead of looking back, I would concentrate on the future. I'm sure you have your fan base. They're probably looking forward to your next installment. I'm in love with the cover of this book, and looking forward to reading it so that I can become a fan as well. Good luck to you whatever you decide.
(Peggy Roberson 8:25pm April 12, 2012)
I think the original is best. Thanks for the chance to win!
(Natasha Donohoo 9:02pm April 12, 2012)
I prefer reading the original.
(Mary C 10:02pm April 12, 2012)
I have never read the original of a story and then a re-written story so I don't know which I would prefer. I know there are stories that I have read that have been re-written but I can't imagine that they changed enough that it would make a difference. To re-write or not I think is really an authors personal preference.
(Maureen Emmons 10:35am April 13, 2012)
To me the orginal is the best. Should never mess with something changes it to much. Well the author should be the one to have the say on it. Would love to win this one.
(Diane Castiglione 12:16pm April 13, 2012)
I like the books the way they were intended, if not you kind of lose something in the re-write
(Ann Thaxton 12:36pm April 13, 2012)
Registered users may leave comments.
Log in or register now!