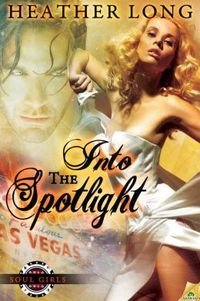 Purchase
Samhain Publishing
March 2013
On Sale: March 5, 2013
Featuring: Jeannie Williams; Malcolm Reynolds
ISBN: 1619213354
EAN: 9781619213357
Kindle: B00AMMFQTG
e-Book
Add to Wish List

Fifty years ago, Jeannie Williams made her way to Las Vegas seeking fame and fortune. Instead, she lost her soul and wound up performing nightly shows at the Arcana Royale. Every day, she straps on her feathers, her glitter, her stilettos, and she dances. Every day, it's the same.
Until the day he walks in.
For six centuries, Malcolm Reynolds has been the go-to guy for anything his family needs: warrior, diplomat, wrangler, researcher, and now an attorney. He enters the Arcana Royale Casino, intent on negotiating the release of his cousin's bad debt, but one look at the golden-skinned showgirl ignites a fire of need that he's never experienced. When the fantasy come true sits at his table, words he never expected to hear come out of her lush mouth: "I need your help."
Now he's in for the toughest battle of his life, because the Overseers own both his cousin's debt and her soul. And he's not planning on leaving the Royale without either one.
Comments
59 comments posted.
Vegas is not one of my favorite places to go, but your book sounds really good. Thanks for the contest!
(Becky Darmogray 7:56am March 2, 2013)
Thanks for the chance to win. I've been to Vegas 5 times and always like to read things that happen in the city.
(Sally Hannoush 8:05am March 2, 2013)
Love the cover. Hot, hot, hot
(Susan Falkler 9:40am March 2, 2013)
My favorite show was Las Vegas with Josh Duhamel, James Caan,
Molly Sims and Vanessa Marcil. It was about the team running
a casino and the craziness they go through.
(Karin Anderson 10:11am March 2, 2013)
Never been to Vegas but would love to read this book!!!!!
(Bonnie Capuano 10:20am March 2, 2013)
My favorite Casino - I could watch that every week - Love that film, DeNiro, Pesci, Rickles feels like old Vegas the moment it begins.
(Carla Carlson 10:25am March 2, 2013)
vegas is fun. Fun for all!!!
(Lisa Fitzgibbons 11:14am March 2, 2013)
My favorite show was The Pointer Sisters. A great and unique
place to visit.
(Sharon Berger 11:20am March 2, 2013)
Never been to Vegas,but my mom & aunt would love to go someday.
(Terri Quick 1:36pm March 2, 2013)
Friends and family have visited and loved going to Vegas to
cut loose for a bit. Haven't been there yet, but certainly on
my list of things to do someday.
(G. Bisbjerg 1:48pm March 2, 2013)
I love CSI: Vegas. Other than that I don't watch shows about Vegas and have never been.
(Pam Howell 1:59pm March 2, 2013)
I love the new series Vegas, with Quaid and Carrie Moss! It's so well done.
(Kathleen Conner 2:49pm March 2, 2013)
Never had much interest in Vegas, but if they had vamps I might make the trip :)
(Lizz Comer 2:56pm March 2, 2013)
LOve Vegas! I have went with friends several times to see the shows and spend a little time in the casinos.
(Andrea Abel 3:19pm March 2, 2013)
Las Vegas is not my cup o'tea.....everything is over-priced and the gambling does not appeal to my frugal tastes. I'd go back if Cher were performing and perhaps Bette Midler or Barbra but its not my idea of a relaxing vacation.
(Susan Coster 4:18pm March 2, 2013)
Have never been to Vegas yet... love the book's warning!
(Colleen Conklin 4:42pm March 2, 2013)
nice cover!
(Debbi Shaw 4:53pm March 2, 2013)
You're right-- Vegas is sui generis....
(Mary Ann Dimand 5:52pm March 2, 2013)
I see you didn't add Nicolas Cage's Leaving Las Vegas to your list. That's okay. It's kind of a downer. My favorite Vegas movie is the Ocean's Eleven remake.
(G S Moch 6:01pm March 2, 2013)
Sounds like a very exciting book, it has all the elements that will keep me entertained.
(Lin Berda 6:20pm March 2, 2013)
Vegas starring Robert Urich.
(Mary C 6:52pm March 2, 2013)
Love Vegas!!!
(Vicki Hancock 7:07pm March 2, 2013)
CSI is the only show title I can come up with right now.
(Cheryl McEwen 7:53pm March 2, 2013)
What an exciting book! Love paranormal romance. Vegas is a very interesting setting for your book. My favorite Vegas movie is Ocean's Eleven. Thanks for the giveaway.
(Bonnie H 7:54pm March 2, 2013)
I've never been except on the screen. I do love OCEAN'S
ELEVEN.
(Mary Preston 8:22pm March 2, 2013)
I also am no gambler...but fascinating books anyhow!
(Diane Pollock 8:27pm March 2, 2013)
My favorite Las Vegas series would be CSI: Crime Scene Investigation.
You get a crime show AND Las Vegas!!
(Kelli Jo Calvert 8:46pm March 2, 2013)
I like The Electric Horseman, with Robert Redford. Plus the songs by Willie Nelson,, My Heroes have always been cowboys. A nice movie.
(Deb Pelletier 8:56pm March 2, 2013)
I love Las Vegas. I play the penny and nickel slots. Such fun!
I like to laugh so my favorite Las Vegas movie is Miss Congeniality 2: Armed and Fabulous
(Monica Vargo 9:09pm March 2, 2013)
Never been to Vegas, unless you count watching CSI every week!! Your book sounds awesome.
(Martha Lawson 9:49pm March 2, 2013)
I love everything about Vegas.
(Marilyn Legault 9:52pm March 2, 2013)
I go to Vegas for the shows and shopping. There are so many outlets along the way to Vegas. As for the shows, Vegas is like New York City. All the shows in one place and right on the Strip. And the restaurants, they are worth experiencing for as a treat. Yes, they are pricey but to try one for the experience, it worth the price.
(Kai Wong 10:10pm March 2, 2013)
I was married in Vegas. Nice place to visit but I wouldn't want to live there.
(Rita Wray 10:22pm March 2, 2013)
I have never been to Las Vegas but would love to go see it
one day. Have not had any vacation in over 15 years so would
like to be in Vegas now. Thanks for the great contest and God
Bless Everyone! Cecilia CECE
(Cecilia Dunbar Hernandez 12:01pm March 3, 2013)
I would so love to be chosen as the winner. It
would man's me feel.such much better
(Shirley Thomas 12:15pm March 3, 2013)
I like this new show that is titled Vegas also. It stars Dennis Quaid and Michael Chiklis, two great actors. I love the town also. There is always something to do.
(Kathleen Yohanna 1:10am March 3, 2013)
When in Vegas...
(Roxana Perez 7:13am March 3, 2013)
Rain Man. Where the two brothers, one with Asperger's, drive through Vegas and then the younger realises that his strange older brother (Dustin Hoffman) can 'count' four decks of cards. Swing around, hock the watch, set up for a card game!
My favourite series of books set in Vegas is the Midnight Louie mystery series by Carol Nelson Douglas, about a publicist and her smart black cat.
(Clare O'Beara 7:44am March 3, 2013)
So much to do in Las Vegas. See www.vegas.com Thanks for the giveaway.
(Leona Olson 9:39am March 3, 2013)
I would like to read your book. Vegas is very over the top for me but it is fun
because it is so different from home. I too loved watching the tv series
Vegas. But now I am giving away my age.
:)
(Patti Paonessa 9:50am March 3, 2013)
I've only been to Vegas once and that was for 3 days of slot
machines and daily walks to take in the assorted sites and
other casinos. I would like to go back to actually tour more
of the area. Thanks for the giveaway.
(Karen Haas 10:23am March 3, 2013)
sounds like a good read, never been to LV but it does sound like fun.
(Barbara Studer 1:16pm March 3, 2013)
I've never been to Las Vegas, but this book sounds
interesting. Thanks for the giveaway!
(Sara Doyle 2:12pm March 3, 2013)
LOVE YOUR BOOKS AND I WOULD LOVE TO WIN THIS FABULOUS
CONTEST!!!!!!!!!!!!!!!!!!!!!!!!!!
(Shelly Caggiano 2:31pm March 3, 2013)
Hubby and I have gone to Vegas a couple of times. I'm not a gambler so that didn't appeal...I did love the shows and bright lights and the scenery when we went out of the Strip. It sure didn't compare to Viva Las Vegas with Elvis Presley, (though we did see him there, quite a few times and a couple of them actually sounded like him.)By the way loved Into the Spotlight!!
(Annetta Sweetko 3:30pm March 3, 2013)
I don't understand why it says " six centuries"
(Christine Didyk 3:53pm March 3, 2013)
I took the ultimate gamble in Vegas....I got married there.
It's a great town to explore but I would never live close to
it...some really interesting folks there...LOL

It's always nice to read books that include places you've
been, makes it more real :)
(Billie Gaskill 4:24pm March 3, 2013)
Viva Las Vegas would have to be my favorite.
(Sheila True 5:26pm March 3, 2013)
My favorite Vegas movie would have to be Con Air. I like the music & can't beat the explosions. I'll have to watch that soon. Thanks for the reminder. Hope to get a hold of a copy of your book soon too!
(Laura Gullickson 5:59pm March 3, 2013)
I am loving the new Vegas tv show with Dennis Quaid. I am a
big fan of The Rat Pack so it's right up my alley.
(Donna Antonio 6:36pm March 3, 2013)
I would love to visit Vegas with my hubby and do some things we could
keep secret! Lol
(Patti Paonessa 7:35pm March 3, 2013)
Would love to win your book,love the cover. I love vegas it is so much fun. Lived there for four years.
(Linda Hall 7:36pm March 3, 2013)
Id like to vacation in Vegas.
(Cathy Thomas 8:23pm March 3, 2013)
Book sounds great,thank you for the gc giveaway.
(Holly Vanderhule 8:24pm March 3, 2013)
I love the cover art for this!
(Callie Stuck 10:08pm March 3, 2013)
I really love the movie Black Jack. It's a really awesome thriller about a man trying to save his niece and a model's life, all while he has an impairment of sorts that slows him down. I would suggest watching it. It's good.
(Meghan Anderson 10:23pm March 3, 2013)
book sounds great
(Ann Unger 10:27pm March 3, 2013)
I've never been, but I want to! NEVER have I heard anyone say that had a bad time in Vegas. Neva! And that says something, right there.
(Chelsea Brooks 10:45pm March 3, 2013)
My daughter is going to school in Vegas so I visit regularly which is no hardship. It's a very busy place and always interesting people to watch and sites to see. I am enjoying the current "Vegas". "Bugsy" was a good Vegas movie. I guess I like seeing things like they used to be...something romantic about that, OK not so much all the blood and blackmail.
(Tracie Travis 11:32pm March 3, 2013)
Registered users may leave comments.
Log in or register now!