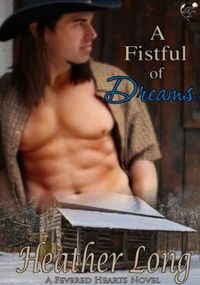 Purchase
Fevered Hearts #4
Self Published
April 2013
On Sale: April 7, 2013
ISBN: 0016515528
EAN: 2940016515526
Kindle: B00C8UB84M
Hardcover / e-Book
Add to Wish List

Meet Buck. Spirit brother, dreamwalker, shaman's son—he's never been at the mercy of his abilities nor hungered for violence…until her.
When the spirit fever struck a town, a village or an outpost, it left few, if any, survivors. The white man blamed the Indian saying they used their mojo on them. The Indians blamed the white man for angering the spirits. The survivors knew it didn't matter. The Fevered were forever changed.
Rebuilding Dorado is only the first challenge…
Surviving a vicious attack by their enemies and an outbreak of the fever has left Dorado in ruins and the Flying K under siege, now all their resources are devoted to rebuilding their town and protecting the newborn Fevered in their midst. Buck Morning Star and his siblings divide their time between training their new family members and avoiding the threat of detection the arrival of soldiers constructing a new fort pose, but Delilah haunts the spirit walker's dreams. When Jason Kane threatens to come between them, Buck's obsession may drive him to madness.
Her secrets could destroy them all…
Rescued from a whorehouse in Fort Courage, Delilah Rinaldi never expected to find a sanctuary populated by Fevered and their allies. Silent since her arrival at the ranch, she longs to believe in Buck and the passionate dreams they share. But she keeps dangerous knowledge of the enemy hunting them all close to her heart—information Jason may reveal and cost her the only home and man she loves.
Primitive, primal and provocative, their struggle is intensely personal…
Close contact arouses a soul-stirring passion and love. But it may not be enough to sustain a relationship forbidden by their power and the tempest it can unleash.
His dream. Her words. Their destiny.
Comments
No comments posted.

Registered users may leave comments.
Log in or register now!