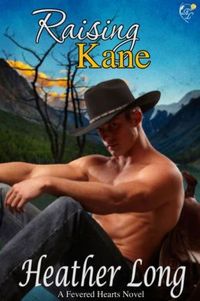 Purchase
Self Published
August 2013
On Sale: August 31, 2013
ISBN: 0148797210
EAN: 2940148797210
Kindle: B00EWLGOLW
e-Book
Add to Wish List

Meet Kid Kane. The youngest brother, the passionate one, the one who lives with his soul exposed—he's never met a woman he can't seduce.
When the spirit fever struck a town, a village or an outpost, it left few if any survivors. The white man blamed the Indian saying they used their mojo on them. The Indians blamed the white man for angering the spirits. The survivors knew it didn't matter. The Fevered were forever changed.
A gift he needs to tame…
Kid feels what the world around him feels, he is a raw, bleeding nerve, and he can't control the pain anymore. After lashing out at everyone he loves, he agrees to an exile atop Quanto's mountain to learn to control the power he wields. Desperate to end it, Kid battles with Wyatt the eldest Morning Star—hoping against hope that the man will kill him. He longs only for peace…
A gift she wants to harness…
Evelyn Lang grew up with a territorial judge for a father, and a secret—her father's Fevered ability passed to her. When he's killed in broad daylight in a little town in Kansas after freeing a slave, Lang is no longer bound by her father's oath to never use her ability—now she must train it. She travels across hostile territory in search of the man who trained her father. She longs only for vengeance…
Tempestuous passions, opposing needs, and impulsive decisions divide them…
Conflicting goals put Kid and Evelyn in direct opposition. Her hunger for justice cuts him, but Quanto refuses his requests to train alone. Forced to train together, they must confront their deepest fears if they are ever to achieve their greatest desire….
His pain. Her obsession. Their battle.
Comments
No comments posted.

Registered users may leave comments.
Log in or register now!