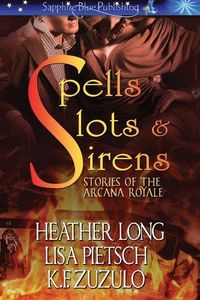 Purchase
Stories of the Arcana Royale
Sapphire Blue Publishing
July 2011
On Sale: July 10, 2011
ISBN: 1934657697
EAN: 9781934657690
Kindle: B005C541FI
e-Book
Add to Wish List

Romance Erotica Sensual | Romance Paranormal
Las Vegas, baby at the casino of all Casinos — the Arcana Royale. Arcana Royale is a high-end supernatural casino. Some characters are immortal and some are not. The Royale itself has a very distinct personality and some even believe it may be "alive" in its own right. Anything can happen at the Arcana Royale and anything goes, but don't piss off the Overseers or you may find yourself serving up your soul to the showgirls. Discover tales of forbidden romance, sexy heroes and dark mysteries.
Howl:
Rhiannon Quinn has always had a soft spot for werewolves. Since her step-father died of a silver bullet wound, she's dedicated her life to finding a cure for the silver bullet curse. When Rhiannon's old friend Frannie mentioned she needed help in her Las Vegas healing practice due to the influx of supernaturals frequenting Arcana Cabana, Rhiannon packed a bag and moved to Vegas. She had no idea that fate would bring her obsession and her passion crashing together in the Nevada desert.
Dissolve:
Lena Barak is angry. And when a female jinni loses her temper, flames are going to fly. Lena tracks her missing family to the supernaturally charged Arcana Royale casino. Amidst glamour, fearsome figures and gorgeous gowns, Lena discovers the beginning of a growing global insurrection of the elements of water, led by naiad Murron St. Cloud. Lena's only ally to save her family and maintain the balance of fire and water on the earth is the stoic and alluring Arel, whose motives are bound to an ancient pact. Fueled by anger and newfound passion, Lena might just set the world on fire.
Soul Girls:
Fifty years ago, Jeannie Williams made her way to Las Vegas seeking fame and fortune; instead she lost her soul and found herself serving up nightly shows at the Arcana Royale. Every day she straps on her feathers, her glitter and her stilettos and every day, she dances. Every day, it's the same.
Until the day he walked in.
Malcolm Reynolds has always worked for his family. For six centuries, he's served as a warrior, a diplomat, a wrangler, a researcher and now an attorney. He is the go to guy for what his family needs. Now, once more on a mission for his family, he finds himself at the Arcana Royale, negotiating the release of his cousin from a bad debt to the casino. But one look at the golden skinned showgirl ignited a fire of need in him that he's never experienced. When she sits down at his table, a fantasy come true, he never expected her to say...
"I need your help."
Now Malcolm is in for the toughest battle of his life, because the Overseers own her soul and his cousin's debt, and he doesn't plan to leave the Royale without either of them.
Comments
No comments posted.

Registered users may leave comments.
Log in or register now!