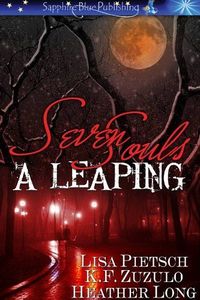 Purchase
Sapphire Blue Publishing
January 2011
On Sale: January 3, 2011
ISBN: 1934657999
EAN: 9781934657997
Kindle: B004QOAHU4
e-Book
Add to Wish List

Romance Series | Romance Paranormal
At the New England New Age (NENA) Investigations, no case is too weird. The paranormal detective agency relies on the familial talents of siblings Duncan and Samantha MacDougal and their cousin Tara Conroy. While Duncan and Samantha tend to the field work, Tara mans the office tapping sources in both the physical and spirit world. Fate takes a hand when a killer named Jeffrey Wiles begins a death- dealing spree that puts the lives and loves of these investigators on the line.
Frozen Hell:
Danyelle Roy is a private investigator feeling the pinch of the economy. When she begs her friend Murphy, a bail bondsman, to give her some work, he does so reluctantly. Jeffrey Wiles isn't the kind of criminal you want to send a cute redhead after. He slaughtered a 13-year-old girl while her parents slept and then used her blood to paint Satanic graffiti on the walls. Duncan MacDougal is a specialist in paranormal investigations and he's never seen anything like the Satanic spellcasting done by Jeffrey Wiles. When Duncan and Dani team up to capture Wiles, the magic is overpowering.
Star Light, Blood Bright
Samantha MacDougal can see auras. Her gift usually helps her pursue rascals and wraiths for her family's business, New England New Age Investigations. But when she begins to track Satanic serial murderer Jeffrey Wiles along icy Boston streets, her own life's light is in danger of being extinguished. She is alone in her struggle until handsome Boston detective Ike Marshall mysteriously provides a supernatural shield of light that warms her as never before.
13th Night:
Since the day she learned to put her ABCs together, Tara Conroy has been sharing a ghostly correspondence with the spirit world. One spirit, in particular, Darian, has been talking to her since she was twelve years old. His letters take a darker turn as she and her cousins hunt down killer Jeffrey Wiles.
Darian Barnes ran afoul of a witch in 1929 as the stock market crashed. She cursed him, and for nearly a century Darian has existed as a spirit, always seeing, never touching or experiencing, until one day he encountered Tara. For the first time in eighty years, someone could hear him. He watched over her, guiding, protecting and advising—always there when she needed a friend.
Now Darian and Tara must find a way to bring their love into the physical world and destroy Jeffrey Wiles once and for all...
Comments
No comments posted.

Registered users may leave comments.
Log in or register now!