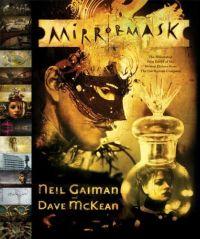 Purchase
The illulstrated film script of the motion picture from The Jim Henson Company
William Morrow
May 2005
336 pages
ISBN: 0060798750
Hardcover
Add to Wish List

From the incomparable imagination and lucid visions of Sandman creator Neil Gaiman and acclaimed artist and director Dave McKean -- and the innovative minds at The Jim Henson Company -- comes MirrorMask, a breathtaking journey through a strange and magical looking-glass world where anything can happen ... and frequently does.
Here is the complete film book of the new high-water mark in family fantasy entertainment. The story of young Helena, daughter of the circus, comes vividly alive as we accompany her on her remarkable mission to a place far beyond wonder; a phantasmagorical quest to rescue a realm from the devouring forces of chaos and shadow in order to win back her stolen "real" life from a runaway interloper from the other side.
Containing the full screenplay and more than 1,700 illustrated storyboards of the major motion picture -- as well as movie stills, comments, appreciations, and memories from the authors and filmmakers -- this one-of-a-kind volume is destined to become a classic, a keepsake to be cherished by fans of all ages.
For all who believe in the glorious reality of dreams, for everyone who longs to ride their imagination to miraculous places, the door is now open wide. See the world anew through the MirrorMask ... and nothing will ever look the same again.
Comments
No comments posted.

Registered users may leave comments.
Log in or register now!