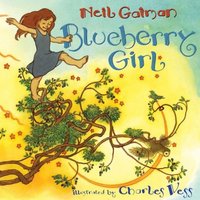 Purchase
HarperCollins
March 2009
On Sale: March 10, 2009
32 pages
ISBN: 0060838086
EAN: 9780060838089
Paperback
Add to Wish List

This is a prayer for a blueberry girl . . .
A much-loved baby grows into a young woman: brave, adventurous, and lucky. Exploring, traveling, bathed in sunshine, surrounded by the wonders of the world. What every new parent or parent-to-be dreams of for her child, what every girl dreams of for herself.
Let me go places that we've never been, trust and delight in her youth.
Nationally bestselling author Neil Gaiman wrote Blueberry Girl for a friend who was about to become the mother of a little girl. Here, he and beloved illustrator Charles Vess turn this deeply personal wish for a new daughter into a book that celebrates the glory of growing up: a perfect gift for girls embarking on all the journeys of life, for their parents, and for everyone who loves them.
Give her all these and a little bit more, gifts for a blueberry girl.
Comments
1 comment posted.
Re: Blueberry Girl

I may be one of those people that fall under the "following the beat of a different drummer" (though my caveat to that is that I tend to follow the saxophone player), but, while I can understand a little bit of the dilemma from a fan's point of view in that they are fans and would really like to see the next installment, whenever I see that kind of commentary, I tend more to cheerlead for the author's point of view.

What I mean by that is, yes, I'd like to see the next installment (especially if I like and admire the author), but the fans should also realize that, if they do read the author, they should have the courtesy to wait. Authors are human and they do have other obligations outside of writing a particular book at a particular time.

Maybe it's just me, but, as a reader, I read multiple authors and, while being impatiently patient (or would that be patiently impatient?) for a certain book, I find others to read while I wait.

Tha's just my half penny's worth.
(Gabby Raines 5:17pm May 31, 2009)
Registered users may leave comments.
Log in or register now!