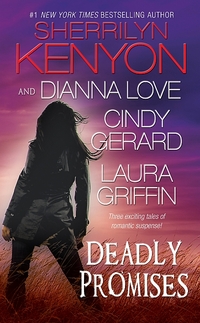 Purchase
This thrilling romantic suspense anthology features three sizzling novellas from Sherrilyn Kenyon, Cindy Gerard, and Laura Griffin
Pocket Star
October 2010
On Sale: September 28, 2010
400 pages
ISBN: 1439191115
EAN: 9781439191118
Mass Market Paperback
Add to Wish List

Romance Anthology | Romance Suspense
THESE HEROES ARE 100 PERCENT RAW, DANGEROUS, AND . . . UNDENIABLY SEXY.
New York Times bestselling authors Sherrilyn Kenyon, Dianna Love, and Cindy Gerard and rising romance star Laura Griffin mix seduction and suspense in three irresistible romantic adventures.
From sultry international jungles to the rugged terrain of the American Southwest, join the larger-than-life, scorching-hot alpha heroes of the Bureau of American Defense, Black Ops, Inc., and the U.S. Navy SEALs for all the pulse-pounding, heart-racing, toe-curling excitement. They're cool under pressure, steamy under the sheets, and when the enemy strikes, there's not a lethal mission these gorgeous men can't handle. . . . Just Bad Enough
Comments
62 comments posted.
Re: Deadly Promises

I Always look for Paranormal. Keep them coming.
(June Leas 4:10pm October 30, 2010)

(June Leas 4:21pm October 30, 2010)
It's terrible to be glad someone was killed but on the other hand some people really need to be. Unfortunately there will be someone just as awful to fill his shoes.
(MaryEllen Hanneman 2:25pm May 6, 2011)
I am a military spouse coming on 12 yrs now and I love military life and all it entails. It gives me a sense of pride and a firm reality based outlook on the world around me. I believe they accomplished their mission directive and removed a truly disturbed and evil threat to the US which as an American I can't see that as anything but a good thing. I also believe there are too many bad people waiting and vying to take his place at the so called "top" which is a nightmare in the making as they jocky for position. Sadly this is something we will always have to combat in some way or another but I am so proud of the US Armed Forces in everything they do and sacrifice to provide all of us freedom and security we enjoy daily.
(Cindi Mitchell 2:28pm May 6, 2011)
I'm ashamed to say I'm glad BL is dead - and terrified about who wants to fill his shoes - PFH
(Pamela Faye Howell 3:45pm May 6, 2011)
its sad to lose someone but sometimes its better so we can move on
(Jennifer Beck 3:55pm May 6, 2011)
I can't say I'm overjoyed at BL's death but rather I'm overjoyed that justice has been done for all the families that lost a loved one on Sept.11
(Christine Schultz 4:20pm May 6, 2011)
I hope this gives some peace to everyone who lost someone in 911. I believe OBL is burning for eternity and I don't think burial at sea was the best (if he really was buried at sea). We should have done something more to show people he is dead. Now bring our loved ones home!
(Shonda Abercrombie 4:45pm May 6, 2011)
I am so thankful for the men and women in our military and other service professions. They are all true heroes to risk their lives for everyone in the USA.
(June A, Manning 6:08pm May 6, 2011)
I am so proud of our Navy Seals. They rock! They did an amazing job hunting OBL. Those guys never give up!
(Cherie Japp 8:08pm May 6, 2011)
I think our Navy Seals are awesome. I never thought I'd say I was glad someone was dead. But I think BL got what he deserved.
(Linda Hall 9:17pm May 6, 2011)
i am a child of a military family. my grandfather was military,my aunts and uncles were military,my father was navy and so were my young brothers and sister. my older brother was army and another sister married the air force. i myself was never physically well enough to enter the military but i am just as proud and patriotic as the rest of my family. a few years ago i moved to a college to for work reasons, i moved froma very conservative place where it wasn't unusal to see flags flying from houses or on the back of truck windows and for bumper stickers to say "God Bless The U.S.A and Our Troops". i now live in a place where i have actually heard someone suggest that we disband all military and get rid of them as we are just using them to bully people for their property. i heard this from some of the college kids as i was cleaning the dorm room next to them. i just have to say i hope they grow up and relize that the real world is not unicorns and sunbeams but a hard and dangerous place and that without those troops out there protecting us we are comptely defensless to someone else just like Osama Bin Laden. I was very glad to hear that they finaly got him so that he can't hurt anymore innocent people.
(Tammy Ramey 9:40pm May 6, 2011)
All the military are heroes. And it is good they have gotten some great press recently.
(Pam Howell 9:44am May 7, 2011)
I agree it seems bad to be glad someone is dead, however he was not just anybody. He was responsible for mas murder! If captured he would have gone on trial and been executed. I don't think it matters how his death occured, his followers would still rise up against us.
The military are all our heroes. Without them we would not have the freedom we have, they rick their lives for us they do not even know.
(Barbara Hanson 10:36am May 7, 2011)
One can't help but admisre those who continually fight and never give up. I have always thought of SEALS as brave and daring but not necessarily the cost to their humanity and lives. How thankful I am to have those willing to be such heroes for us!
(Renee Brown 1:58pm May 7, 2011)
Love those Navy Seals they are real men
(Lilian Gamble 12:27pm May 8, 2011)
I admire the dedication and work the SEALS offer. I think Bin Laden's capture and death will allow some to finally be able to heal from the events of 9/11 knowing he is no longer out there walking free.
(Robin Daily 2:04am May 8, 2011)
Justice has been served, but who will follow in his footsteps. Our military deserves a hand.
(Mary Smith 5:34am May 8, 2011)
I would love to win this and be exposed to so many authors!
(Renee Pajda 8:59am May 8, 2011)
God bless our military, they are our heroes.
(Lisa Avila 9:48am May 8, 2011)
This sounds like a wonderful read. God bless the Navy Seals!
(Karen Gervasi 10:21am May 8, 2011)
Anthologies are the perfect stories to read at lunch time when you don't have time to invest a few hours. Thank you for writing a few!
(MaryAnne Banks 1:08pm May 8, 2011)
Glad your new book is about Navy Seals. We owe so much to them and a lot of the time take them for granted.
God Bless all our armed forces and fire and police.
We owe them all so much;
Have a great weekend. Can't wait to read the new book.
(Mary Branham 2:57pm May 8, 2011)
You certainly were psychic with your timing on this one! Congratulations!
Blessings,
Marjorie
(Marjorie Carmony 3:34pm May 8, 2011)
Wow a story with what the Seal's just did for us. I couldn't do what they did
(Patricia Kasner 4:56pm May 8, 2011)
All things happen for a reason, some are good and some are
bad. We do not have all answers and understanding for what
has happen on 9/11 and how this story still continues. As
this book is of the Navy Seals, lets take a moment to pray
for the ones that had a job to do and did it. That they are
also at peace in every way. Thank you for the chance to win
a good book.
(Cynthia Plaza-Harney 6:12pm May 8, 2011)
the book sound great and i now what you mean hope the book og to get top book and maybe a movie
(Desiree Reilly 6:55pm May 8, 2011)
The SEALS creed could also be the creed for anyone with any type of disorder. So I see my son as a SEAL. He never quits his fight, he gets back up and he is never out of the fight. My 10 year old son is my hero, to go through what he does and still has a good outlook on life. I wish I could be him somedays.
(Shonda Abercrombie 8:50pm May 8, 2011)
Suspense stories...I love that!
(Leanna Morris 8:57am May 9, 2011)
Sounds like a great read. The Seals are great!
(Lisa Diel 2:03pm May 9, 2011)
Cannot wait to read this new book!
(Kelli Jo Calvert 2:27pm May 9, 2011)
Book sounds great...3 of my favorite authors and Seals; now
how could you go wrong?????
(Barb Kettler 5:59pm May 9, 2011)
suspense book,great way to spend extra time.
(Betty Conrad 6:31pm May 9, 2011)
God Bless are military..sounds like a great book..
(Jennifer Beck 6:38pm May 9, 2011)
Hi. Please enter me in the contest. Thanks for a great giveaway.
(Billie Deese 7:46pm May 9, 2011)
I was so caught up in my own personal drama that I missed all of this until a friend brought it up in conversation and I was like "really?"
I'm glad he's been found and the drama he's caused all these years is finally over. I know someone will try to take his place, I just hope they are less successful.
(TinaMarie R 7:56pm May 9, 2011)
Thank God for Our Troops! Those special people that train beyond training to become something better, to protect us the faceless, the nameless, those they have sworn to protect. My brother is in the Navy and has been for years, something I am deeply proud of, the SEALS program is the hardest endurance test - They are all heroes!
(Carla Carlson 10:05pm May 9, 2011)
The military are heroes in real life and in many of my favorite books. May God bless the USA!
(Cheryl Castings 12:31pm May 10, 2011)
It's difficult to imagine anyone surviving the training the Navy Seals receive. Thank goodness we have such strong, brave men. Also, I'm thankful for all the young men and women who are serving in our military.
(Anna Speed 12:38pm May 10, 2011)
This sounds like a good book. SEALS are amazing people!
(Beth Foster 2:11pm May 10, 2011)
i want to win your book, thanks for the contest
(Sylvia Kriksic 2:28pm May 10, 2011)
Please enter me in this contest. Thank you for your generosity to us readers.
(Jackie Robertson 3:35pm May 10, 2011)
Would love to win this book. Please put my name in your list of entries.
(Pam Alderson 5:34pm May 10, 2011)
I have been a fan of the SEALS for many years and I do love to read about them.
(Joan OToole 1:53pm May 11, 2011)
Love any branch of the military! Thank goodness we have them!
(JoAnn White 4:13pm May 12, 2011)
I am proud of every person in our military. They make such
huge sacrifices for us.
(Leanna Morris 9:28pm May 12, 2011)
We should all be grateful for the men and women who are willing to sacrifice to protect this country. Pray for those who serve and protect.
(Donna Capps 7:58am May 13, 2011)
This would be a good movie.
(Stephanie Bondlow 11:43am May 13, 2011)
Love SEAL stories, so this one is on my wish list as of now :D
(Ilona Fenton 2:22pm May 13, 2011)
The stuff that the military need especially those who have been injured are books, magazines, video games, sandals, and clean towels and coffee wouldn't hurt either.

Those are the things that my co-worker has asked for when he received his 2nd deployment going back to the Middle East.
(Kai Wong 9:26pm May 13, 2011)
I am extemely grateful, every day, that there are men and women who volunteer to serve their country to protect our freedom. And, yes, I think it was fitting that it was a SEAL team that was able to rid the world of this fanatic. I know there will be more terrorists, but for today, we can be thankful there is one less.
(Karen Cherubino 12:01pm May 14, 2011)
SEALs are an incredible group, the elite of the elite.
(Tracie Travis 5:52pm May 14, 2011)
Have always respected and admired seals and this past week's events show why.
(Shirley Nienkark 8:17pm May 14, 2011)
It's so rare that we hear about real SEAL missions, and it's so important for people to recognize how important they are in the ongoing fight for justice and freedom.
(Diane Sallans 8:43pm May 14, 2011)
THE NAVY SEALS..WITH WHAT HAPPENED RECENTLY, A TIMELY EXAMINATION!
(Silvana Moscato 4:09pm May 15, 2011)
I'm intrigued. Can't wait to read it!
(Renee Brown 6:42pm May 15, 2011)
YES, GOD Bless our Military and glad to be an American all the time. Please enter me in your fantastic contest. This sounds like a fantastic book and would love to read it soon.
GOD Bless Everyone! Thanks, Cecilia
(Cecilia Dunbar Hernandez 8:37pm May 15, 2011)
Sounds like a great book. God bless.
(Christine Arcidiacono 12:59pm May 16, 2011)
I have enjoyed reading your books... looking forward to more to read!
(Colleen Conklin 1:37pm May 16, 2011)
Have enjoyed several books with SEALs as main characters. Suzanne
Brockmann's series comes to mind first. Yes they are special. A story with a
SEAL as the hero is bound to be good. SEAL and hero are pretty much
interchangeable words.
(Patricia Barraclough 2:50pm May 16, 2011)
I love stories about Navy SEALS. Suzanne Brockmann is one of my favorite authors and I've read all of her Troubleshooter books. Unfortunately, she can only write one or two per year. So, I'm always looking for other authors to fill the void. Your story sounds just like the ticket!
(Molly Wilsbacher 8:27pm May 16, 2011)
Gotta love those SEALs. They do the job everytime.
(Beth Melito 10:47pm May 16, 2011)
Registered users may leave comments.
Log in or register now!