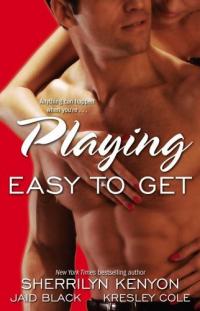 Purchase
Pocket Books
February 2006
329 pages
ISBN: 1416510877
Trade Size
Add to Wish List

New York Times bestselling author Sherrilyn Kenyon and rising stars Jaid Black and Kresley Cole unlock the pleasures and perils of embracing the boldest and most powerful of lovers -- 100% alpha males -- in three sensually erotic tales. Discover the physical rapture of his muscular arms.... Become a prisoner of passion, swept away by an encounter with his primal side.... And get lost in the all-consuming thrill of white-hot pursuit by a relentless stranger who may be your most dangerous foe, the best lover you've ever had -- or both.
Let your fantasies run wild with these unforgettable novellas where bigger is most definitely better -- and playing easy-to-get is the only way to go!
"The Warlord Wants Forever" by: Kresley Cole
Nikolai Wroth, once a ruthless human warlord in the 1600s and now a general in the rebel vampire army, needs to find his Bride, the one woman who can render him truly alive. As a turned human, he doesn't enjoy a heartbeat or breaths and is consequently weaker than natural born vampires. He wants his Bride for the power she will bring him and can hardly believe it when his heart beats for Myst the Coveted, a mad, fey, mythological creature.
Myst is known throughout the world as the most beautiful Valkyrie, part chillingly fierce warrior, part beguiling seductress who can "make you want her even as she's killing you." She has devoted her life to protecting an ancient, powerful jewel and to fighting the vampires, and she now sees a way to torment one—for with Wroth's heartbeat comes consuming sexual desire that can only be slaked by her. She eludes him for five years, but he has finally chased her to ground and stolen the jewel which commands her, giving him absolute power over her. While he possesses it, he can make her do anything, and he plans to in order for her to experience first hand the agonizing, unending lust she'd purposely, boastingly, subjected him to for half a decade.
Yet when Wroth realizes he wants her love and frees her, will she come back to him?
Comments
No comments posted.

Registered users may leave comments.
Log in or register now!