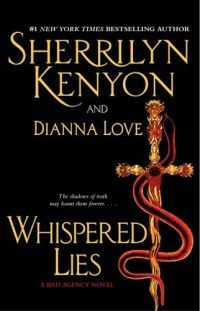 Purchase
He holds the key to her freedom.
She holds the key to his surivival
One of them must lose to save the world.
BAD
Pocket
May 2009
On Sale: May 12, 2009
Featuring: Gabrielle Saxe; Carlos Delgado
400 pages
ISBN: 1416597425
EAN: 9781416597421
Trade Size
Add to Wish List

In the suspenseful new thriller from New York Times bestselling coauthors Sherrilyn Kenyon and Dianna Love, a Bureau of American Defense agent must join forces with an informant he can neither trust nor resist.
Bureau of American Defense operative Carlos Delgado has spent the past sixteen years watching over his shoulder, waiting for death to catch up to him. His luck runs out when BAD intercepts an unexpected tip on the number one threat to United States security: the Fratelli de il Sovrano. Their best hope for uncovering a deadly plan that risks countless lives and threatens economic chaos just days before the presidential election is to capture a mysterious informant known as Mirage. But when Carlos takes her into custody, Mirage is not at all what he expected -- and neither is the threat she poses to the secrets he would die to protect.
Gabrielle Saxe has hidden from a killer for the past decade, sending anonymous tips on international criminals to intelligence agencies around the world. When a postcard arrives from a friend who is supposed to be dead, she takes a risk that catapults her into the midst of dangerous operatives on a treacherous mission -- and into the arms of a man who is duty-bound to surrender her to Interpol as an international felon. Carlos is the last person Gabrielle should trust and the only one standing between her and death. But little does she know, she holds the key to his survival as well....
Additional Reviews
"All hell breaks loose in this over-the-top romantic thriller from bestseller Kenyon (BAD Attitude) and Love (aka Dianna Love Snell, Worth Every Risk)... Da Vinci Codeā€"derivative components tweaked with a bioterrorism twist add extra punch.ā€¯ Publisher Weekly on the NYT best-selling BAD Agency series Dianna co-authors with Sherrilyn Kenyon"
Publisher Weekly
"The second BAD romantic suspense thriller (see PHANTOM IN THE NIGHT) is an exhilarating action-packed tale as Gabrielle and Carlos team up in love to strop the Fratelli gang from succeeding in their newest diabolical scheme."
Harriet Klausner Book Reviews
"Sherrilyn Kenyon and Dianna Love, each phenomenal writers in their own right, are an extraordinary writing team, as Whispered Lies shows. I absolutely loved Whispered Lies the first, second, and (as I re-read yet again) third time around."
Shayna of Joyfully Reviewed
Comments
2 comments posted.
Re: Whispered Lies

Sounds like a wonderful book thanks for blogging here today
Penney
(Penney Wilfort 7:16pm May 4, 2009)
This book sounds great.
(Patsy Hagen 2:54pm May 19, 2009)
Registered users may leave comments.
Log in or register now!