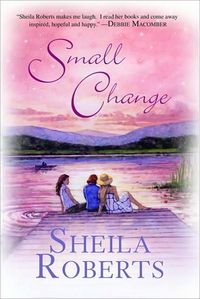 Purchase
St. Martin's Griffin
April 2010
On Sale: March 30, 2010
Featuring: Rachel; Jessica; Tiffany
352 pages
ISBN: 031259447X
EAN: 9780312594473
Paperback
Add to Wish List

Rachel, Jessica, and Tiffany all share a difficult secret: they're all struggling with major financial problems. A sudden divorce has turned Rachel from a stay-at-home mom to a strapped-for-cash divorcee about to enter the workforce for the first time. Tiffany's spending has been out of control for years, and her mounting credit card bills have put a major strain on her marriage. And Jessica just had the rug pulled out from under her. After struggling her entire life to make ends meet, she's just gotten engaged to a man with a big bank account...and now he's asked her to sign a pre-nup.
When the women share their problems at their weekly crafting group, they decide to band together to take control of their finances. As they struggle to bring balance back to their checkbooks and their lives, they learn that some things in life, like good friends, are truly priceless.
Comments
19 comments posted.
Re: Small Change

Great post. And good things to ask yourself before you buy anything, much less stuff on sale. But the first one Should be "Will I really use this within the next six months?" I have bought several things(like home decor stuff, thinking to myself that "this(whatever it was)will work great for(whatever)". Then it has just sat there for a couple years waiting for me to do the project but, by the time I actually get to that project, my thoughts have usually changed and the item no longer fits with what I want to do.
Thank god I've never been a shoe, purse or clothes hoarder. I just get what I need there. For me it's just crafting stuff, and sometimes books, I have trouble not buying.
(Carol Cobun 4:01am March 25, 2010)
These are wonderful tips and we all should use them! Great post!
(Gail Hurt 11:45am March 25, 2010)
Hi Sheila, I loved your post. It is so relevant to all of us. Who hasn't bought something that was a "Great Deal" just to have it sit on the shelf. Thanks for a few important pointers to live by.
(Robin McKay 1:25pm March 25, 2010)
Sheila, you hit the nail right on the head with this very practical (and timely) advise, but when I'm faced with that 'great sale" I have a hard time resisting. I am trying harder and harder to walk by that wonderful bargain (can you guess what my New Year's Resolution was).
(Rosemary Krejsa 6:10pm March 25, 2010)
Yep you've got it right; I've even had to do that with books since I've been buying new authors and then been very disappointed; it's not the writing but sometimes the books are not what I expected.
(Diane Sadler 8:00pm March 25, 2010)
Ah, and don't we all need this reminder every once in a while? I'm usually fairly good at not buying things that are on sale because I just don't have the money--I do have to eat--but sometimes a bargain does look so tempting for a maybe good reason, although you wonder if it now sells for 20% of its original price, how come so few people wanted it at any higher price.
(Sigrun Schulz 3:13am March 26, 2010)
3 great pointers. I agree. Spend wisely.
(Mary Preston 3:39am March 26, 2010)
Great post - Yes, most important - will I use it!

And by the way, I use my pastry cutter all the time - it is wonderful to make stuffed mushrooms and chop eggs - and I do make stuffed mushrooms often.
(Pat Lieberman 8:26am March 26, 2010)
Great Tips! I ask myself "Will I use it" evertime I start to buy a bargain! 99% of the time I put it back! LOL
(JoAnn White 8:39am March 26, 2010)
I'm glad I'm not the only one who gets sale fever :) LOL on the pastry cutter. Maybe I need to rethink that... if I see a sale.
(Sheila Roberts 12:43pm April 5, 2010)
Hi Sheila, I just finished reading "Small Change", and found the story touching and the financial tips timely and easy to implement. Thanks for the life lesson. I think it is so important for women to be able to take care of themselves financially as well as emotionally. Thanks for the great read. I strongly urge women to read your book.
(Robin McKay 4:09pm May 14, 2010)
I enjoyed the insight. It has certainly got me thinking.
(Mary Preston 8:59pm May 14, 2010)
I have a few of Sheila's books on my tbr. Havent gotten around to reading them yet. This one sounds v.g. as well.
(Pat Lieberman 10:07pm May 14, 2010)
I've never read Sheila's books but would like to!
Please enter me in today's contest.
(Brenda Rupp 10:53pm May 14, 2010)
So insightful... plus that cover is so beautiful. I love the colors, they draw me in and make me wish I was on the end of that dock too.
(Donna Holmberg 3:32am May 15, 2010)
We all need our friends to help us
make it through life. sometimes it is
for little things. Sometimes it is for
major challenges. And sometimes it
for the major disasters that befall us.
It is great to know they will be there
for us.
(Patricia Barraclough 3:08pm May 15, 2010)
sometimes just talking to a friend cheers you up even if they don't know you needed it. Cannot be replaced!!
(Barbara Studer 9:37pm May 15, 2010)
I haven't read this book, but I'm lucky. My best girlfriend is my sounding board for money questions like "Can I afford it?". So, it would be great to see how someone else sees it.

Later,

Lynn
(Lynn Rettig 9:00pm May 16, 2010)
Thanks for all the kind words, ladies. I'm glad to hear that the book is resonating with people. I firmly believe that we can live rich lives no matter what our income level and that one of a girl's greatest assets is her girlfriends. I hope the book reflects that.
(Sheila Roberts 4:47pm July 2, 2010)
Registered users may leave comments.
Log in or register now!